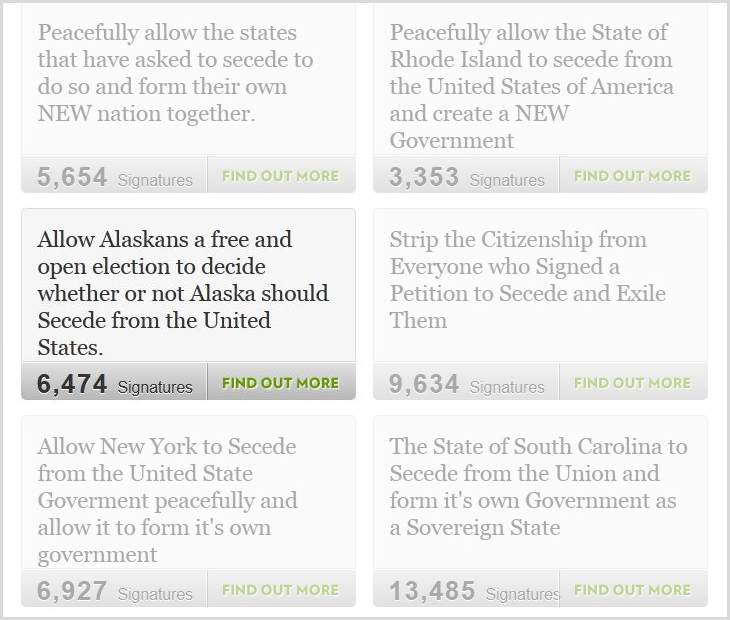 Following last week's re-election of President Obama, petitions for secession began appearing on the We the People website hosted by the White House.
The site allows people to post a petition to be addressed by the Obama Administration. If the petition gains 25,000 signatures in 30 days the White House will offer an official response.
Two people from Alaska have submitted petitions.
"Matthew G" from Palmer, created a petition on Nov. 10. The petition requests that "the Federal Government allow Alaska to peacefully secede from a dysfunctional Union that is run by corrupt politicians who buy the votes of individuals who can no longer be seen as American citizens but rather, slaves to a tyrant."
So far it has gained 507 signatures, most of which come from outside Alaska. Only 57 signers self-identified as being from Alaska.
Though the site requests people to avoid making duplicate or similar topic petitions, another secession petition for Alaska was added on Nov. 11.
"Paul M" from Anchorage created a petition for Alaska to have an election to decide whether or not to secede from the United States.
[quote]"Our main "goal" is a legal vote and ballot; one that was not given in 1958 and was in violation of International Law and Treaty. Alaskans were robbed of the choices we were to have as a non-self-governing territory, and steam-rolled into the current classification of a State. The Native population of Alaska, in a large percentage, did not even receive a ballot because of the Federal Voting Rights Act in place. Alaskans now seek to a statewide free election to decide whether Alaska should be a free and Independent Nation."[/quote]
The petition is still 18,602 signatures shy of the 25,000 required for review. So far several hundred self-identified Alaskans have signed on.
Thus far, citizens in approximately 40 states have posted petitions for secession. However, only a handful have gained enough signatures to meet the threshold for response. Petitions for the secession of Texas, Louisiana, Florida, Georgia, Tennessee, Alabama and North Carolina each have more than 25,000 signatures. The petition from Texas boasts the most with more than 98,000 signers.
There are some petitions approaching the issue from the other side. There is a petition to make all states wishing to secede pay their share of the national debt first. Another asks to exile American citizens who signed petitions for secession, which has gained nearly 10,000 signatures.
There is currently no timeline on when the White House might respond to the petitions, however the White House did tell ABC News that it will review and respond to the petitions that obtained enough signatures.