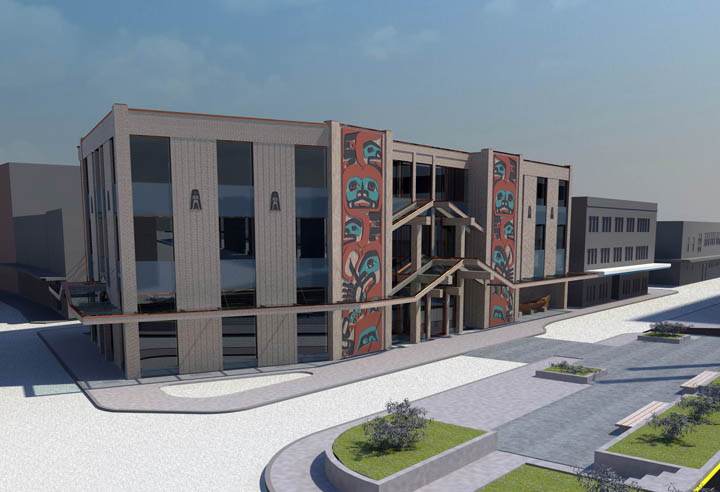 Officials with Sealaska Heritage Institute and the City and Borough of Juneau are working on a deal to let SHI out of the city's historic district standards for the proposed Walter Soboleff Center.
The four-story, 29,000 square foot education and cultural facility will be built on the edge of the downtown district, which celebrates the late 19th and early 20th century architecture of Juneau's original mining period.
The Soboleff Center will also present a historic look. After all, the history of Southeast Alaska Native architecture goes back over 10,000 years.
Sealaska Heritage Institute Chief Operating Officer Lee Kadinger says the facility at the corner of Front and Seward streets downtown will pay tribute to that history, incorporating elements of traditional Tlingit, Haida and Tsimshian design. It also will take advantage of modern advances in building materials to meet LEED Gold standards.
A glass and cedar façade will give way to an interior that will include exhibits, work and performance space for artists, as well as offices for SHI's staff, and climate controlled storage for the institute's collections.
"We just feel that it celebrates the rich cultural diversity of Southeast Alaska," Kadinger says. "And we feel that it really represents Juneau's original habitants in a wonderful light."
Kadinger says SHI is not looking to re-write the city's historic district code. Rather, the institute would prefer the Juneau Assembly pass an ordinance providing an exception to the property where the center will be built.
"Native culture is part of the history of Alaska, and a non-code exemption would not change the historic district standards in the rest of the district," he says. "But it would provide for an inclusion of what may have been an oversight."
The Juneau Assembly this week directed the city law department to draft an ordinance fulfilling SHI's request.
Mayor Merrill Sanford said the city could put conditions on its exemption. The only suggestion he made would be maintaining the same parking standard.
"The parking standard has been made more flexible in the past five to 10 years," Sanford said. "And I think we've held everybody accountable to that standard within the downtown district that I don't think that we should step out away from those rules."
Design drawings for the Soboleff Center show no additional off-street parking. Surface parking would be available at the Sealaska Plaza lot directly across the street.
Other than that, Sanford said he was comfortable changing requirements for building materials, color schemes, architectural style and the like.
"Here we have our Native heritage that has a bright, diversified color scheme to what they do and all their arts and culture," Sanford said. "They want to build that into this building, and right now that can't be done."
SHI's Kadinger would like to hammer out details of the exemption in the next two months.
Juneau voters in October approved an extension of the city's temporary one-percent sales tax, which included $3 million for the Soboleff Center. Kadinger says construction is estimated at $20 million, and that SHI has raised about 75 percent.
The facility will be named after the Reverend Doctor Walter Soboleff, a renowned Tlingit elder who passed away in 2011 at the age of 102.