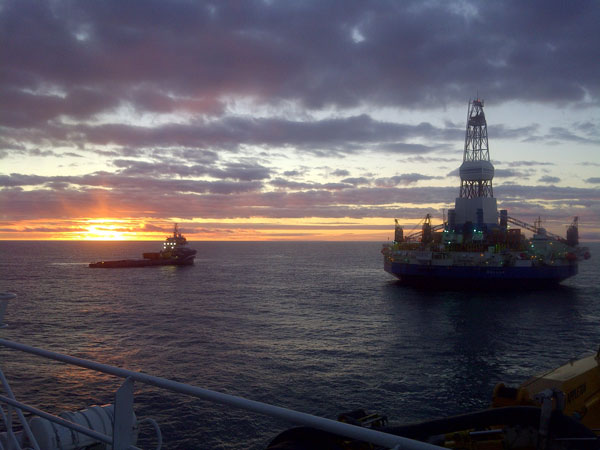 Shell Oil wrapped up its exploratory drilling season in the Arctic yesterday. As promised, not a drop of oil was spilled in the process — but not a drop was drilled either.
Shell only started drilling in early September, which limited the numbers of wells the company was able to complete this season.
"We drilled a top hole at our Burger prospect in the Chukchi Sea and one at our Sivulliq prospect in the Beaufort Sea,"says spokesperson Curtis Smith.
The two top holes extend only 1500 feet below the seafloor, stopping well short of the oil reserves that Shell is trying to access. That's because the Department of the Interior prohibited the company from drilling deeper without its oil spill containment barge on site. That vessel was under construction for most of the summer and didn't receive final approval from the Coast Guard until mid-October, too late for it to be of use this year. But Smith says the Arctic Challenger is ready for next summer.
"Our intention is literally to pick up where we left off. We're actually leaving anchors at both of our prospects so that when the sea ice retreats, hopefully in July of 2013, we can get back on those well sites, make the most of the time we have and drill to the objective."
Whether that happens as smoothly as Shell hopes is contingent on a number of things going according to plan. The company faces potential legal battles over proposed revisions to its air quality permits. For this drilling season, the Environmental Protection Agency effectively waived some of the requirements of the permit, but formal revisions are still working their way through the public process. Smith says Shell isn't worried.
[quote]"We think these permits are very robust. They've withstood the scrutiny of the public, the regulators and even the courts. So we're very confident that we'll be back at work in 2013 with all of the necessary permits."[/quote]
Shell will also need to show regulators that its oil spill containment dome is fully functional before drilling starts next year. The dome was damaged during testing in Puget Sound in September.
"The internal investigation determined that the Arctic Challenger's dome was damaged when it descended too quickly, apparently due to a faulty electrical connection, so we're modifying those elements of the dome so that it's ready for next year."
Meanwhile, environmental groups told APRN's Peter Granitz that this year's drilling season was a failure.
Mike LeVine is senior counsel at Oceana. He says Shell's mishaps this summer should read as a cautionary tale.
[quote]"Shell lost control of its drill ship in Dutch Harbor, backtracked on its commitments to recover spilled oil and to protect air, and ultimately damaged its own containment dome in an effort to test it."[/quote]
LeVine says this summer offers many lessons and indications for the future, for citizens, government regulators, and the companies.
"Hopefully Shell will learn what the company needs to do to be prepared, and hopefully other companies will look hard at the difficulties at drilling in the Arctic Ocean and responding to a spill."
And by many accounts, they already are. Last month, the head of oil giant Total warned other companies about the dangers in offshore drilling in the Arctic.