The hearing into a Coast Guard pilot's alleged negligence is over. The Article 32 proceeding essentially wrapped up Friday afternoon in Juneau after the last round of testimony by witnesses. Lt. Lance Leone is the only survivor of last year's fatal Coast Guard helicopter crash off the coast of Washington State. In addition to the previous accusations of negligence and dereliction of duty, Leone is also being investigated for another dereliction count because he allegedly failed to adequately question the pilot of the flight. The aircraft, known as CG-6017, was a helicopter being transported to its new station in Sitka.
"When the natives had pulled him out, they said 'Those stupid wires!'"
That's how Ellen Leone describes the first words that her husband Lance heard when he was rescued by Quillayute tribemembers in a skiff in July of last year, moments after his H-60 helicopter ran into a set of the power lines and crashed. Leone said her husband didn't know that they had struck the wires. His helicopter crashed and he didn't know why.
Those wires to James Island were actually owned and operated by the Coast Guard to power nearby marine aids-to-navigation.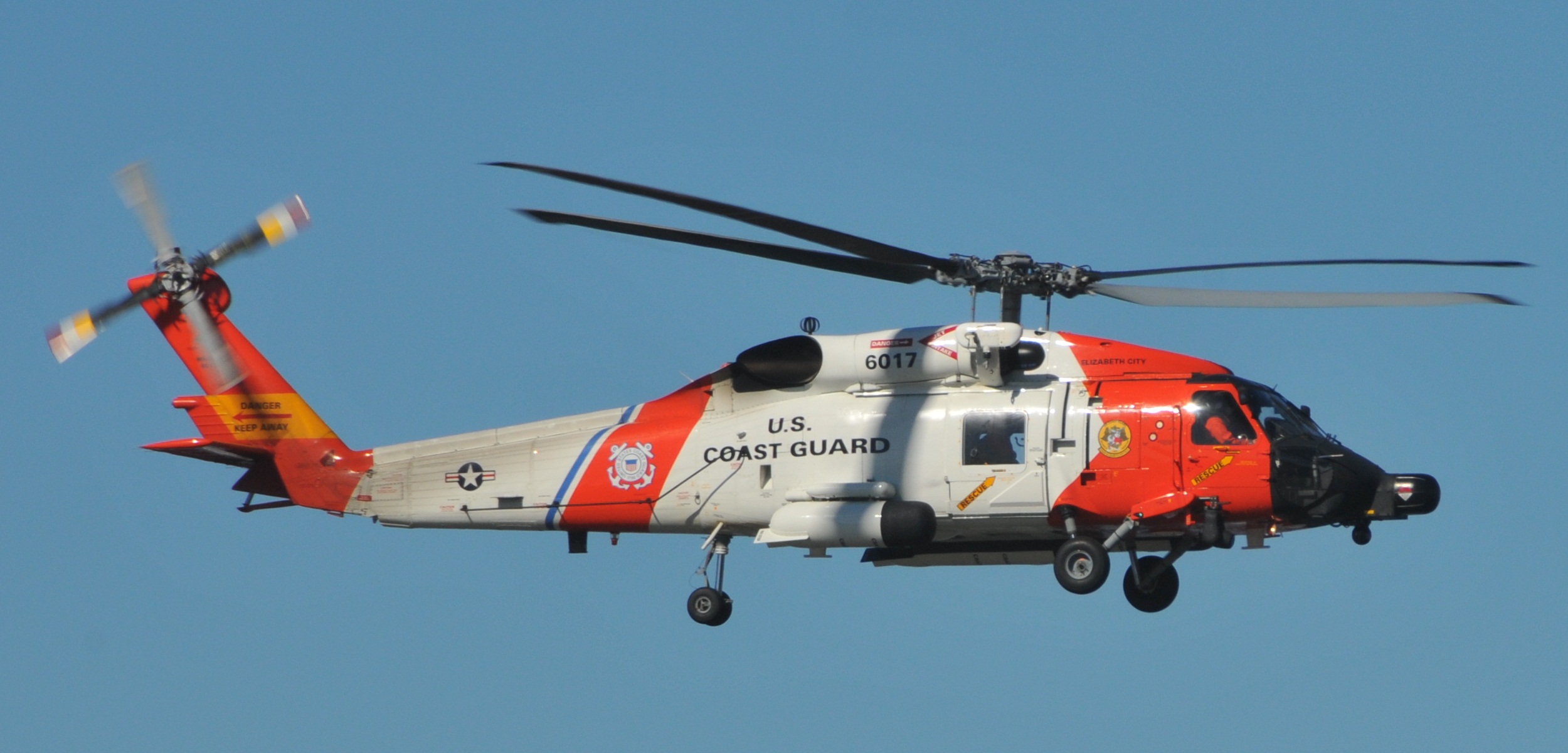 Leone was the co-pilot while the pilot at the controls was Lieutenant Sean Krueger. He was killed in the crash along with Aviation Maintenance Technicians Adam Hoke and Brett Banks.
During the conclusion of Friday's hearing, Master Chief William Johnson, commander of the Quillayute Boat Station near La Push before he retired, testified that he inquired higher up at least a year before the crash about the maintenance of the lines and poor condition of warning balls. He never got a response. Robert Van Haastert, a Federal Aviation Administration obstruction evaluation supervisor, said that he would've recommended better warning measures had he been called to evaluate the site. At least three other H-60 pilots that Leone served with in Sitka and Elizabeth City, North Carolina vouched to his skills and professionalism.
Attorneys in the case did not comment outside of the courtroom, but Leone's civilian defense attorney John M. Smith said during the hearing's closing arguments that the power lines were implicated in at least two other accidents. "The U.S. Coast Guard set a trap that was spring-loaded and that had already worked twice before," said Smith.
Coast Guard Lieutenant Stanley Fields, Government counsel in the case, said Leone showed no reasonable duty of care as navigator and co-pilot of that flight.
Ellen Leone disputes that.
"I'm very proud of my husband and the career he has had in the Coast Guard," said Leone.
"He's done a great job doing his duty and, unfortunately, this was a tragic accident that occurred that nobody could've forseen." Leone hopes that the U.S. Government will see their mistake after the hearing.
Pat Coyle believes Leone certainly would've called out the wires if he had seen them, especially if he thought his own life was in danger. Coyle also had a dim view of the evidence brought up by the Government.
"No matter what neglience, I don't think the crime fits the punishment," said Coyle, a commercial medical airlift pilot. While based in Sitka last year, he befriended a young Coast Guard aviator, a fellow rotorhead. At first, he didn't know that he was the sole survivor of CG-6017.
"I just know that it's got to jolt your confidence when something like that happens to you."
So Coyle took up him for a spin in his Super Cub on floats.
"As a matter of fact, the next flight I let him sit in the front seat of the airplane," said Coyle. "He did a pretty good job."
There are two children in the Leone family, and Ellen says she's due with another boy in April. She's thankful for the support that they've received from around the country. It's included Juneau-based Coast Guardsmen and women who took leave to attend the hearing, still dressed in winter dress or tropical blues, rank insignia and nameplates clearly visible. They declined to go on tape or have their names used, but they said they knew Leone or served with him at previous billets.
One person in particular was a civilian who had traveled all the way from Florida.
"I am here to support Lance and their family, and to let them know there are many, many people out there who support them," said Kyla Krueger, mother of three children and wife of Lieutenant Sean Krueger, the pilot in command during that fateful flight.
"Somehow, good will come from this situation."
Krueger also said this was a chance to hear everything first-hand, since the Coast Guard didn't really tell her much about the crash.
"I am still just trying to process what I learned though the media prior to now, and what I'm learning as what they're claiming to be fact and what they're claiming to be opinion," said Krueger.
Her husband used to wear his wedding band on a chain around his neck. She now wears it after adding her own band and engagement ring – her hand going up to touch it when she talks about Sean; how they met while he was at the Academy or about how he was picked for a pilot exchange with the Royal Navy.
There has been much speculation — but no real definitive explanation offered — that one reason that Leone was not charged with Krueger's death is because Krueger was just as responsible. He was at the controls and some of the testimony centered on his low overflight of a Coast Guard 47-foot motor lifeboat in tribute moments before the crash. There was also an accusation by prosecutors that he was flying too low to begin with, even though cruising at 250-feet off the deck is considered standard practice in Alaska's poor weather. Kyla Krueger says some of that was not easy to hear at first, but…
"I trust in that my husband did his job to the best of his ability everyday," said Krueger. "In this particular case, he was still doing his job and he was doing something he loved to do until they hit that wire."
Ellen Leone is also confident that her husband did his job well. But she suspects that the whole proceeding will have a chilling effect on other service members. She thinks that her husband is being prosecuted because he was the sole survivor in the last of a series of accidents in the previous year – some of them fatal – suffered by Coast Guard H-60's, H-65's, and a C-130 aircraft.
"It doesn't bode well to other pilots in the Coast Guard to say 'If you survive an accident, no matter what you did or didn't do, (then) watch out!' because they might come after you," said Leone.
Captain Andrew Norris, the investigating officer during the hearing, said he'll consider an additional charge of dereliction of duty against Leone. Norris was already investigating Leone for one count of dereliction for failing to navigate the helicopter to avoid hazards. Leone is also charged with destruction of government property, and negligently causing the deaths of Hoke and Banks.
The new dereliction charge is for not following proper Crew Resource Management procedures. It follows testimony Thursday from Leone's commanding officer, Air Station Sitka Commander Doug Cameron, who suggested Leone may have been reluctant to question Krueger as the helicopter's pilot-in-command. Cameron speculated that Leone deferred to Krueger, because of rank and experience.
It's impossible to predict what the investigating officer's recommendations will be and whether Rear Admiral Thomas Ostebo, the convening authority in the case, will call for a court martial, discipline Leone administratively, or just drop the charges. That could be several months away.
But the far future? Flying friend Pat Coyle doesn't need a crystal ball or tea leaves. That's much easier to figure out.
"His flying career is by no means over," said Coyle. "This is a bump in the road."
Captain Norris was expected to accept a piece of written testimony and any other further briefings on Monday before drafting his recommendations for Rear Admiral Thomas Ostebo.
Previous stories, with the more recent at the top:
Helo pilot, CG await report on charges
Additional charge to be considered against Leone
Helo hearing: visibility of power line hazard markers questioned
Article 32 hearing continues on chopper crash
Hearing set for Coast Guard helo crash survivor
Coast Guard charges helo crash survivor in crewmates' deaths
CG-6017's loss brought together Coast Guard "family"
Sitka ballfield named for fallen Coast Guardsman
Memorial mourns lost USCG crew
Vigil, memorials planned as CG crash is investigated