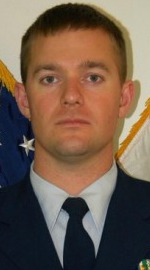 A hearing looking into the cause of a July 2010 helicopter crash moves into the third and possibly the final day on Friday.
Coast Guard Lieutenant Lance Leone is being charged with dereliction of duty, destruction of government property, and negligently causing the deaths of two of his crewmates, Aviation Maintenance Technicians Adam Hoke and Brett Banks. An Article 32 hearing — a military version of a grand jury proceeding — has revealed more details about how the H-60 crashed off of La Push, Washington.
The second day Thursday included more testimony from lead crash investigator Captain Timothy Heitsch, including questions posed by the hearing's investigating officer. Captain Andrew Norris is essentially the single grand juror in the case. He'll either recommend dismissal of the charges, internal discipline, or referral to a court martial.
Heitsch, also an H-60 pilot, reviewed his panel's findings about apparent discrepancies in Leone's radio communication to a flight service station, occasional use of a non-standard phrase or passing over a checklist in the cockpit, spending too much time troubleshooting a malfunctioning radio, allowing his crewmate and aircraft pilot Lieutenant Sean Krueger to allegedly fly through a wildlife refuge, and not questioning Krueger's maneuvers that led to the crash.
Heitsch was also asked to draw the power lines that the helicopter hit when it crashed. They spanned 1900-feet, from a height of 36-feet on the mainland to 190-feet on James Island. The lines were used by the Coast Guard to power their own nearby marine aids-to-navigation. Heitsch drew aviation hazard marker balls at the far lower end of the wire span suggesting that they had already slid down, nearly out-of-sight of any nearby aircraft. Counsel for the Government repeatedly pointed out that — at the highest point — the power lines were still 10-feet lower than Federal Aviation Administration guidelines for marking or lighting hazards. Leone's counsel asserted that those very same lines were the subject of a lawsuit over whether they contributed to another pilot's death decades ago.
Testimony also touched on the sectionals, or Visual Flight Rules (VFR) navigation maps used by aviators. Heitsch, Norris, and counsels for both sides had both the Canadian and American maps of La Push opened up on the witness stand – trying to determine if markings for the power lines were accurate.
"Where is James Island on this map?" asked Norris.
"I think it's this small dot," was one response.
After Heitsch's testimony, Bosuns Mate Second Class Kenneth Compton testified that on the day of the crash, an H-60 turned toward his 47-foot motor lifeboat and passed a hundred feet overhead before heading into the wires.
Then, Leone's defense brought in his commanding officer, intended to counter Heitsch, the Government's own primary witness. Commander Doug Cameron of Air Station Sitka described how it made sense for Leone and Krueger to do the ferry flight; Take down an H-60J model to Astoria, and return with a newer H-60T model. Krueger was very familiar with the 'J' and flying in Alaska, while Leone was more familiar with the 'T'.
The publically-stated top speed for an H-60 is about 183-knots. But Heitsch stated Wednesday that Krueger and Leone exceeded the normal maximum operational airspeed of 125-knots for most of the flight. Go much higher than that without good reason for too long, and it's hard on the aircraft.
Cameron acknowledged that the aircraft could've been trimmed out and the "couplers," or a rudimentary autopilot, may have been set at 125. But it could've constantly varied between 119- and 133-knots simply because of aircraft performance and wind.
And on the issue of fly-bys of a Coast Guard boat, Cameron says they're not unusual. They're actually traditional. Like a friendly waggling of wings to a buddy or service mate. Cameron also says flying through wildlife refuges at low altitude in Alaska is not only common, it's sometimes necessary – whether to repair an aid-to-navigation or use a low-level route to escape poor weather and dropping visibility. Cameron also referred to accident board's findings about the lingo and radio coms as 'nitpicking' and suggested that a non-verbal acknowledgement of a checklist completion was possible. Cameron also said he spent two hours on a recent flight himself troubleshooting a radio.
Part of the Government's case involving neglect is the allegation that Leone did not fulfill some of his duties as co-pilot, essentially not questioning the pilot-in-command (Krueger) for his decisions and maneuvers. But Cameron – an experienced H-60 pilot himself — suggested that a more-complicated crew dynamic may have been at play in the cockpit that day. First, Leone and Krueger apparently went to the academy together with Krueger two years ahead. Also, Leone had just arrived in Sitka from Elizabeth City, North Carolina where they did things differently – flew much higher along the shoreline for example. He was now brand-new in a challenging environment where low-level flying was sometimes necessary, while his mentor Krueger already had a strong, solid reputation as a good Alaska pilot. Cameron called it a perfect set-up for Excessive Professional Courtesy. The junior officer was still learning and may've yielded to the senior officer's experience on that flight. At the same time, yanking the controls away from a fellow pilot is almost never done.
The highlight of Cameron's testimony came, though, when he described getting a copy of the accident report and was asked whether he preferred charges against Leone. He ultimately decided against it. But Rear Admiral Thomas Ostebo, the new commander of the 17th District in Alaska, apparently didn't like that. Ostebo told his subordinate that he was too close to Leone and had lost his objectivity. According to Cameron's view of one encounter, it was a 'classic discussion' with the high-intensity Ostebo. Cameron was asked to type up his reasons for the Commandant of the Coast Guard, who was expected to soon visit Alaska. Then this past September, Leone's orders to train and requalify for the H-60 were cancelled. He was charged in connection with the crash by another officer in District command.
Defense and prosecution also argued over the differences in airspeed indicators in both models of the aircraft. A speed of 125-knots is in a different location on a slightly-smaller airspeed indicator for the 'T' model. Defense contended that both Krueger and Leone were used to the 'J' model's indicator and that's why their speed exceeded 125. Government counsel essentially argued that if that were true — if their visual 'muscle memory' were in play — then they'd really be flying slower, not faster in the 'T'.
The final bit of testimony Thursday came from a Coast Guard officer asked to examine navigation map data loaded into the H-60's on-board computer. The officer theorized the digital versions loaded into the computer were the newest available, even though they were based on the original paper sectionals for La Push which did not appear to have been updated for at least 12-years. But a recent updating may not have been necessary if the landmarks and obstructions did not change.
At least a half-day of testimony is expected on Friday, possibly with more explanation of the 200-foot minimum for marking aviation hazards. Then, the investigating officer, Captain Andrew Norris, will consider the testimony and evidence before submitting his recommendations to Rear Admiral Thomas Ostebo.