A former Juneau attorney and judge who recently passed away had played an early role in keeping the Capitol in Juneau and upholding the rights of Alaskans in pivotal cases.
Robert Boochever passed away Oct. 9, 2011 at the age of 94.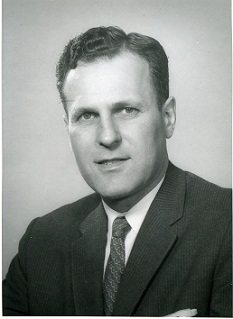 Robert Boochever was a former New York resident and Army Captain who met his future wife, Army nurse Connie Maddox, while serving in Newfoundland. With his Cornell law degree already in hand before World War II, he started work in Juneau as an assistant U.S. Attorney, a federal prosecutor in a small town during territorial days. After roughly a year, he went into private practice, remaining with the same law firm in Juneau — Faulkner, Banfield, Boochever, and Doogan — for 25 years.
Boochever was active in a variety of local and statewide professional, civic, and community activities, ranging from the consolidation of the City and Borough of Juneau governments to drafting of a comprehensive plan, chairman of the first planning commission, even helping to create a road for a new ski area. Some of the various other organizations he participated in were the Boy Scouts (even though he had no sons), Explorer's Club, St. Ann's Hospital board, and the Juneau chapter of the American Red Cross.
"When my mom and dad first came to Juneau, there was just a whole group of young energetic people moving into the area," said daughter Barbara Lindh. "They all worked really hard to make Juneau a vibrant community."
Lindh says one especially important cause for her dad was making sure that the capital remained in Juneau. That included a debate with Representative Earl Hillstrand and some of the countless cases he advocated as a lawyer. He argued against an improperly-drafted referendum calling for a constitutional convention and against a citizen's initiative that would have moved the capital.
"He was so, so disappointed. He just couldn't believe it," remembered Lindh when her dad was contacted about the Alaska Supreme Court's decision in that case.
Boochever was named to the Alaska Supreme Court by Governor Bill Egan in 1972, although he initially applied to be one of the Court's first justices shortly after Statehood.
He also had a hand in pivotal cases as a jurist. Alaska Supreme Court Justice Craig Stowers, who clerked for Boochever 25 years ago, suggests his work on the Alaska Supreme Court may be more notable than his later work on the Ninth Circuit Court of Appeals.
"Way back then, they were addressing issues of first impression even more frequently than we are today," said Stowers. "Many of his decisions that he authored, I think, have really stood the test of time and have made a huge contribution to the law in Alaska, and the rights that people enjoy and just the way business is conducted on a day-by-day basis."
For example, Boochever wrote the concurrence opinion in Ravin, the precedent-setting case on Alaskans' right to privacy in the home.
Boochever also wrote the opinion in the Aguchak case in which a Scammon Bay couple were denied their due process rights. A department store filed a small claims action over an unpaid bill for a snowmachine and freezer in Anchorage, rather than in the rural court district in which the couple resided.
There are also the Glass opinions. Those are the basis for why officers now must always apply for a warrant from a judge before they record your conversations as evidence in a criminal case.
"I think my dad exemplified what the law and the judicial system should be," said Lindh.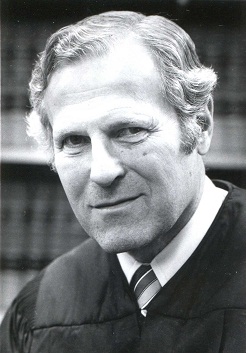 Then in 1980, President Carter named Boochever to the Ninth Circuit Court of Appeals. The largest federal appeals court received 13-percent of its cases from Alaska even though, until Boochever, no Alaskan sat as a judge on the panel.
Boochever has been variously called a gentleman with a warm heart, brilliant, meticulous, and demanding – at least while he was a judge when he frequently asked probing questions.
There are also untold young attorneys in the state who benefited from his mentorship, like Stowers who talked about his experience last week.
In 1986, about the same time that Stowers worked for him as a clerk in Juneau, Boochever began the move to Pasadena, California and was named senior judge on the appeals court – a designation that usually entails a reduced case load.
Boochever's wife Connie was an advocate for the arts in Alaska, and he wrote poetry and told stories. He was also a tennis player, avid fishermen, bird viewer, and outdoorsman.
Boochever is survived by his four daughters which have remained in Alaska.
"To make the best of it, he just took us out like we were sons," said Lindh as she described some of the fly-fishing and other family outdoor excursions.
Boochever's daughters include an art teacher, a music and literature teacher, ski instructor, and public relations consultant. And then there are eleven grandchildren — including Olympic skier Hilary Lindh – and three great-grandchildren.
Boochever's family says he passed away peacefully October 9th at his home in Pasadena. They had just celebrated his 94th birthday several days earlier.
In addition to any family memorial services, the Ninth Circuit Court of Appeals also has tentative plans to honor Judge Robert Boochever.