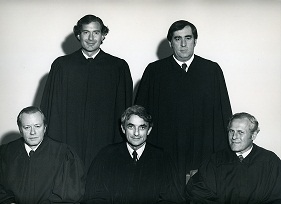 Former Alaska Supreme Court Chief Justice and retired federal appeals judge Robert Boochever has died in Southern California.
A spokesman for the Ninth U.S. Circuit Court of Appeals says Boochever died in his Pasadena home Sunday of natural causes at the age of 94.
Boochever was born in New York, graduated from Cornell University in 1939, and obtained his law degree from Cornell University Law School in 1941. His resume lists being honorably discharged at the rank of Captain from the U.S. Army in 1945. He almost immediately began working as an Assistant U.S. Attorney in Juneau, and then entered into private practice in the firm of Faulker, Banfield, Boochever & Doogan for 25 years before being installed as associate justice on the Alaska Supreme Court in 1972.
Boochever's community activities while in Juneau included as chairman, president, or director of various community and civic groups ranging from the Juneau Chamber of Commerce, Juneau Planning Commission, Alaska and Juneau Bar Associations, Alaska Judicial Council, Territory of Alaska Development Board, two local banks, Boy Scout Council, Salvation Army, Red Cross, and St. Ann's Hospital Board.
Boochever had actually applied to be one of the first justices of the fledgling Alaska Supreme Court in 1959. But he wasn't named to the bench until picked by Governor Bill Egan in December 1971. Boochever served on the Alaska Supreme Court — including a stint as chief justice — until President Jimmy Carter appointed him to the San Francisco-based federal appeals court in 1980.
Boochever semi-retired in 1986 and began hearing a reduced case load. He did not hear any cases in recent years.
Boochever's wife died in 1999. He is survived by four children and 11 grandchildren, including Olympic silver-medalist skier Hilary Lindh.
Alaska Supreme Court Justice Craig Stowers talks with KTOO about his experience working as a law clerk for Judge Robert Boochever