A bill just heard by a Congressional committee would allow Tlingits from Hoonah to harvest seagull eggs in Glacier Bay. It would resume a tradition that ended when the former Native homeland became a national park.
But it faces opposition from a nationwide environmental group.
Tlingits used to live, hunt and fish in Glacier Bay, about 50 miles west of what is now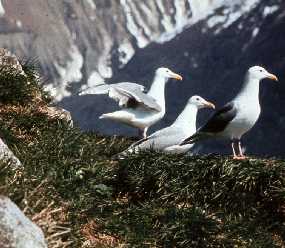 Juneau. But centuries ago, the ice advanced and pushed them out. They settled across Icy Strait in Hoonah.
The glaciers later retreated from much of the bay, leaving large areas accessible. But since that time, it's become a national park and preserve, where hunting and gathering are prohibited.
"Kind of a thing where you can't just go into Glacier Bay and do as you please," says Raino Hill, president of the Hoonah Indian Association, the community's tribal government.
He says one of the traditions lost is gathering – and eating – sea gull eggs from nests in the bay.
"Through time, it's died out. But there are still a few people in town who have the acquired taste for the seagull eggs," he says.
Legislation proposed by Alaska Senator Lisa Murkowski would allow Hoonah Tlingits limited access to the seabirds. (Read the bill.)

Spokesman Robert Dillon says it would permit harvests at five nesting areas two days a year.
"They expect that at a maximum it might be 440 eggs that are harvested. But in exchange for that it would allow a large group of the tribe, elders and young people, to practice a traditional cultural activity and really reconnect with their Glacier Bay home," Dillon says. (Read about Tlingit history in Glacier Bay.)

The national park has given its consent.
Cultural Anthropologist Mary Beth Moss says the harvest should, at most, reduce gull hatchling numbers by 6 percent. She says research also determined egg-gathering would not significantly damage other wildlife.
"We also looked, of course, at potential impacts on the sea lions that use some of the same areas where gulls are nesting. And we looked at potential impacts to other birds nesting in that area and determined that our management plan would preclude any impacts to those species," Moss says.
The bill would only allow harvests of glaucous-winged gull eggs. Other gulls also live in the park.
Sierra Club Alaska Chapter Executive Committee member Jack Hession says the damage could be greater. He says the bill could set a precedent that could affect Katmai, Denali and Kenai Fjords national parks.
"There is a risk that if Glacier Bay is opened Alaska Native people living around these other parks might seek the same privilege. And who knows how far this could go," Hession says.
He says the bill is not needed because Hoonah Tlingits can – and do – gather gull eggs outside the park.
"The Sierra Club totally supports Alaska Native subsistence. But in this case, not in a national park that's been long closed to subsistence. Particularly when the folks have alternatives, and some of these sites, traditional sites, are closer to Hoonah than the ones they want to visit in Glacier Bay," Hession says. (Read more about the group's opposition in its newsletter. Go to Page 4.)
The legislation was introduced in May. It was heard July 28th by the National Parks Subcommittee of the Senate Energy and Natural Resources Committee. It's cosponsored by Alaska Senator Mark Begich.
Murkowski spokesman Robert Dillon is optimistic about its chances.
"It was able to get through the committee pretty quickly and we believe we can probably attach it to something and get it passed pretty quickly. And that's because it doesn't cost anything," Dillon says.
The Hoonah Indian Association would like to see the matter resolved soon. President Raino Hill says some members are anxious to return to the bay to gather the traditional food.
"This legislation will make it easier. And if it does come about I may take the trip up there and help gather for some of the elders, just to have done it once," Hill says. (Read more about egg harvesting in the bay.)
Much of the interest is in nests on Marble Island, a traditional gathering spot in the lower area of the bay. Hill says his members will follow traditional rules, which prescribe how many eggs can be in a nest targeted for harvest.