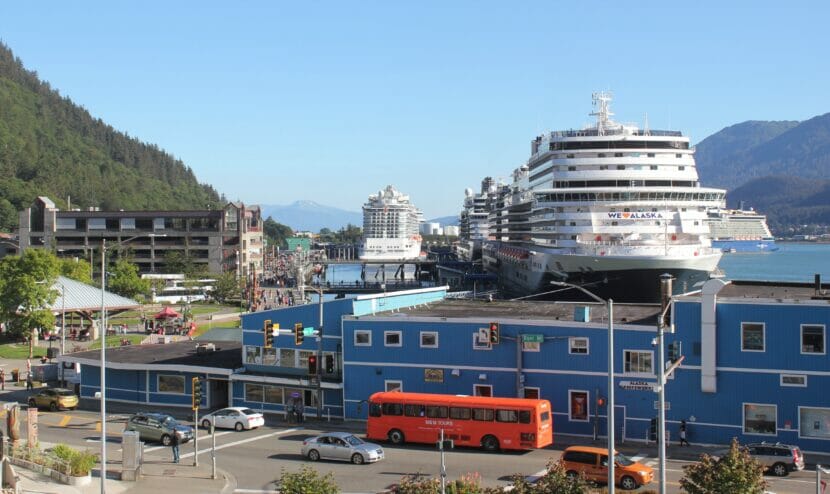 A record 1.64 million cruise ship passengers visited Juneau this year, according to city officials.
"That is about 40% growth from last season, and about 30% growth from our previous busiest year ever, which was 2019," said Juneau Tourism Manager Alexandra Pierce.
In 2019, 1.33 million cruise ship tourists visited Juneau. Last year, 1.15 million did.
All of those passengers led to more complaints from Juneau residents. The city's most popular destination, the Mendenhall Glacier, reached its tour capacity. And even some business owners say it was hard to keep up.   
Pierce said that while this year's number may have felt surprising, it's in keeping with pre-pandemic predictions. In 2019, when Mayor Beth Weldon established the Visitor Industry Task Force, Juneau expected passenger numbers to continue growing steadily in the coming years.
"Then the pandemic hit," Pierce said. "We took a few years off, and all of the people that were projected to be here for 2023 came. But we didn't ramp up into that."
'Shoulder to shoulder'
Pierce said more tourists meant more complaints from residents this year — to her, to the Juneau Assembly and to the city's Tourism Best Management Practices hotline. 
The hotline got nearly twice as many complaints this year as last year. Most were about buses and shuttles, but there were also many more comments in the "other" category, which Pierce said includes things like internet speed and overall busyness.

Downtown Juneau felt busier than ever, and not just because the sheer number of visitors was up. Another reason was the lack of tour bus trips to the Mendenhall Glacier. Tour operators sold out halfway through the season, which meant more tourists stayed downtown.
Pierce said business owners had mixed feelings about the increased foot traffic.
"We heard from business owners that they were doing well financially," she said. "We also heard from some business owners and people who have been in the industry for a long time that this kind of feels like Juneau's capacity."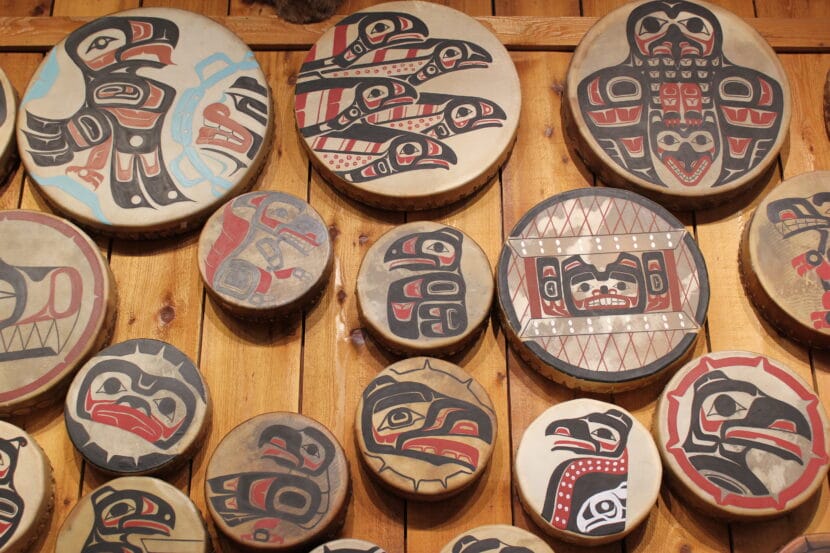 Kyle Sage, who works at Mt. Juneau Trading Post, called this season "intense."
"At times, it was shoulder to shoulder in the shop," he said. "Sometimes I just ran out of stuff."
Mt. Juneau Trading Post sells handmade drums and ivory carvings along with souvenir jewelry and keychains. 
Sage said he usually reorders merchandise once each season. This year was different.
"Normally I do one reorder," he said. "This summer I was calling reps — I think I called them two or three times at least to try and stay ahead of the game. Sometimes it worked, sometimes it didn't. I think I'm still waiting on orders I ordered in August, September."
Sage is already thinking about next year. He usually orders the bulk of his merchandise in January or February, so it can arrive in April.
"But they're moving the boats forward, so I'll be looking to get a March delivery," he said.
Tuncay Esener, who owns another shop downtown called Pandora's Box, has also adjusted to the earlier season. His first summer in Juneau was in 2022, and he opened up shop on June 15. This time around, he knew to open the store earlier.
He also changed his merchandise, offering more handmade Turkish goods. He said the colorful, stained glass lamps hanging throughout the store were his most popular product.
He's looking forward to having more local customers now that the tourist season is over.
"Local people don't want to come in the summertime because it's so busy," he said. "I will be very happy to see local people in my shop."
Staffing is still a challenge
Research firm Rain Coast Data reports on Southeast Alaska's visitor industry each year. In this year's report, they said that despite the record-breaking number of visitors, the tourism workforce was still below 2019 levels.
Gary Totwani and his wife opened their jewelry store, Gary's Fine Jewelry, in 2020. They'd had high hopes for a record season, before the pandemic hit.
"We were supposed to open in March, but there was nobody in town," Totwani said. "It didn't make sense to go into more debt."
They ended up waiting to open until November 2020. While they've built a steady local customer base by offering repairs and custom jewelry, Totwani said hiring remained a challenge this year. They ended up relying on a family member to help out.
"The staffing is a real issue in Juneau," Totwani said. "We'd try to contact somebody, and then they didn't have enough experience. And then if they had experience, we'd try to call them and they say, 'I will come,' and nobody shows up."
In an April 2023 survey, business owners in Southeast said the lack of housing and childcare were the biggest challenges to hiring and retaining workers.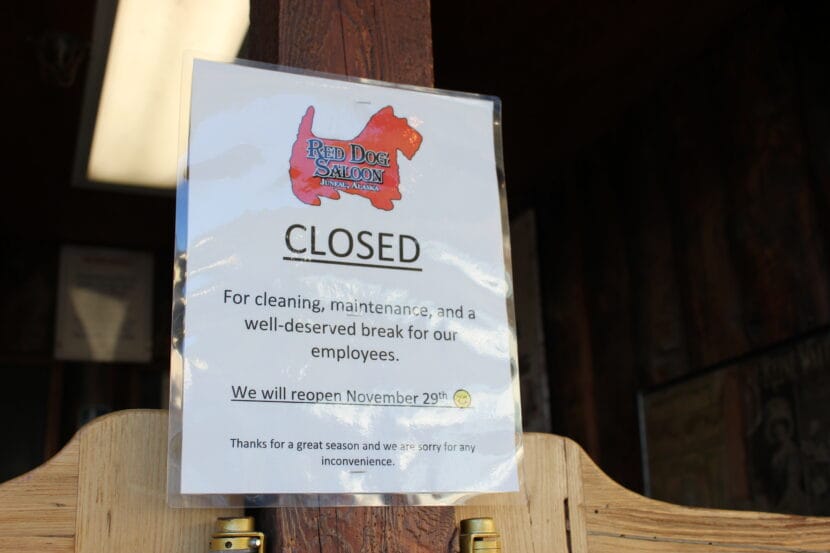 Next season will be longer
Next year's season will be Juneau's first with a limit of five large ships per day. Pierce thinks Tuesdays in particular will feel less hectic next year.
"Our busiest Tuesdays this summer were about 21,000 passengers, which is a shocking number of people," she said. "Our busiest Tuesdays next summer will be about 17,000. Still heavy days, but it'll reduce the maybe fever pitch that we saw in some of the busiest days this year."
Overall, though, the total number of visitors in the season will remain about the same.
"The 2024 season will be similar in volume, but slightly longer," Rain Coast Data analysts wrote in their report. "The cruise ship season is expected to run a full seven months."
Juneau's first ship of the 2024 season is scheduled for April 8, and the last is scheduled for Oct. 24. But Pierce says bigger ships — and ships with fewer empty beds — have contributed more to growth than longer shoulder seasons have. 
"Our steady numbers for 2025 tell me that they're keeping the same ships in the market, more or less, and that things are kind of leveling off," she said. "That allows us to have the conversations we need to have for 2026."
In the meantime, city leaders will soon start deciding how to spend this year's marine passenger fees — the $5 per cruise ship passenger fee meant to fund projects that both improve the tourist experience and offset the industry's impacts on locals. 
Pierce has a few projects meant to reduce congestion that she'd like to see funded. One is a downtown circulator bus, which would help tourists get to attractions outside the core of downtown, like the Alaska State Museum and the Governor's Mansion.
She'd also like to see funding put toward extending the Seawalk to the AJ dock.
"It will take a lot of shuttle buses off the road," she said. "Right now, they shuttle a lot of people because it's not really an attractive walk. If you get off your ship and it's a nice walk down the dock into town, that's a really different proposition."
The city will also spend the next few weeks surveying Juneau residents about the season. Pierce said those results, along with results of a visitor survey, will be ready for review by the Juneau Assembly in early December.