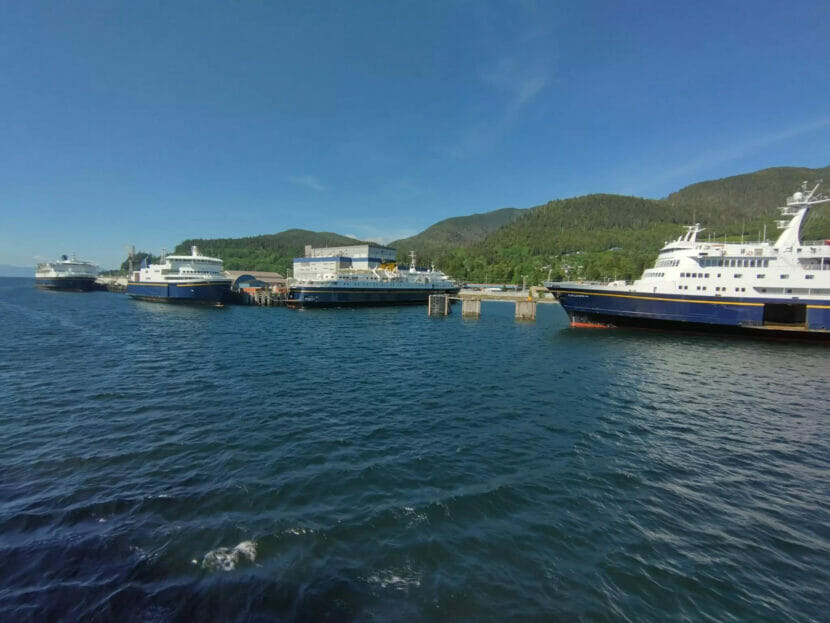 There's no state ferry service to Prince Rupert this summer, a town in British Columbia around 90 nautical miles from Ketchikan. In the past, ferries ran so often that high schoolers could make a quick trip over to play basketball, old friends got to meet up without missing several days of work, and tourism was lively.
Prince Rupert's mayor, Herb Pond, says 30 years ago, the ferry ran three or four times a week. But over the years, that's all changed — there's not the same level of service — and sometimes there's none at all.
Pond visited Ketchikan during the Fourth of July festivities and walked in the parade. He met a lot of residents who said they wanted the regular run back. Pond also spoke with KRBD's Raegan Miller about the situation. He remembers when the service started to go downhill, and how it changed the two towns' connection.
Listen:
Herb Pond: With the absence of ferry service, I wasn't sure I was going to make it at all. But I was able to run up with a volunteer search and rescue team that was going up, and so I walked in the parade — and although hardly anyone would have known I was there – but it was great to connect with old friends and make some new acquaintances and we're certainly going to plan on next year.
Raegan Miller: And did you hear from any Ketchikan residents who wanted to talk to you about what the lack of ferry service has been like for them?
Herb Pond: What I heard from a number of people was, in Alaska ferries won't come south to Rupert, can you get B.C. ferries to come north to Ketchikan? And I actually got on a bus — there was a reunion, high school reunion, and I think it was a class of '63. And so, they remember very much what it was like to come back and forth very freely. And that group was dialed right in, they were. They remembered playing basketball. As a matter of fact, I got on the bus, said I'm the mayor of Prince of Rupert, right away one of them said 'Rainmakers!' Which was the Rupert team, so those connections are alive, right, this isn't ancient history. This is very much in people's minds. People used to come down to golf in Prince Rupert. All the time.
Raegan Miller: So it sounds like maybe there's a contingent of people who remember how easy it used to be, and they kind of want that to come back.
Herb Pond: Yeah, I'd love it to come back. I mean, it used to be a nice easy getaway weekend, to be able to board an Alaska (ferry). It was just such good memories, right? My wife and I could get on an Alaska ferry, we would go to the lounge, have an Alaskan Amber and sit and get off and wander the streets of Ketchikan and spend their money there and easily come back home in time to, you know, hardly miss any work at all. And that's just a long lost memory now.
Raegan Miller: And did you notice anything about Ketchikan or also Prince Rupert since the ferry service started to go away? Have there been any effects on these towns?
Herb Pond: Yeah, there's no question there's been a shift in tourism – without doubt. But it's been a slow dwindling reality for you know, two decades now .The impact of that rubber tire traffic that would do some sort of circle route that usually includes, you know, the Alaska Highway up through the Yukon and, you know, maybe into Skagway and down onto the marine highway system. That has dwindled and dwindled and dwindled over the years in Prince Rupert. It used to be a significant part of the tourism business in Prince Rupert, used to be a big part of the hotel business in Prince Rupert. It has really fallen off over the years.
Raegan Miller: And do you think that there are ways to reconnect even if the ferry service doesn't fall into place?
Herb Pond: It's going to be difficult. You know, over the years, a number of people have tried small airlines and floatplane service. But shy of that robust and affordable form of transportation, it's hard to imagine.