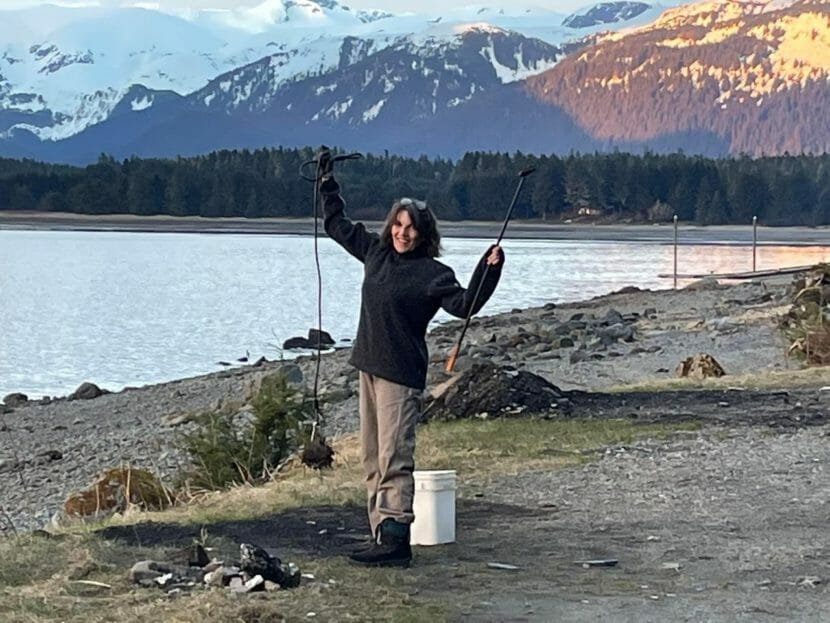 Leticia McRae began cleaning up Juneau more than 10 years ago, when she noticed trash and litter ruining her photography.
Her passion for keeping our land and waters clean has gained a dedicated online following. But with disposal fees rising at Juneau's dump, she says cost is becoming a barrier to her efforts.
KTOO's Chloe Pleznac spoke with McRae about the past, present and future of her Juneau Community Clean Up In Progress project. 
This interview has been edited for length and clarity. 
Leticia McRae: My husband Dave McCray, he died, you know, over 20 years ago. He was a carpenter. And we had plans when our daughter graduated, that we would go across the country with a bunch of tools and buy houses, and flip houses. And this was before flipping houses was a thing. And while we were doing that, we would do things in the community for people that needed it, at no charge. Like fixing stairs, or broken windows — maybe painting a house for an elderly couple — helping people clean up their space in whatever community we were in. 
And then when he died, that dream died with him. And I began to notice through my photography, in my hikes, all the trash in Juneau. So I decided, trash would be where I would start. But picking up trash became a much bigger project than I ever anticipated. 
Chloe Pleznac: What has the response from the community been in that time? Do you receive any outside help from people or volunteers? 
Leticia McRae: You know, I do. We have some really great people in this community. And I am not a nonprofit, I am just a member of the community trying to be a part of my community and benefit my community. And there are some really fine people in this town that trust me, and they follow my page. And I do get donations from people now and again, through PayPal or Venmo. Or sometimes people ask me for my address, and they will send donations. People have bought things off an Amazon wishlist — garbage bags, gloves, things like that — to help with the cost. Picking up litter, or volunteering to picking up litter, everybody thinks, 'Oh, you just pick up litter. How hard is it?' Well, it's expensive to. We have 60 miles of road. And it is dumped on from one end to the other. 
And so it takes the gas, the time, the maintenance on the vehicle, the expense to get rid of the trash — which now is a huge concern for me. I used to be able to go to the dump and get rid of a dump load for about $49. And now it's going to go up to $120. And I know how that's going to affect me. So how is it going to affect those in our community that are already struggling? And how is it going to increase the dump piles that we've already seen?
Chloe Pleznac: So, mentioning cost. The landfill, which is privately owned, requires residents to pay in order to process their waste. Which was a surprise to me when I moved here in September. Where I come from, you only pay to dispose of hazardous materials. Recently, the landfill announced an increase in pricing. Could you talk a little bit more about that? 
Leticia McRae: How do you pay for that? You know, I'm not a rich person, but I'm a person who wants to make a difference. I want to see Juneau stay clean because we are so lucky. We live in a place of magic. You know, you look up at the skies at night, and we can show — most people pay big money to see. We get wildlife some people never see in their lives. And we're really, really lucky that way. And we need to keep it that way. And you know, we expect all these tourists to come here and visit. But we don't keep it clean. And why is that?
Chloe Pleznac: You posted online to your followers that you were worried you won't be able to continue your community cleanup efforts into the new year. Why is this a concern? 
Leticia McRae: It's the cost, you know. With the dump at 50 bucks, you know — it's easy to squeeze out 50 bucks. And when you're me, I do this on the time that I have. It's just going to be difficult at $120 a load. 
Chloe Pleznac: So all of these things in consideration, what gives you hope?
Leticia McRae: There are some people that definitely reach out and help out and if it weren't for them, you know, I wouldn't be able to make as much of an impact. So that kind of helps feed the drive to keep going is when your community notices and they appreciate it.