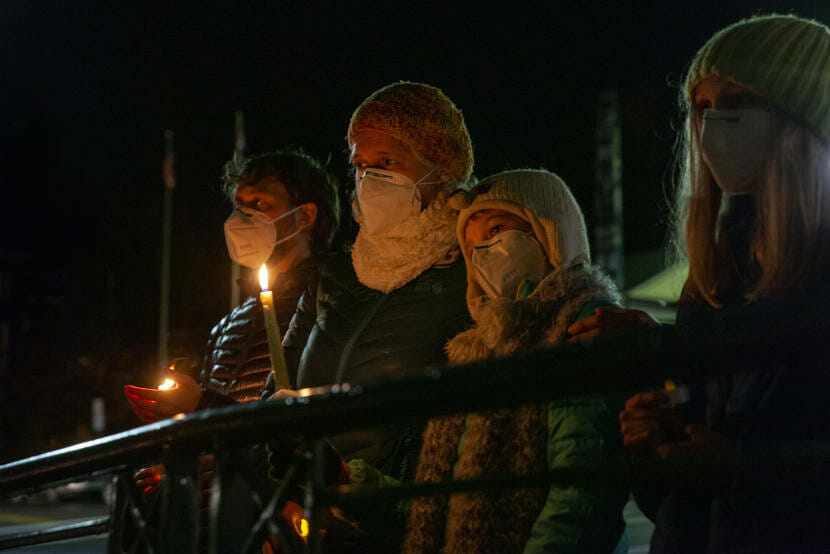 More than 100 people gathered near the Dimond Courthouse in downtown Juneau on Saturday evening in honor of Supreme Court Justice Ruth Bader-Ginsburg who died on Friday. 
For the most part, the crowd was silent and still. But a few people started quietly singing "We Shall Overcome" and "This Little Light of Mine," and the crowd joined. And there was some movement as people lit each other's candles in the darkness, and shielded flickering flames. 
The mourners were mostly women, and they joined others in Anchorage, Fairbanks and across the country in grieving for 87-year-old justice. Ginsburg was the second woman appointed to the Supreme Court and she served for 27 years.
Kirsten Shelton stood with her arm around her 10-year-old daughter Freja Shelton-Walker.
"You okay baby?" she asked as Freja leaned into her shoulder. "I know, it's kind of hard to have tears when you have a mask on."
Shelton said she is thankful for the opportunities that her daughters have because of Ginsburg's work.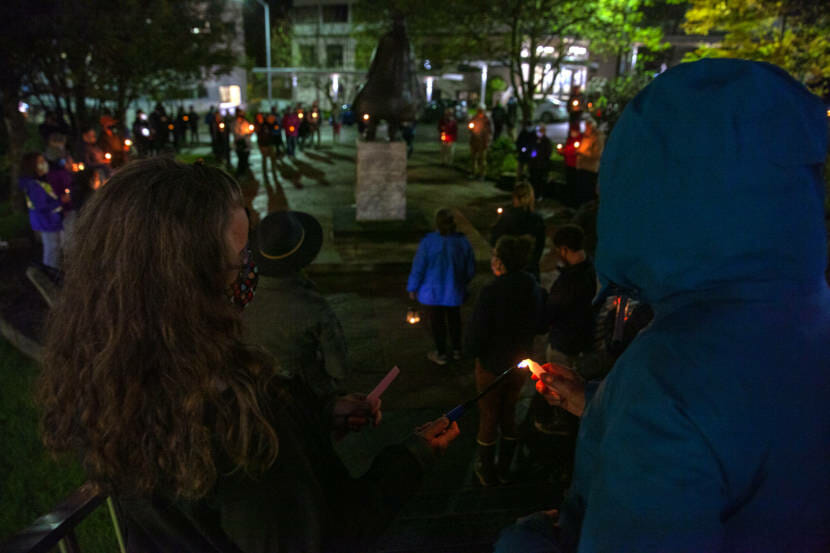 Ginsburg argued a groundbreaking Supreme Court case that paved the way for the 14th Amendment to be used to challenge gender discrimination all over the country. And she served as a role model for women who watched her climb to the Supreme Court in an environment that favors men. 
"We're inspired by her," Shelton said. 
Shelton said it was her 12-year-old daughter Emilia Shelton-Walker's idea to go to the memorial. 
"We all felt that it was important. I don't know if we each, we had an idea. It was a collective idea I think," Shelton said. 
Other women at the memorial said they wanted to honor Ginsburg's widely reported last wishes to not be replaced until a new president is installed.
But, it's not clear that's going to happen. 
Her death opens a vacancy on the court, paving the way for President Donald Trump to appoint a third justice to the Supreme Court. His appointment must be confirmed by a majority vote of the Senate. 
But in his statement expressing sympathy for Ginsburg's death, Senate Majority Leader, Republican Mitch McConnell pledged that Senators will vote on whomever President Trump nominates to fill her seat. 
Alaska's Republican Senator Lisa Murkowski said that she doesn't support a vote to fill the vacancy Ginsburg left so close to the upcoming election.  Her counterpart, Republican Senator Dan Sullivan hasn't weighed-in yet.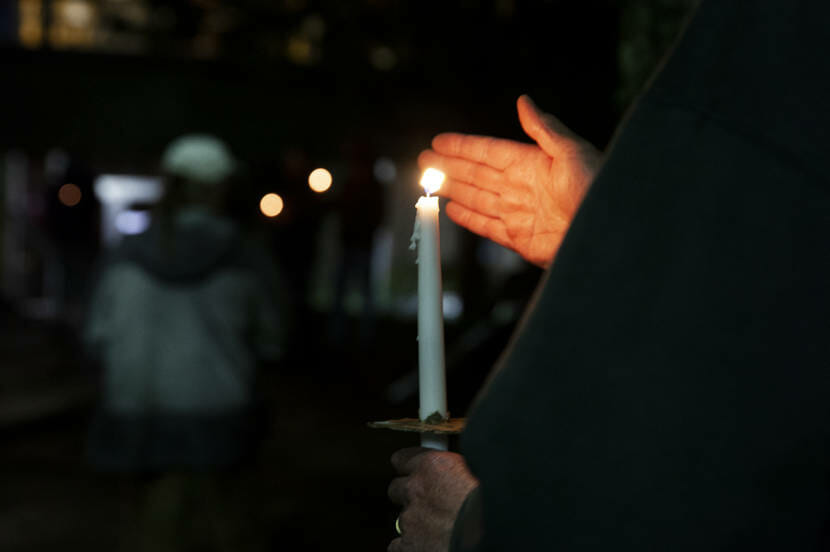 During the vigil, retired Juneau attorney Mary Alice McKeen read from two opinions that Ginsburg is well known for writing, including a 2013 dissent that is one of Ginsburg's most widely known arguments.  
That case, Shelby County v. Holder, had direct implications for Alaska. It challenged a portion of the Voting Rights Act that mandated that several states — including Alaska– had to get "preclearance" from the Justice Department before making changes to electoral laws. 
That preclearance requirement was rooted in the idea of more oversight in places that had troubled histories with voting rights. Alaska used to require English language literacy tests as a qualification for voting, which impacted the ability of Alaska Natives to vote.
In that case, the Supreme Court ruled in favor of striking down the "preclearance" requirement. In his majority opinion, Chief Justice John Roberts essentially made the argument that things like "preclearance" had worked so well that the country didn't need them anymore. 
Ginsberg disagreed with that opinion and wrote a dissent that helped spawn a new generation of fans and the nickname "Notorious RBG." 
Ginsberg wrote that throwing out that oversight, when it has worked and is still working to stop voter discrimination is like "throwing away your umbrella in a rainstorm because you are not getting wet."
At the memorial, Shelton said she's worried about the future. 
"I think we have a, there's collective grief and hope that things will work out. But yes there's a lot of concern about what might happen with who fills the seat on the Supreme Court," Shelton said. "It's been a hard year, so I think it's kind of crushing. But we just do everything we can, that's all we can do."