The ice road on the frozen Kuskokwim River has been plowed to its longest length ever: 355 miles.
That's longer than most traditional highways in the state, but it's likely a bit rougher in places — since the road is a frozen river. Still, it allows for snowmachine and vehicle traffic in a region that otherwise relies on unpredictable airplane travel in the winter.
There's a famous saying: It takes a village to raise a child. And in the Yukon-Kuskokwim Delta, it takes several villages to plow a road on a frozen river.
Tim Zaukar maintains the roads for the village of Crooked Creek. Zaukar was part of a crew that plowed a road on the frozen Kuskokwim River to Sleetmute, 70 miles away.
"That was Mark's idea to get all the way up to Sleetmute, to see if it could be done, and to show it could be done. And it's a good thing to have a good marked trail for people to travel on," Zaukar said.
Zaukar is talking about Mark Leary, who works for the village of Napaimute. This winter, Leary and Zaukar helped lead efforts to plow the Yukon-Kuskokwim Delta's longest-ever ice road.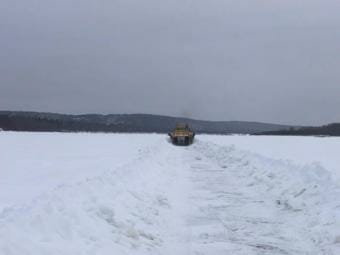 Leary has been on the road — or the frozen river — since Feb. 7. He and four others left Bethel to plow the road up to Sleetmute. They picked up at least two extra men along the way to help out.
Taking care of the ice road typically begins in January. Crews cleared the river and marked the road so that travelers could make it to villages near Bethel. The average length of the ice road, according to Leary, has been about 200 miles.
The farthest Leary has ever plowed has been to Crooked Creek. But this time, Leary wanted to go 42 miles further: all the way to Sleetmute.
"Our role was just to prove that it could be done. People were skeptical," Leary said.
Cold temperatures have lingered this winter, with the average temperature in January -5 degrees Fahrenheit, according to Rick Thoman, a climatologist for the Alaska Center for Climate Assessment and Policy. That has kept the river frozen and made it safer for heavier vehicles to travel.
Leary asked Donlin Gold, a mining company, for money to extend the ice road. Donlin Gold wants to build one of the world's largest gold mines in the region. The company contributed $20,000 as part of their community outreach.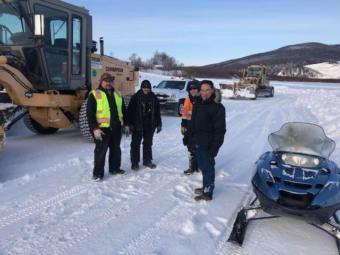 Many villages in the middle Kuskokwim area don't have health clinics or a permanent health aide, so residents rely on planes to travel for health care needs in the winter.
Zaukar said that it's important that residents now have other means of travel.
"It was hard to travel with the normal means of travel, with snowmachines and four-wheelers and stuff, because of all that rough ice down there and snow we've been having," Zaukar said.
The rough ice was particularly bad between Chuathbaluk and Napaimute, communities south of Crooked Creek. That prevented people from traveling to Aniak, the hub of the middle Kuskokwim River area, for food supplies and health care needs.
It was so rough that Leary's crew had to bulldoze it before they could plow. It took them nearly two days to clear 14 miles.
Once they hit Crooked Creek, where Zaukar was waiting for them, Leary said that it got a little easier.
"That's their country. They know it," Leary said.
Leary and Zaukar said that the ice got thinner the closer they got to Sleetmute, because of the late freeze-up and lots of snow insulating the ice. Close to Bethel, the ice measures 3 to 4 feet. Closer to Sleetmute, it only measured 2 feet. Zaukar and his crew helped navigate the thinner ice, and by Feb. 15 they made it to Sleetmute.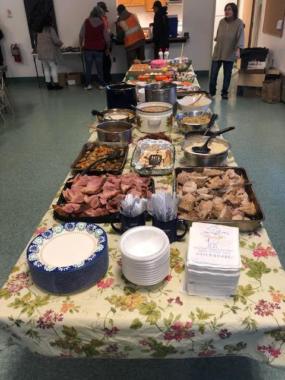 Rebecca Wilmarth lives in Red Devil, which is about 10 miles south of Sleetmute and one of the villages that now, for the first time, has an ice road.
"It was a historical moment to extend the ice road all the way up to Sleetmute," Wilmarth said.
The community of Sleetmute held a potluck for the two crews to thank them for their efforts.
But while the ice road is plowed, Wilmarth and Zaukar say that maintaining it is another challenge. Red Devil doesn't have a tribal council or city government with funds to help them out.
"I'm kind of in the same boat as Tim. Not really sure what the next move is and who the responsibility will lie with at this point," Wilmarth said.
Zaukar said that the road means more traffic, which means more potential for stranded drivers. That could be a burden to search-and-rescue groups.
But for now, residents are grateful to have a road, so that they can get to the next village or a health clinic without having to rely solely on flying.
The video included in this story is courtesy of Rebecca Wilmarth and Corey Nicholai and is used with their permission.