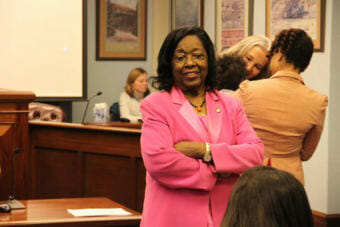 The Alaska House of Representatives voted to name the House Health and Social Services Committee room in the Capitol after the late state Sen. Bettye Davis.
Anchorage Democratic Rep. Ivy Spohnholz sponsored the measure.
"She worked so passionately for our children, both through health and social services and education," Spohnholz said. "And I think that's what makes it so fitting that we name this room for her. I hope that we can honor this trailblazer, this groundbreaking woman who achieved so much for our state today."
Davis was the first black woman elected to the Alaska House, and the first black senator of any gender in the state. She was a Democrat and a social worker who served on the Anchorage School Board three separate times. She died in December 2018.
The House passed the name change by a 37-1 vote. Wasilla Republican Rep. David Eastman was the only "no" vote. He said the Legislature may change the name again in the future due to Davis' support for access to abortions.
"If we are going to be naming this committee room after a individual who was such an outspoken proponent of lessening regulations, increasing access for abortion, and of Planned Parenthood, I think we'll be sending a message to those who come to testify on the other side of that issue, that they are not welcome," he said.
Other lawmakers say the name should be permanent. And they said lawmakers should be able to honor those whom they disagree with.
Eagle River Republican Rep. Sharon Jackson said she disagreed with Davis on many issues. But she signed on as a sponsor of the resolution.
"It's time for us to embrace our policy differences, because it takes both sides to come together to resolve the issues of this wonderful state," she said.
The resolution has been sent to the Senate.
Correction: This story has been corrected to reflect the fact that while Davis was the first black woman elected to the Alaska House, she was not the first to serve in the chamber. Blanche McSmith was appointed in 1960.