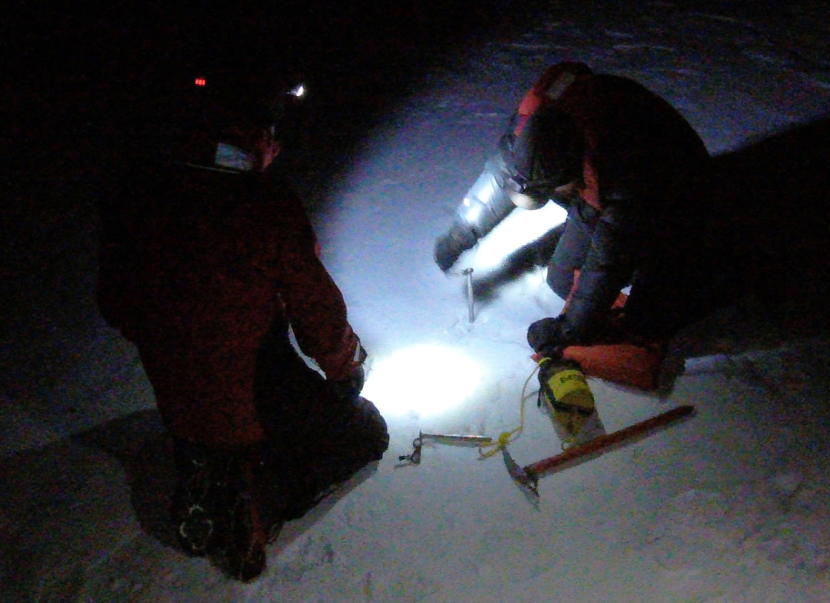 The ice at Mendenhall Lake is not safe.
As a rule, ice is never safe. But even after the latest cold snap, the ice at Mendenhall Lake is dangerously thin in places.
Members of a community group went out Thursday to check the lake. They're expecting residents over the weekend to cross the ice in search of the Mendenhall Glacier ice caves. So far, there are no confirmed reports of any ice caves.
The group traced the usual path across the lake using ice screws and ice axes to determine the thickness every hundred feet.
"It shows you that close to shore, it can be thick or thin," said Brian Weed of Juneau's Hidden History. His group put out a call for members to come out and check the ice thickness.
"And then as we get further out, so far, it's kind of a mix," said Weed.
The group only got 500 feet from the shoreline near the visitor center when the ice thinned to just an inch and a half. Anything less than 4 inches is considered dangerous.
Capital City Fire/Rescue Chief Rich Etheridge said the city doesn't measure the ice and would never say the lake is safe.
"Our advice is stay off the ice, but we know people are going to go out there anyway," Etheridge said. "They're taking a calculated risk and rolling the dice being on the lake."
Etheridge said all it takes is for the glacier to calve. That could fracture the ice and put a lot of people in the water.