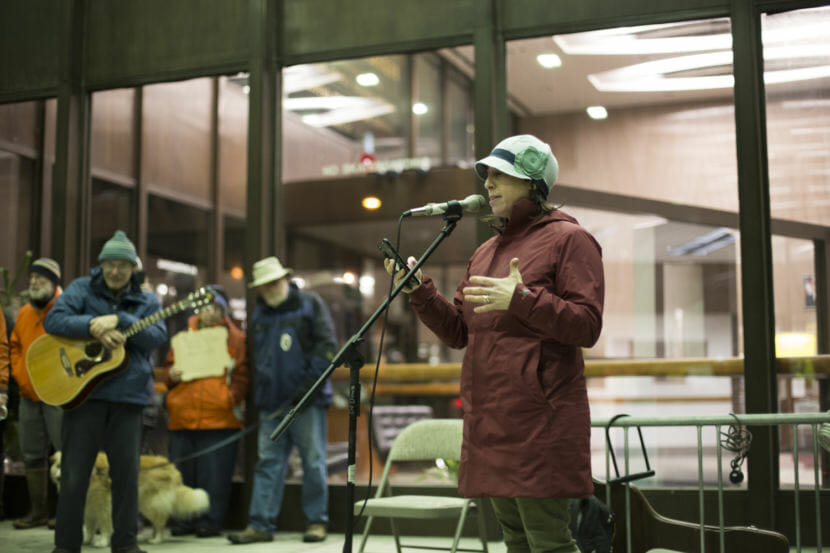 Nearly 100 Juneau residents turned out last night to protest the ouster of Attorney General Jeff Sessions. The Juneau protest was one of hundreds of similar gatherings around the country last night to show support for Special Counsel Robert Mueller and his ongoing Russia investigation.
Organizers led the crowd in chants like, "Congress can't just hem and haw! Trump is not above the law!"
The idea for the protest had been in the works for nearly a year, but organizers from the progressive political group MoveOn were waiting for the right moment. Local volunteers said that moment arrived Wednesday, when President Donald Trump forced out Sessions.
Given the short notice, organizer Luann McVey was pleased with the turnout.
"You never know when people say that they're going to come to a gathering that might happen sometime, when it really happens maybe you could get 20. So this was a pretty good crowd. I was happy with that," she said.
McVey said she's been to probably 30 protests since President Trump was elected in 2016. Like many in the crowd, her handmade sign was wrapped in plastic in case of rain.
According to MoveOn's website, similar gatherings were planned for Thursday night in Anchorage, Fairbanks, Homer, Palmer, Sitka and Soldotna.