Have your own Curious Juneau question? Submit it, subscribe to Curious Juneau podcast and catch up on past curiosities on the Curious Juneau page.
As recently as 2009, clock bells marked a specific location in Juneau. That year, former KTOO reporter Casey Kelly began a story like this:
"As the clock chimes 12 o'clock, Mike Anderson works a ratchet jack at the end of an old pier at NOAA's downtown port facility…"
Hourly clock chimes. In downtown Juneau.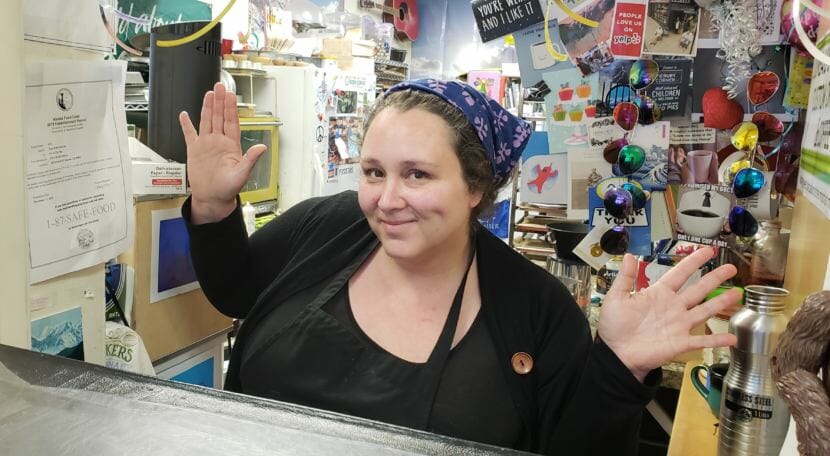 In this Curious Juneau, local businesswoman Jeste Burton asks, "Where did the sound of the lovely chimes and bells go? When I first moved here there used to be these gorgeous bells that would ring all the time. They started at I believe at eight o'clock in the morning, finished at nine or 10 o'clock at night. During the holidays, at like, 4:30 in the afternoon, they would play like a whole big, lovely series of, like, sounds and musics and everything like that. … Will you pretty please turn them back on? I mean, I feel like it was one of the most endearing qualities about living in Juneau. It was like, my hands-down favorite thing."
The chimes or bells were actually from a carillon. That's an instrument with a whole bunch of tuned bells. Keys are laid out like on a piano, but they're connected to hammers that strike bells instead of strings.
J. Allan MacKinnon is pretty sure he's the only person around who's played the carillon that rang across downtown Juneau for decades. He's also known for playing the Friday Kimball organ concerts in the atrium of the State Office Building, which is where I met with him.
MacKinnon was in town when the carillon was installed in the bank at the corner of Second and Seward streets. It was the National Bank of Alaska at the time, but now it's a Wells Fargo (which bought out Bank of Alaska in 2000). He remembers the bank installing it in 1962, the year he graduated from high school. Verdin, the parent company of Schulmerich Carillons, has a record of a sale to the Juneau branch of the bank in 1967.
MacKinnon kept a file of information on the carillon over the years, including a photo he snapped from the 1960s of a man in a suit at the keyboard. It looks like a piano but with three rows of keys. MacKinnon said he's got a filing cabinet full of historical stuff.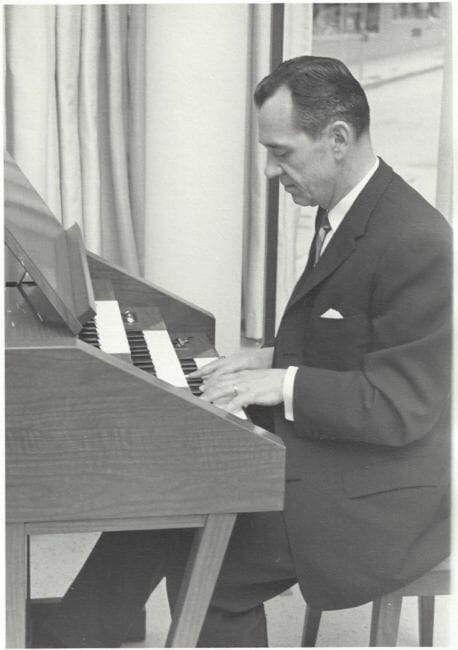 MacKinnon's carillon file has old correspondence with the Juneau Assembly, Schulmerich Carillons (the company that manufactured Juneau's carillon), and the Juneau Downtown Merchants Association, a predecessor of the Downtown Business Association. This model is a Schulmerich Americana.
This carillon didn't have any actual bells. It was electronic and designed to sound three kinds of bells: Flemish, harp and celesta. It was programmed to play the timekeeping chimes and a few songs for special occasions.
MacKinnon studied music at the Westminster Choir College in New Jersey, with a focus on the organ. His studies were interrupted by several years in the Air Force during the Vietnam era. When he got back to the campus in the 1970s, he started dabbling with the carillon on campus.
MacKinnon can't remember when, but at some point after finishing college in 1975 and moving back to Juneau, he started playing the downtown carillon live for holidays and special occasions.
It went on hiatus after the Christmas season of 1982. Its last concert might have sounded something like this:
The carillon had fallen into disrepair and was largely obsolete. The bank donated it to the Downtown Business Association.
In 1985, businesses, the Juneau Assembly and private donors pooled together $28,000 to restore it. Sealaska headquarters became its new home and MacKinnon programmed the restored unit.
So back to Jeste Burton's question: Why'd it stop? The 8 a.m. chime used to be her drop-dead cue to get to work.
"So you didn't have to look at your phone all the time, and you could be like, 'I have to hustle my bustle,'" she said. "Because, on the half hour, it was, like, a single chime. And then on the hour, it would play a specific chime and then count out the hours like a grandfather clock would and it was – I loved it."
After the 1985 restoration, records and memories get fuzzy. The city clerk and I searched the next 33 years of Juneau Assembly minutes and meeting documents for the word "carillon." There was one hit. It was in a 2014 memo noting it had been removed from the Sealaska building.
Longtime city officials can't remember why it was removed, or what actually happened to the parts. There wasn't any fanfare around its decommissioning.
Juneau Parks and Recreation Director Brent Fischer, who's retiring after 25 years with the city, said his best guess is that the carillon was surplussed or trashed.
MacKinnon doesn't remember any problems with the carillon's condition. When I met with him, he didn't know it was gone.
"But I'm interested in finding out, because something like that could get damaged or, you know, ignored," he said.
Three different Sealaska building managers, past and present, weren't certain why it was removed, either. They each had conflicting memories and guesses.
Regardless, Jeste Burton thinks the bells should come back.
"Well, I feel like if we're willing to put a ton of money into the whale — and I am in no way disparaging the whale — I think we as a collective community would derive equal value out of the beautiful lyricism of the bells," she said. "And I would personally, with my very meager resources, be happy to kick in to that and I suspect there's any number of other people who would."