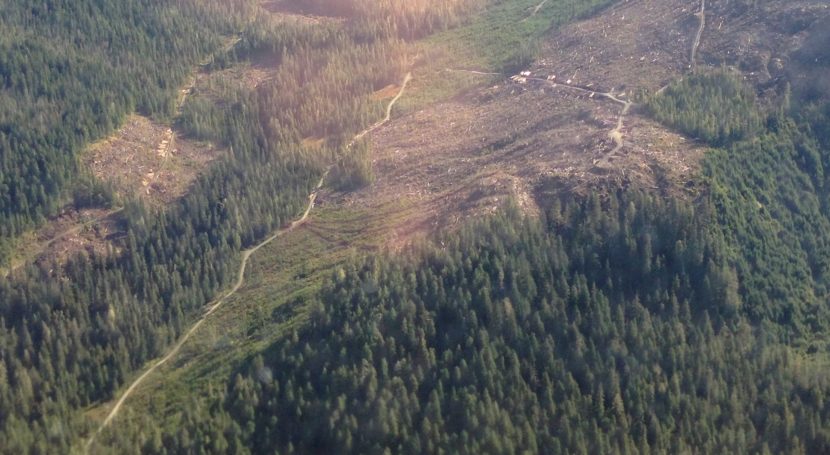 Gov. Bill Walker had named a dozen Alaskans to weigh in on potential road building in Tongass National Forest. Critics note that none of the appointees work in tourism — one of Southeast's fastest growing sectors.
The U.S. Forest Service announced this summer it was taking steps to allow road building in Tongass National Forest.
Logging interests say new roads are essential for keeping the timber industry alive.
Eric Nichols, a partner with Alcan Forest Products, was tapped for the panel.
He said Monday he applauds the Forest Service for drawing up a plan, "that relaxes some of the roadless that allows Southeast to have economic, viable communities."
But conservationists and some tour operators want the Tongass to stay intact.
"Roadless areas protect the core of the visitor experience here in Southeast Alaska and we're talking about Skagway to Ketchikan," said Dan Kirkwood, general manager of Pack Creek Bear Tours; he'd applied to sit on the panel but didn't make the cut.
"We need to protect scenery, fish and wildlife, the things that are bringing a million people – more than a million people – to Southeast Alaska every year," Kirkwood said.
Another roadless advocate that applied was Austin Williams, a campaigner for Trout Unlimited. He didn't make it on the panel, either.
"The committee seems to be heavily focused on resource extraction," Williams said.
When he reads down the list of names he sees logging, commercial fishing and mining.
"Certainly there are some good individuals on the committee and I'm glad to see that," he said. "But it's alarming to see that there isn't anyone specifically advocating for sport fishing or hunting or outfitters and guides. And those are some of the most lucrative and important uses of the forest currently and really need a voice in this process."
The only appointee tied to tourism is Brian Holst of the Juneau Economic Development Council.
The governor's press release describes Holst as representing "tourism and other commercial interests on the committee."
Holst declined to comment.
Conservationists will be represented by Sitka Conservation Society and The Nature Conservancy.
"You can always find somebody who thinks they were left out or there's a balance one way or too much of the other," said Michael Kampnich, a Prince of Wales Island-based staffer for The Nature Conservancy, tapped for the committee.
On the whole, Kampnich said he's pleased with the composition given the tight time frame. But he also noted the lack of professional guides.
"I also hope that there's some things in there that I can help advocate for," he said.
Governor's office spokesman Austin Baird said interest on serving on the panel was high.
"When you had 37 applicants and you had to narrow the field to 12 appointees there were definitely tough decisions that needed to be made," Baird said.
Native corporations will be represented by Sealaska's Jaeleen Kookesh; Ralph Wolfe, a member of Yakutat Tlingit Tribe is also on the panel.
The Alaska Roadless Rule Citizen Advisory Committee will get to work immediately.
It's scheduled to begin a two-day meeting in Juneau on Tuesday.
The committee will advise the State of Alaska. Their recommendations will go toward a state specific roadless rule which could relax road building and logging restrictions in the Tongass.
Anyone interested in attending to calling in or attending the meeting in downtown Juneau's Centennial Hall can find more information here.