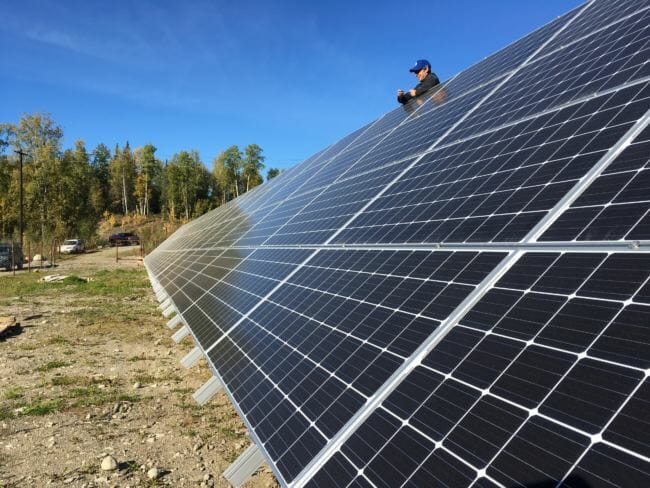 Alaska's first commercial-scale solar farm is about to come online. Its builders say they want to move the world toward cleaner energy sources. But they're not ready to renounce oil and gas just yet.
Jenn Miller is the project's chief executive. She was working on her 400-panel commercial solar project north of Anchorage last week, with black flies buzzing and her dog, Ralfie, wandering around with a chunk of moose bone.
Miller was there with her husband, Chris Colbert. They both had drills and leather tool belts and were moving a ladder around, putting in some of the last few pieces before they can flip the switch. Miller said she's excited about the outlook for solar power and its potential to slow global warming.
"The cool thing is, I don't think renewables have to be a charity case. I think they can be a business case," she said. "And the more you get to that point, I think the faster we are able to address the climate issue."
The solar farm could power about 30 homes. The local electric utility, Matanuska Electric Association, will buy the power at wholesale rates. That could slightly reduce the use of natural gas in its existing power plant and reduce greenhouse gas emissions.
In a lot of ways, Miller fits the stereotype of someone trying to fight global warming. She has solar panels on her house in Anchorage. She bikes to work. She's been on a river-rafting trip in the Arctic National Wildlife Refuge.
But here's something you might not expect: Miller works at BP, the oil company.
"When I went to go work for an oil company out of college, the way you hear about oil companies is like, everyone who works there is evil," she said. But, she added: "They're actually nice people and they're pretty smart."
The solar project is personal — it's not endorsed or paid for by BP. But Miller is a project manager at the company, and her three partners are all current or former BP employees.
One is Sam Dennis. Dennis drives a Tesla, a pricey electric car. He thinks the future is in electricity. But he also has a pickup truck, and he thinks the future will be built on a foundation that the oil industry helped create.
In an interview at the site, Dennis pointed out that the solar panels at the site stand on a foundation of recycled oil drilling pipe. And that's not all.
"The money came from our work with the oil industry. And our expertise in running projects came from our work with the industry," he said. "And I was thinking back, and I was like, how much of the development of oil 100 years ago was based on knowledge from coal?"
Dennis said he thinks oil companies and their workers can help with the transition toward renewables. Just like the partners in this solar project, big oil companies have expertise building things. And they have a lot of money.
It turns out that Dennis' views aren't that far off from the company he once worked for. Janet Weiss, BP's top executive in Alaska, said her company has been boosting its renewable energy holdings after scaling them back following the Deepwater Horizon explosion in 2010.
"What our company is doing is certainly taking some of the cash flow that's been earned through the oil and gas and investing it into our renewables business," she said in an interview. "It's a natural evolution of what we need to do here on the planet."
To be sure, BP still produces a ton of oil — about 4 percent of global production. Its renewable investments are also small in relation to the company's overall portfolio.
But BP last year announced it was investing $200 million in a British solar company. It also has a wind branch, and Weiss said a company wind executive, Laura Folse, is interested in a trip to Alaska to see if the state has potential for power generation.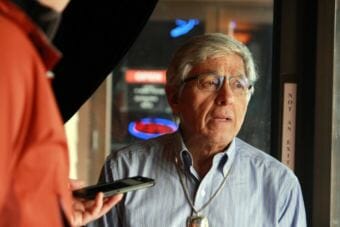 Officials drafting Alaska's new climate policy have also enlisted the oil industry in tackling global warming. Weiss last year was named to the state's climate leadership team, which is chaired by a Democrat, Lt. Gov. Byron Mallott.
"If the energy industry, as it exists now, is an opponent of dealing with climate change, we have a steep hill to climb," Mallott said in an interview. "My belief is that they are a partner. They will continue to be a partner. But they must be held to account, as all of us must be."
Back at the solar farm, Miller was still drilling in parts, while Dennis fired up an excavator to fill in a trench. Miller said she wants people to understand that these climate change and energy discussions aren't black and white.
"I think a lot of times there's an image that people who work for the oil industry are of certain political views or putting a box over their heads about climate change and don't think it's happening," she said. "But I think humans are much more sophisticated than that. I think humans can hold a much bigger picture in their head."
The partners expect to get a 3 to 5 percent return on their investment, or roughly equivalent to bonds. Miller wouldn't specify the exact cost of the project, but she said it's in the hundreds of thousands of dollars.
The project won't generate much revenue in the winter — maybe $500 in the whole month of December. But some of the Alaska-specific challenges are offset by the high price that the project will get for its electricity, and the fact that solar panels actually operate more efficiently in cold weather.
"We started looking at the numbers and started researching what you get for revenue for wholesale power, and then we started looking at what an installation would actually cost," Dennis said. "And it was like, 'Wow. Looks like it pencils out.'"
Miller and her partners are already thinking about a second project. One option is to expand their existing site; another is to build a new one in a place with higher power costs than the Anchorage area, like Fairbanks.