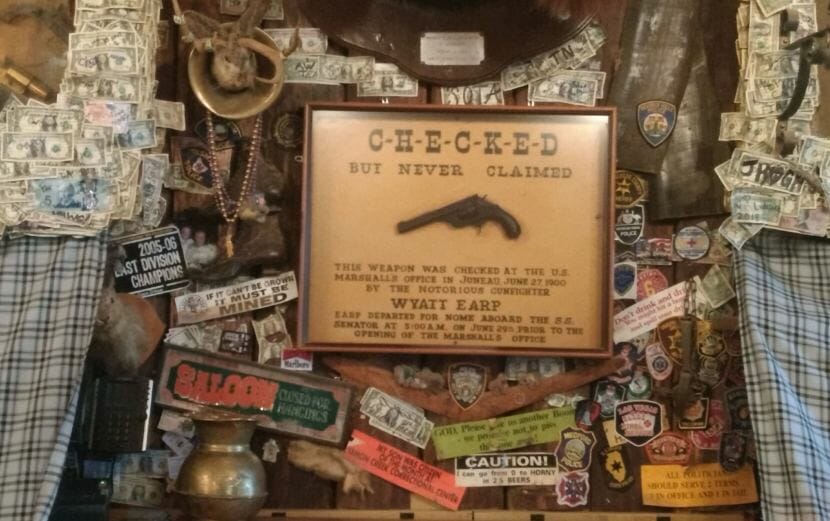 Juneau's Red Dog Saloon claims it has a pistol that belonged to one of history's most notorious gunslingers. But does the bar's story check out?
Wyatt Earp was among the most famous frontier lawmen. In 1881, he and his brother fought alongside Doc Holliday in a deadly confrontation with outlaws at the Shootout at the O.K. Coral in Tombstone, Arizona which has been dramatized countless times for film and television.


Curious Juneau stars you and your questions. Every episode we help you find an answer. Catch up on past episodes, or ask your own question on the Curious Juneau page.
Subscribe to the podcast:
[podcast-subscribe podcast="curious"]
A decade after his death, the 1939 film Frontier Marshal was one of the earliest in a long line of films about his brutish style of justice.
By the turn of the century, he was already a celebrity of sorts. That about when Wyatt Earp and his wife Josephine traveled to Nome at the height of the gold rush to start a saloon.
Legend has it he briefly passed through the gold mining town of Juneau. And left something valuable behind: a Smith & Wesson No. 3 revolver that to this day is a kitschy tourist attraction in a downtown bar.
According to the legend, the revolver was confiscated by U.S. Marshals when Wyatt Earp was changing steamships in Juneau.
Given the man's fearsome reputation as a gunfighter, federal marshals demanded, or so the story goes, that Wyatt Earp surrender his weapon while in town. His boat to Nome in the morning left earlier than the federal offices reopened. The gun went unclaimed in federal custody.
You can take the story at face value. But I got to talking with Juneau newspaperman James Brooks.
"How did Wyatt Earp's gun come to be on the wall of the Red Dog Saloon?" Brooks asked me on a recent afternoon.
We agreed there's got to be more to the story.
"So the story that I got… back in the early 1900s, early teens or '20s. The gun was part of what was then this Territorial Museum," explained saloon owner Eric Forst.
The pistol's been a fixture behind the bar for decades, he said.
The story is that a museum employee – or at least someone with access to its treasures – had a bit of a drinking habit, Forst said.
"And he would periodically pay off his bar tabs with stuff out of the Territorial Museum," he continued, "and at one point he had a significant bar tab at the Red Dog Saloon and he paid that with that gun."
At least that's what Forst was told when he bought the bar a decade ago.
The Territorial Museum would later become the Alaska State Museum so that's where I headed next.
"I can't rule anything out but I have been through the records pretty thoroughly over the last 30 years," said Steve Henrikson, curator of collections. "I've never seen it listed either as something that belonged to the museum or as a loan."
There's something else that doesn't add up.
"I don't believe that Wyatt and Josephine were in Juneau in June of 1900," said New York-based author Ann Kirschner who's written about Wyatt and Josephine Earp's time in Alaska and published the 2013 book Lady at the OK Corral. "I believe they sailed from Seattle and stopped in Unalaska and then continued on to Nome, that was the western water route and I don't believe that they would have necessarily stopped in Juneau."
I enlisted the help of Zachary Jones at the Alaska State Archives for help to confirm that.
"We have records that document him in Nome," Jones said. "But documenting a shot stop on his way to Nome is a little more difficult."
The only written account of Wyatt Earp's time in Juneau comes second-hand. It's contained in the official history of the first 50 years of the Alaska State Troopers and references federal records discovered in the 1960s.
"Those letters purportedly say that U.S. Marshals had a … firm discussion with Wyatt Earp when he arrived in town," the archivist told me. "If that's true, it's really interesting. I still don't understand why a U.S. Marshal would want to accost and sort of run off a retired law officer." He's since written the national archives to see what might be on hand in Washington.
In the meantime, not only is it questionable the pistol belonged to Wyatt Earp. There's doubt he was even ever in Juneau.
It felt like a dead end, but journalist colleague James Brooks suggested I dig deeper in the state archives.
There's a trove of old newspapers on microfilm in the archives. I thumbed through Juneau's Daily Alaska Dispatch. I had a date and the name of the steamship: the sign on the wall said he'd been disarmed on June 27, 1900. He supposedly sailed two days later on the S.S. Senator.
Juneau's newspapers around that time are full of news about miners heading to Nome. (And ads for Rainier beer).
But there's nothing about Wyatt Earp or that ship.
That's because I was looking in the wrong place.
Acting on Kirschner's tip, I located an item in the Nome Daily News reporting on Wyatt Earp's arrest in a drunken brawl. It's dated June 29, 1900 – the same day he supposedly left his gun in Juneau.
So there's a hole in the bar legend right there.
But just because the dates are wrong doesn't mean the whole story's bunk, though it probably is. From the start, bar owner Eric Forst told me he bought the saloon but not necessarily the legend around Wyatt Earp's pistol.
"The reality as of how it got to the Red Dog Saloon may be lost to history," he said. "The story as I've been told, is what I told you, but I've never seen any documentation of how it ended up from one place to the other."
I was hoping for a firmer resolution. But James Brooks takes the long view.
"Maybe that's for the best, I mean this is someone whose life is shrouded in legend," Brooks suggested. "There's almost as many tall tales as there are facts. So maybe it's kind of appropriate that it's that way."
Either way, it's a good story. And it brings tourists from all over the world who stop in at the Red Dog Saloon for a glimpse of the famous revolver.