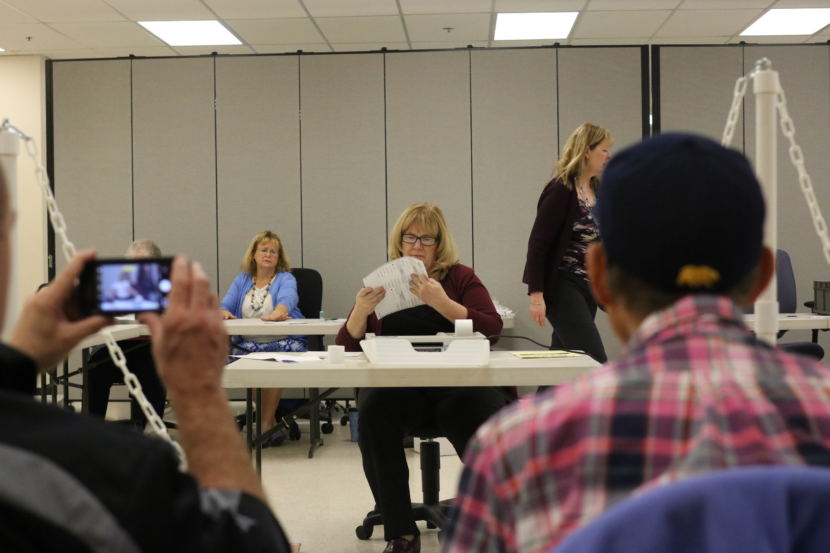 A new count of absentee ballots Tuesday appeared to give Anchorage Republican Rep. Gabrielle LeDoux an insurmountable lead in her GOP primary, but questions are still swirling about evidence of voter fraud that's been turned over to state prosecutors.
State elections officials counted more than 200 absentee ballots Tuesday, with the vast majority going to LeDoux. She now has 113 more votes than Aaron Weaver, her GOP primary challenger, which appears to be an insurmountable lead.
But LeDoux is now parrying attacks from the Alaska Republican Party, and questions from reporters, about the "irregularities" that state elections officials publicly disclosed Monday. They include absentee ballots requested in the names of seven dead people, and two more ballots returned from people who later told the state they hadn't voted.
Elections officials haven't pinned responsibility for the irregularities on any campaign or candidate. But they did separate out a batch of 26 absentee ballots Tuesday that had questions about their authenticity. And all 26 of those votes went for LeDoux.
Confused about why this race is important, and how it's all playing out? Let's explain:
Q: Why should we care about this race at all?
A: LeDoux, the incumbent, is a really polarizing figure. She represents Joint Base Elmendorf-Richardson, an Anchorage military base, as well as part of the Muldoon neighborhood in the eastern part of the city.
Two years ago, LeDoux made Republican Party leaders really angry. Typically in the state House, Republicans stick together in their own caucus. But LeDoux flipped and took a leadership spot in a mostly-Democratic majority, along with a couple of her Republican friends, Paul Seaton of Homer and Louise Stutes of Kodiak.
Since then, the Alaska GOP has been campaigning to defeat all three. But LeDoux's opponent, former television cameraman Aaron Weaver, barely campaigned and didn't raise much money, so everyone in the political world was shocked when the two candidates were separated by just three votes on Election Day.
Then, the state announced Monday that it had discovered evidence of the "irregularities" in the district's absentee votes, which they'd noticed even before the primary election took place last week.
A state attorney, Margaret Paton-Walsh, said Monday that the irregularities are palpable evidence of voter fraud.
Q: What happened Tuesday?
A: The state elections division counted about 200 absentee ballots in LeDoux's district. Because of these irregularities and the intense focus on the race, they had a special process.
Typically, election workers open all the absentee ballots, mix them together and count them all at once. But Tuesday they wanted to keep each absentee ballot associated with the person who sent it, to ensure there's a paper trail in case someone decides to challenge the results. One election worker would open the absentee envelope and remove the ballot, which remains in a "secrecy sleeve" that hides the markings inside. Then the election worker would hand the ballot, inside the sleeve, to another worker, who would feed the ballot through a counting machine without seeing any of the voter information on the envelope. That allowed the state to maintain the secrecy of people's votes. It also was a little more strenuous for the election workers — one joked about how many steps her Fitbit had recorded by midday: 5,814.
Q: What do we know about the "irregularities," and who could be responsible for them?
A: Not much, aside from the details that the state has already released. But there's a lot of speculation swirling around LeDoux, in part because the 26 absentee ballots that the state described as suspicious all were votes for her.
Right now, the state is not talking about where it thinks the irregularities came from. The elections division said it referred its concerns to state prosecutors, and those prosecutors declined to comment Tuesday. Meanwhile, the Alaska Republican Party alleges that the irregularities trace back to LeDoux – specifically, to a consultant that she hired to do outreach with the Hmong community in East Anchorage. But they haven't shown any evidence that directly links LeDoux or the consultant to the irregularities. Still, GOP leaders now say they're going to try to find someone to mount a write-in campaign against LeDoux in the general election.
Q: What's LeDoux saying?
A: She denies that she's done anything wrong. After two days where she didn't answer reporters' questions, she released a prepared statement Tuesday afternoon calling the GOP's accusations "absurd." She acknowledges that she hired the consultant to do outreach and get-out-the-vote work among her Hmong constituents. But she said she's "never looked for ways to manufacture votes," and said such an effort would be absurd "in this day and age of voter verification."
Q: What else happened with elections results Tuesday?
A: The elections division, at a separate office in Juneau, counted absentee ballots in two other really close races on the Kenai Peninsula. One will decide who replaces Mike Chenault, the Republican representative from Nikiski who used to be House speaker. The other will determine if Senate Majority Leader Peter Micciche, a Republican from Soldotna, keeps his seat in a tight race against challenger Ron Gillham.
The elections division hadn't released official updates by late Tuesday afternoon. But the Juneau Empire reported that Micciche had taken a substantial lead in his race. It also reported that Ben Carpenter, a peony farmer and longtime member of the Alaska Army National Guard, was narrowly leading Wayne Ogle, the president of the Kenai Peninsula Borough Assembly.