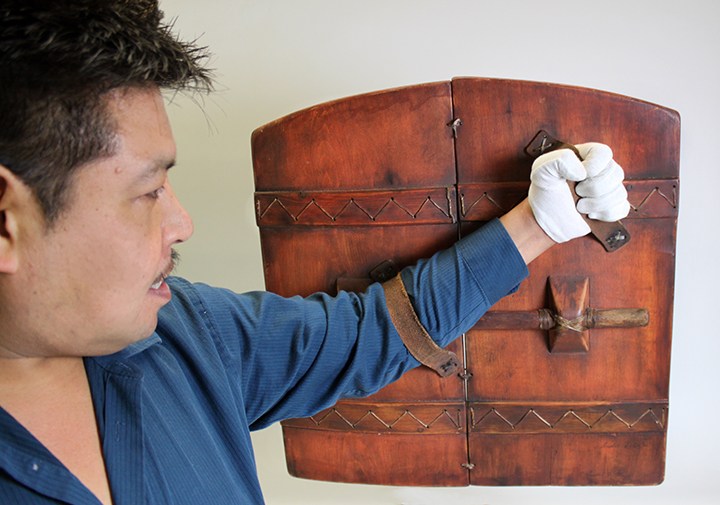 Traditional Sugpiaq artist Andrew Abyo hosted an atlatl, a spear-throwing weapon, demonstration at the Alutiiq Museum and Archaeological Repository while visiting Kodiak.
"The atlatl was used by the Sugpiaq and also the Ungangax, actually all the different cultures of Alaska. And primarily it was used in the Kayak," Abyo said of the tool used for hunting around the world. "That is actually not an Alaska Native word, it is an Aztec word and for the Sugpiaq we call it the Nug'aq. Not too many people were familiar with it and it is a good way for me to introduce our people to the culture."
Abyo primarily carves wood, making masks, weapons and kayaks. Alutiiq Museum has a pair of Abyo's pieces — a war shield and war club — in its permanent collection.
Originally from Pilot Point on the Alaska Peninsula, Abyo did not grow up with carving but always admired it. Then he discovered his talent through a workshop.
"My mom … paid for a workshop for me at the Alaska Native Heritage Center, and you don't want to say no to mom," Abyo said. "I discovered that I could carve these. It just comes right out. And it was natural, and it kinda grew from there."
The workshop was with Abyo's uncle, Peter Lind.
He said when he is not traveling and teaching, he can be found working on his current project: a model angyaq, an open-skin boat, similar to the umiaq, at the Alaska Native Heritage Center in Anchorage.
Abyo's visit was supported by a museum initiative supported by the Rasmuson Foundation to incubate and test innovative approaches to create fun and engaging programming to expand its audience.