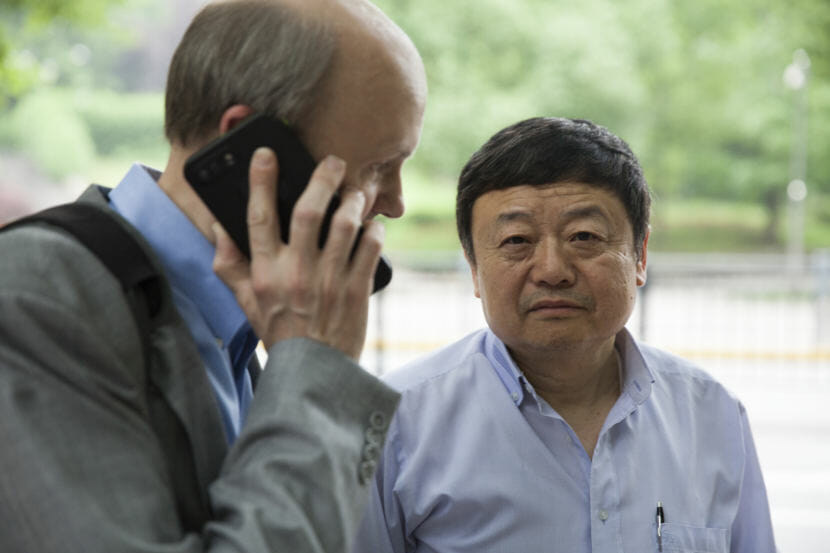 Alaska's does $1 billion dollars worth of trade with China every year — it's the state's largest trading partner.  But, it took a lot of work to break into that market.  One man, Yingdi Wang, has been at it for decades.
When Alaska Gov. Bill Walker decided to take 50 people on a trade mission to China — the logistics were complicated. But, when the bulk of the delegation landed at the airport in Beijing on the first day, Yingdi Wang was waiting there.
Wang is a small, impeccably dressed man. And he is really good at logistics. He's a natural-born fixer. On this trip, that means a steady-stream of rapid Mandarin to the bus driver, to staff at the airport and hotels, answering questions, solving problems, even Tracking down a tailor so half the delegation can get new suits.
He's up with the group first thing in the morning, and out late. On these long bus trips he usually puts his sunglasses on, crosses his arms and takes a nap.  During a bus trip in Shanghai, with about a dozen people who are interested in selling what Alaska has to offer into China — Wang sits in the front seat, watching the horizon. He's thinking about how much the city has changed since the first time he visited in 1991.
"Well, there was no highway. There was no high-rises … like, this road we're on? It's just a big, big, big change," he said.
From that seat, nearly 30 skyscrapers are in view.
"Hundreds, hundreds you know," he said.
It's a sea of people.
Wang was born in 1954 in Beijing, about 10 minutes from Tiananmen Square.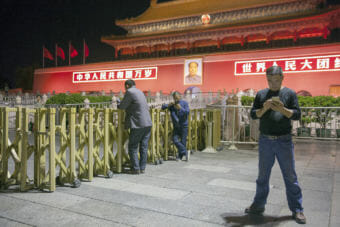 "That was my childhood. I grew up there," he said. "Oh, you know summertime we just went to Tiananmen Square, we slept in the square there, you know."
It was a chaotic time. The cultural revolution started in 1966.  China's communist leader, Mao Zedong,  shut down the nation's schools for a time.  Wang says, his education just kind of stalled.
"We just doing the revolution, you know? Even [when] we go to school, we don't study, you know, we just play," he said. "Teacher afraid to teach; student just doesn't want to study."
When he was 16, Wang was sent to a work camp. He worked as a welder, a boiler-maker and in a big chemical factory outside of Beijing for about 15 years.
By the early 1980s, he was 30 years old and he wanted more.  He wanted to finish college. But, he said he wasn't allowed to do that in China.
"Well at that time in China — my age — cannot go to college you know.  I'm 30 years old." he said.  "It's just, the system not allow me to go to university to study."
So, he decided to come to America.  But, it took awhile.  
A close friend, John Sturgeon (yes, that John Sturgeon), said that process was not easy.
"And I can't remember the exact number of times but he told me, I think over a hundred times [he] went to the American embassy and applied for a visa. And they were extremely hard to get in those days because they figure people come over here and they wouldn't leave. And think like a hundred and twentieth time,  he told me that he went up and put his visa application down. He said the guy looked at him, he said 'son, you're going to keep on coming aren't you?' And he says 'yes.' and he says 'OK, approved,'" Sturgeon said. " And that's how he came to America."
Wang ended up in Alaska.
Sturgeon said he met Wang for the first time in Anchorage. 
"I had a friend that I was working with called up and said he had some college student that was looking to make some extra money if I needed him my lawn cut," Sturgeon said. "I says,'yeah.' I really didn't. But I was trying to do him a favor and so I said 'OK.' So, that person turned out to be Yingdi."
Sturgeon said he liked Wang immediately.
"'He's real personable. He's really outgoing and kind of always got a smile on his face," Sturgeon said. "But he was, you know, trying to work his way through college.  He got a scholarship that wasn't enough to pay for everything, so he had taken kind of odd jobs wherever he could get them to live on."
Before long, they were working together.  First, in the timber industry at Koncor Forest Products, a company set up by four Alaska Native corporations. Wang's first job was scanning log tags by hand before they were shipped off; sometimes that meant 20,000 tags per ship.
"Yingdi would come in after hours and scan those tags 'til, you know, late in the evening and sometimes early in the morning," Sturgeon said.
He said he watched Wang blossom from a new immigrant with terrible English skills into a savvy business person pretty quickly.
With Wang's help, Koncor Forest Products opened one of the first headquarters in China for an Alaska company. Wang ran the company's bureau from his apartment in Beijing. 
Sturgeon and Wang don't work at Koncor together anymore, but they've started their own businesses together since then.  In a country that values reputation, Sturgeon said Wang has built a good one. 
"Still to this day we don't have to put down deposits to the factories when we buy something because they trusted Yingdi," Sturgeon said.
About 15 years ago, Wang took those private-sector skills into the public sector and started working for the state.  
When someone from the Governor's office or the Department of Commerce wants to do business in China, they call Wang.
 "So, he is the ultimate fix it man for the state of Alaska," said Alaska Gasline Development Corporation economic adviser John Tichotsky.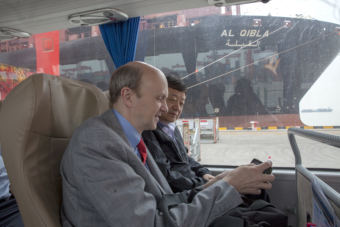 He said Wang is completely at ease negotiating with high-level government officials, then chatting casually with cab-drivers or negotiating in a market. 
"He's like a genie in the bottle. You get to tell them your wish, and everything from a suit to a meeting with a minister … he could probably pull it off," Tichotsky said.
And, he knows Alaska. Tichotsky said Wang has a talent for stepping in at these crucial points in meetings to make sure everyone is on the same page.
"There are some real cultural specificities and Yingdi's just good at pointing out to people what they should do — how they should react — without being condescending or making you feel like you're awkward," Tichotsky said. 
But, that's all changing now.  
Back on that bus in Shanghai, Wang said he's getting close to retirement age.  He's 64.
This summer, he's leaving behind that apartment in Beijing and settling in the U.S. for good.