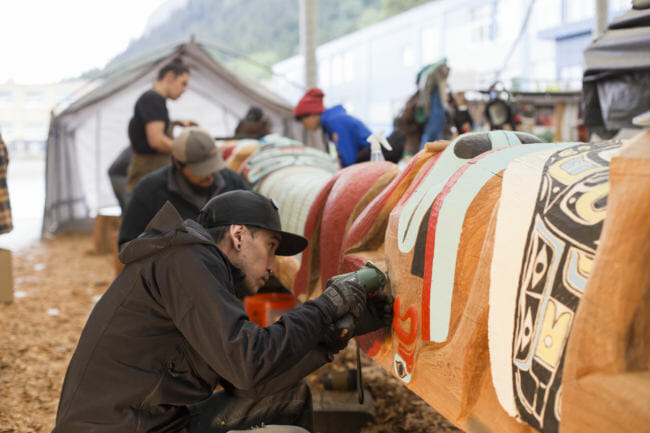 Beneath the covered area at Harborview Elementary School, Nicholas Galanin strikes wood with his adze.
"Definitely the tree's been carving something in me, something that wasn't there before the project," Galanin said of the 40-foot log. "It will be standing when we're not."
The 39-year-old Sitka artist is the lead carver on a totem pole for the first time.
The monumental totem pole is the second created for Goldbelt Heritage Foundation and Douglas Indian Association, as part of a healing process for the T'aaḵú Ḵwáan Tlingit tribe.
The pole memorializes the deliberate burning of Akáx Yaa Andagán, the Douglas Indian village, in 1962 and honors the residents who lost their homes.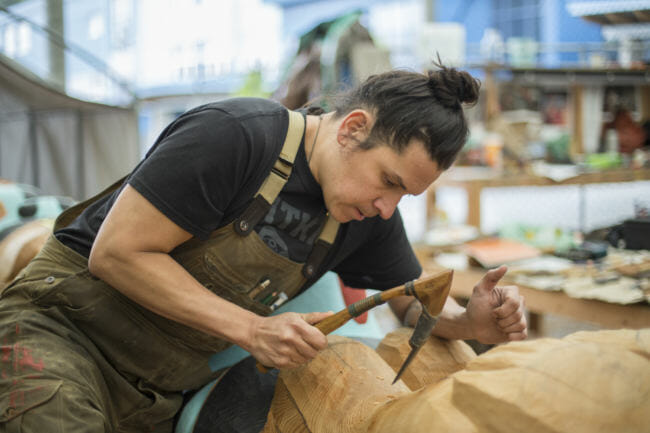 The construction over the last year also was an opportunity for one generation of artists to share traditional knowledge and craft with another.
"Definitely we did our own prep work before the pole, making sure that we arrive in a good mind frame to engage in the project," Galanin said. "It shows in the work, so it will come out in the work, and it's been embedded in the work."
His five-person team has been working for nearly a year, through late night shifts and winter months.
Now they're working 16-hour days with additional helpers.
Artist Sam Sheakley uses a round chisel to narrow the ear on the Wolf design. Cedar chips cover the gymnasium floor around him, as he helps finish the pole.
"Working on concrete flooring here, so we leave the wood chips down and just in case we drop some of our tools we don't need to rebuild the shape of the edge," Sheakley said. "We'll sweep once we're done."
Galanin's partner Meritt Johnson, a multidisciplinary indigenous artist, paints the intricate Chilkat patterns.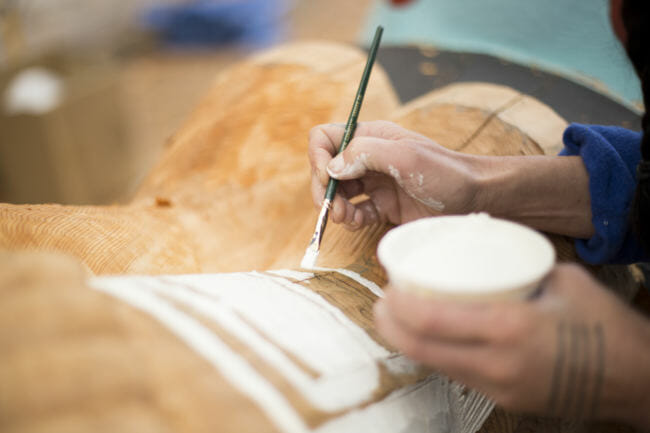 "We're going about painting in a way that because they're still carving, the pole changes so much when it gets painted," Johnson said. "It lets Nick see the pole in a different way, and he can go back in and recarve, refine and carve in all the details."
Sometimes painted parts get carved off, then get repainted. The pole is better because of it, she says.
The pole features a Xóots, or brown bear, holding copper tináa or shield, that apprentice carver Lee Burkhart sizes it to the totem.
He gets the copper red hot and pounds it into shape with a ball-peen hammer.
He's been working with copper since he was 10 years old, but nothing of this scale: 3 feet by 2 feet.
"Right now I'm finalizing the copper tináa getting it cut to shape and ready to install today," Burkhart said. "Just roughing it out right now and then coming in with files and making it perfect. I've seen just wooden tináa's on totems and I think it adds a little bit of unique style to it."   
His father, master carver Will Burkhart, is helping at the bottom of the totem. The elder Burkhart also is Galanin's uncle and mentor and one of many familial ties on the project.
Apprentice Shane Brown said they've discovered they share relatives.
"We're finding out our family relations are as tight as they possibly can be, just probably like the meshing and weaving of a Chilkat or cedar had is represented as. That's how close we are." 
The carving team finished in time for the totem raising ceremony Wednesday at Savikko Park.
This summer, the younger Burkhart and others will keep practicing their carving house post at the Mount Roberts Tramway.  
Goldbelt Heritage Association and the Douglas Indian Association sponsored the project and two logs were donated by Sealaska Corporation's subsidiary, Sealaska Timber Company.
The totem pole was funded in part by a grant from the Department of Health and Human Services.
360 North is under contract with Sealaska Heritage Institute to produce television and online video coverage of Celebration.