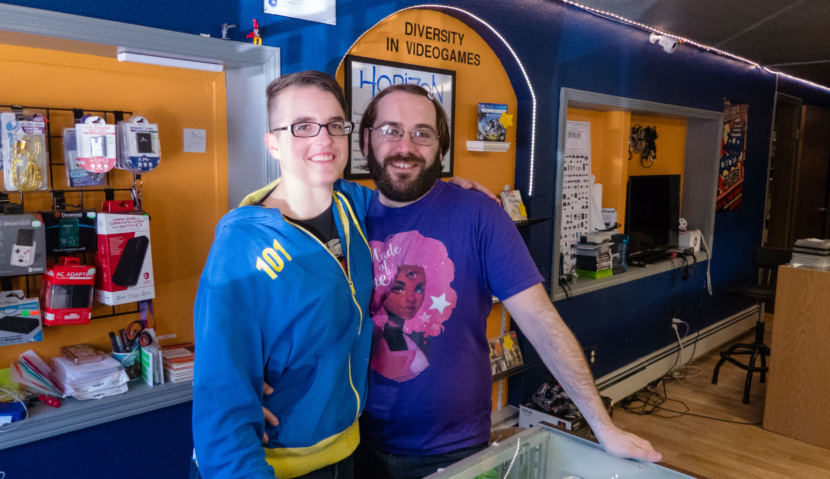 Emry and Casey Harris have a vision for video games. In an industry that's not always welcoming to people who don't fit the "gamer" stereotype, they're on a mission to build a community that's welcoming to all.
"Everybody gets something from video games," Casey said. "It's play."
When the couple started Game On in Juneau about a year and a half ago, they wanted it to be a different kind of store.
They said gaming culture isn't normally reflective of LGBTQ interests. Both identify as non-binary and use the singular, gender-neutral pronoun "they."
One difference about the store is clear as soon as you walk in: a "Diversity in Videogames" alcove is at the center of the front wall. It's a response to an industry that isn't exactly inclusive.
Casey Harris calls it a "highlight wall of video games that feature gay, lesbian, bisexual, transgender, women of color, men of color. Everyone who isn't a straight white dude in their mid-20s with stubble and bad attitude."
Which is a contrast to most of the games that come into the store.
"You turn around and there are thousands of games behind you," they said. "They're all that guy. You're just playing the same guy in every game again and again and again."
The couple says they've seen a lot of support for their vision for games and a community that includes everyone, not just people who fit a particular stereotype.
That community support helped the Harrises get enough online votes to place as a finalist in a small business competition run by SCORE, a national organization providing resources and mentorship for small businesses.
Being a finalist comes with a year of small business mentoring and a trip to Reno for a training and networking event. It also puts them in the running for a $15,000 grand prize.
Even if they don't win the grand prize, the Harrises are excited about what the award will mean for their business.
They would also like to expand their store and offer more services, like console repairs and more new merchandise.
"Being able to pay ourselves and being able to put more into this would be stupendous," Casey said.
After being in business for a year and a half, the couple can pay themselves a small amount but still work other jobs to make ends meet.
"But that's not what we're excited about," they said. "We're excited because of the opportunity we have to bring light to this."
Casey and Emry Harris agree the best part of the award has been the opportunity to share their vision for inclusive gaming with a wider audience.
As the only video game store that they know of in Southeast Alaska, they're excited to be defining gaming culture in the region.
They hope the platform and resources from this competition will help them spread the word and expand their operations.