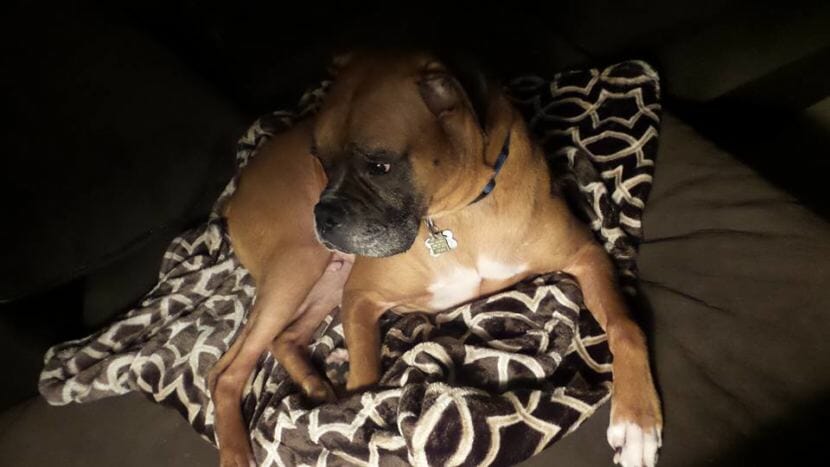 After Tammy Hunt's boxer died in January, she hired a local pet cremation service to pick up the remains.
In mid-February, when her stepson's cat died, he called the same company.
But neither of them heard back from the business, Bridge Pet Services, for weeks about their bills.
On a recent weekend, they stopped by the shop and noticed a blue Toyota full of black and white plastic bags.
They took a closer look, and realized the bags were labeled with people's names, pet names and dates going back weeks. They showed me video of what they saw.
Hunt said they were both horrified to think their own pets might be decomposing in the back the truck.
"You know, if we didn't care, we'd just take our pets out to the landfill," she said.
She said seeing those bags brought back the stress of losing her dog all over again.
She decided to post about it on a Juneau Community Collective Facebook thread.
The reaction from other clients of Bridge Pet Services was immediate.
Some said they'd tried calling, emailing, texting and even knocking on the door to talk to someone. Other customers noted bills and pet's ashes that were overdue by a month or more.
"If the service is offered, then the service should be rendered," Hunt said. "If the service cannot be rendered, then it should not be offered. I think that ordinances might need to be either enforced or altered to accommodate pet owners a little bit better."
"It's just embarrassing and I'm just trying to get this sorted out and get back on track," said Mike Dziuba, who founded Bridge Pet Services with his now ex-wife in 2007. "My own dog was getting older at the time, and I just didn't want to ship him to Anchorage and I wasn't in a place where I was putting roots down where I was going to be at a house where I felt comfortable burying him there."
When a pet passes away, Juneau residents are required by city ordinance to dispose of the remains immediately.
Before Bridge opened, they could bury the pet on their own property or use the landfill's disposal service.
"I felt like I was providing an option for town instead of the landfill, of course, although I know there are still people that choose that option," Dziuba said. "But it wasn't for me and it's not for most of my owners."
Dziuba's clients can choose an individual cremation to receive their pet's ashes in an urn afterward, or communal cremation, where multiple pets are cremated together and Bridge disposes of the ashes.
Prices vary based on weight. Home pick-up costs $35.
Dziuba said business tends to pick up in the winter months. He thinks it's because the ground is too hard to bury pets.
Animals awaiting cremation are usually stored inside in freezers.
It typically takes him up to two weeks to cremate and get ashes back to clients, but acknowledged he'd fallen behind because of some personal issues.
He said he didn't want to make excuses.
"I don't necessarily blame anybody for griping. But I'll talk to anybody individually and try to square it up that way. I think that's kind of the best route."
He runs the business alone now and works full-time at Bartlett Regional Hospital during the day, so animals in body bags sometimes sit in his truck until he can return to his shop.
Dziuba said he has time off from work coming up and plans to devote it to getting caught up and making things right with his clients.
In addition to individual owners, he works with the Gastineau Humane Society and local veterinarians, picking up animals that have been put down or found dead on the side of the road and cremating them.
The humane society had a crematorium years ago, but no one working there now remembers when it went away.
City Manager Rorie Watt said the city had received calls from concerned Bridge clients. He said they asked the Gastineau Humane Society to reach out to Dziuba and is hopeful the business will get back on track.
"I do think it's a service that the public appreciates and the prior method of burying dead pets in the landfill really was not very popular with a lot of people."
Hunt and her stepson both eventually heard back from Dziuba. She's still upset about what happened, but said Dziuba waived her bill.