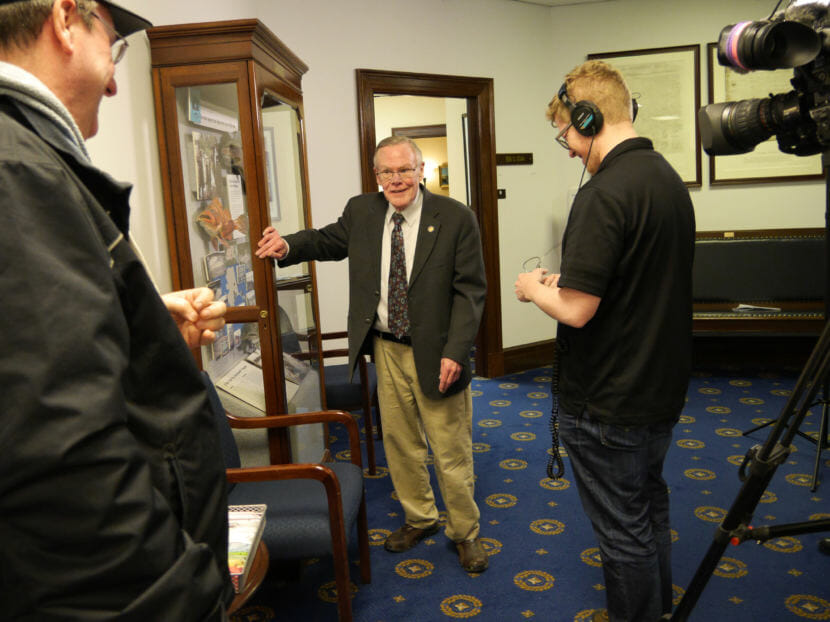 For decades, Dennis Egan's voice has been one of the most recognizable in Southeast Alaska.
"I can handle Juneau fairly well," he said Sunday afternoon while sitting in his office in the Alaska State Capitol. "I just got a permanent handicap sticker, so that helps."
But his career and legacy has been far more varied than just politics.
Long before he was appointed to the state Senate or elected Juneau's mayor, Egan was a regular fixture on KINY's airwaves.
He and his partner sold the station in 2008.
Now, the Egan era of Alaska politics is ending, too.
Alaska Sen. Dennis Egan announced his retirement earlier this month.
He represented Juneau, Haines and Skagway for nearly 10 years in the state Legislature.
"But it's the little things. You don't know how much you miss them," he said. "And friends I've made, it's really tough. Really tough … It's the end of a couple of eras."
Doctors diagnosed Egan with multiple sclerosis in 1982.
Now 70, he said complications have caught up.
He has severe vertigo, which makes it difficult to travel by boat or plane — something necessary to get around his Southeast district.
"My brain is still functioning fine. Well, a few of my staff doesn't think so," he said, joking. "That's working, but it's my health that's just driving me crazy."
Egan is not endorsing a successor right now.
He said there are plenty of people in the region who can represent his constituents as well or better.
"As long as they remember, no matter if you are an R or a D — doesn't matter," said Egan. "You've gotta be a people person. You have to get along. You have to listen to the other side. You may hate it. You may not like it, but you have to give folks the courtesy of listening."
Advice that comes right out of the family playbook.
His father was Bill Egan, a longtime member of the Alaska Territorial Legislature and the first state governor.
Growing up in the Alaska Governor's Mansion, Dennis Egan would get into all sorts of trouble, resulting in well-earned comparisons to Dennis the Menace.
But those early years were also formative. He learned at the feet of his father and other legends of Alaska history.
"In two sentences, you know where he stands on something," said Christopher Clark, a longtime legislative aide and former reporter who first met Egan while working at KINY.
Clark later worked for Egan in the Capitol.
"That directness is what people find endearing, as well as the way he talks," Clark said. "You know, that old, salty, gruff Alaska stuff."
Egan's directness and humor are what make him an effective leader, Clark said.
"If he's polite to you, run like hell. If he's yelling, cussing at you, then you're in. It's OK," he said. "That's kind of like 'Old Alaska.' It's that old affability."
Egan's career in the Legislature began in 2009.
Juneau Sen. Kim Elton, a Democrat, had resigned to accept a position in the U.S. Department of the Interior.
Republican Gov. Sarah Palin and the Democratic legislators initially couldn't agree on a replacement.
Egan was the compromise.
Former Alaska Public Radio Network reporter Dave Donaldson retired in 2012 after covering the Alaska Legislature for more than 20 years.
He said Egan's appointment really came down to one thing.
"The fact is that people like Dennis Egan," Donaldson said. "They always have liked him and still do."
Donaldson chalks part of that up to Egan's former life as a radio disc jockey. The man loves to talk and is good at it.
But Donaldson said Egan also grew up in a forgotten era of Alaska politics.
"Dennis Egan is probably as close as any to the old-school dealmaker. And that's just because of his personality," Donaldson said. "He knew how to talk to people. The problem is … there are so few people now who are willing to listen. And that's really the sad part of Alaska politics right now."
Egan will tell you that's one thing he won't miss, along with the long hours and marathon legislative meetings.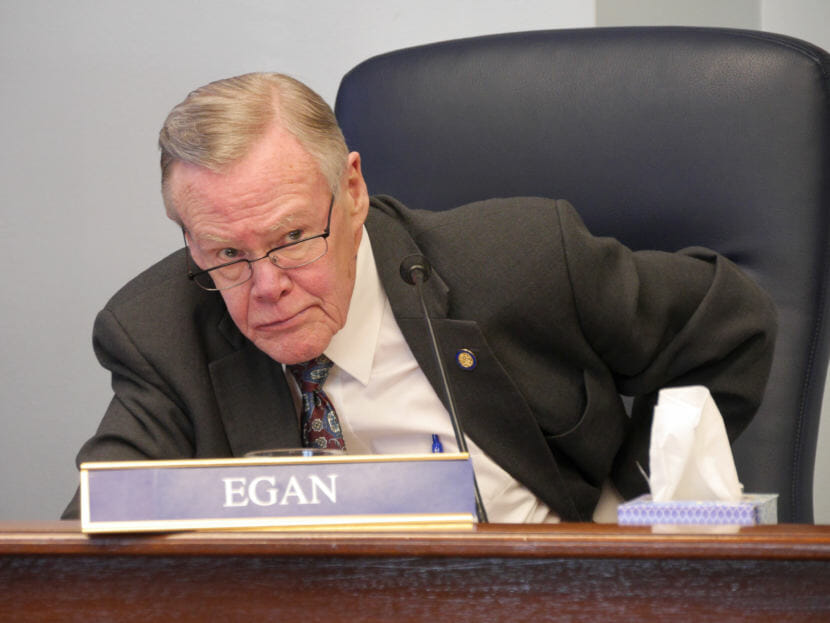 He worries that the days of political compromise are ending.
Egan said reaching across the aisle was a regular part of the process, not just a tactic.
That's how he pulled off one of his proudest accomplishments, securing full funding for the Father Andrew P. Kashevaroff State Library, Archives and Museum that opened in 2016.
"I really respect the other side. And because of that, the other side respects me," Egan said. "I'm a lifelong Democrat but I vote with the Republicans every now and then and Republicans help me. But it's got to work that way or nothing gets done."
He believes his colleagues have Alaska's best interests at heart. They just need to find a way to work together.
"Everybody in this building is trying to do their constituents better. Senate averages about 35,000 constituents. House members average, what 17,500 or something like that," he said. "But everybody is trying to do what they think is best for their constituents."
Egan said he'll stay involved post-retirement.
He serves on numerous volunteer boards and will remain active in the Juneau community.
Beyond that, his priorities are clear. He's not going anywhere.
"I'm gonna croak here," he said. "I've got a lot of Alaska Airlines mileage so my grandbabies can come see me!"