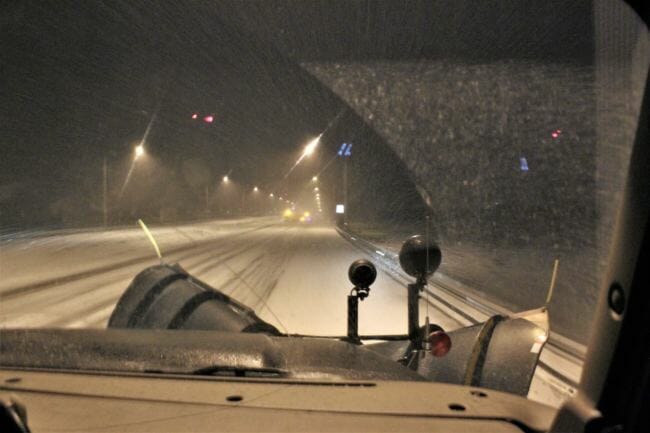 It's winter, and that usually means plenty of snow and ice.
Or at least it did in November, when I had the chance to ride shotgun in a 54,000-pound plow truck to learn a little about how roads in Juneau are cleared.
We were scheduled to leave at 4 a.m. from the Department of Transportation's maintenance bay off Glacier Highway.
Snow was falling and four huge trucks were idling in the parking lot when I arrived, ready to head out for the early shift.
It was one of the first snowfalls of the season, and I was excited to live the dream of every truck-loving little kid.
"Do you get a lot of people asking for rides?" I asked my driver, Richard Asplund, before we set out.
"No, we don't get a lot of requests," he replied, laughing. "I have a daughter and no, there's no way I'd bring her out here. It's too dangerous."
I climbed up into the front seat of Asplund's truck and we set off into the early morning darkness.
A brine truck pre-treated the roads in anticipation of the snow the night before.
Egan Drive was almost empty as Asplund fell into diagonal formation with the other three trucks.
Each plow picked up the snow leftover by the previous one, gradually pushing all of it onto the right shoulder in a flurry of white.
"The snow's real light today, so as long as we're not going too fast, we shouldn't blast any mailboxes or garbage cans over," Asplund said as we drove. "But if it's wet snow and there's a lot of it, it's a real hazard. If you forgot and you just started driving, you'd rip them all off."
Ahead of the trucks, graders worked the intersections clearing berms.
Asplund grew up on Prince of Wales Island and came to Juneau two years ago from Petersburg. He got started as an equipment operator in the logging industry, but started working for DOT after the jobs dried up.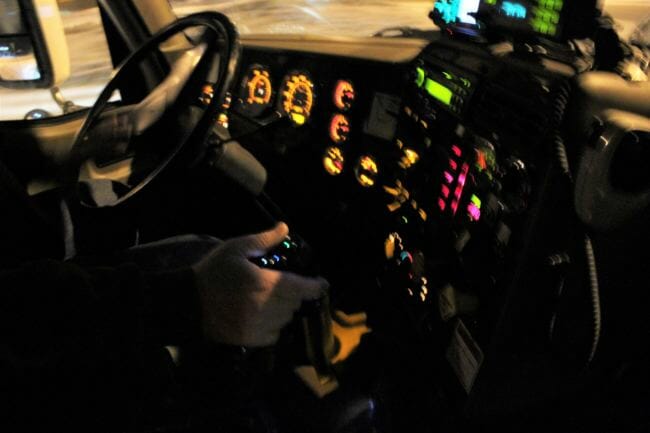 It was quickly clear that he had a lot more to worry about than just driving.
In addition to watching the other trucks in front and behind, he also periodically adjusted the plow level using a brightly lit joystick that also controlled the truck's belly blade and the sander.
"It does take some practice," Asplund said. "Most of us have been around equipment for a long time, so that helps."
The biggest hazard for plow drivers comes when cars try to pass them while they're plowing in formation. The trucks are heavy to begin with and the extra winter equipment makes stopping quickly impossible.
"It's just more things I have to watch and be careful for," Asplund said as a pickup truck began to pass us on the left. "He's not gaining anything. If he would just stay back he would be much better off."
Even driving as slowly, it's stressful when other drivers get between the trucks.
At one point, Asplund pointed out the long tow plow attached to the back of the truck ahead of us.
"You can see that that tow plow's pulled out sideways now," he said. "When he has to turn or pull it back in, it's going to lengthen out and it's going to swing out behind him. If that car's out behind him it'll smash the car, or cause a wreck."
Drivers like Asplund work 7-and-a-half-hour days, five days a week, not counting overtime during snowstorms. He said they worked 10 hour days last winter.
The rest of the year, he is a foreman on DOT's chip-sealing crew, traveling around the Southeast fixing roads.
He's been to just about every town in Southeast.
While plowing is not his favorite part, Asplund said he enjoys his job because "it's always something different."
"You're always learning something," he said.
After a few hours, Asplund dropped me back at the garage and immediately headed back out.
The next shift would be in at noon.
Southeast District Superintendent Scott Gray said Egan Drive is the only Priority Level 1 road in Southeast Alaska.
That designation has to do with traffic volume. It also means when snow falls, that's where the plow trucks head first.
After Egan, the trucks split up to tackle other state roads; Thane Road, North Douglas Highway, out the road, etc.
Gray tries to line up work schedules with the weather, but state budget cuts have limited overtime.
"They go out and they work a shift in the morning and then in the afternoon they're back at home," he said. "It's difficult for them because they can't go back out and take care of it again. They have to wait for their next shift."
At the start of the season, Juneau's plow team was short a full-time heavy equipment operator and a winter seasonal employee.
"We do definitely feel it when we're not fully staffed," Gray said.
Gray echoed Asplund's concerns over motorists passing plow trucks.
He also said pedestrians should wear reflective clothing and carry a flashlight whenever they're walking along the roads in winter, anything to let drivers know you're there.
Plow drivers often can't see pedestrians until the last moment.
"It's a huge safety concern for them, they don't want to hurt anybody," he said. "They want to go home safe. They want everybody else to go home safe."
As I drove home on freshly plowed roads that morning, I had a new respect for the folks who keep them clear.
The team doesn't get a lot of attention, but they keep Alaska's capital running.
Watch what it's like to sit shotgun in a plow truck:
I lived every six-year-old's dream this morning. Story to follow…#MrPlow pic.twitter.com/GtCrMTO8eE

— Adelyn Baxter (@adelynbaxter) November 17, 2017