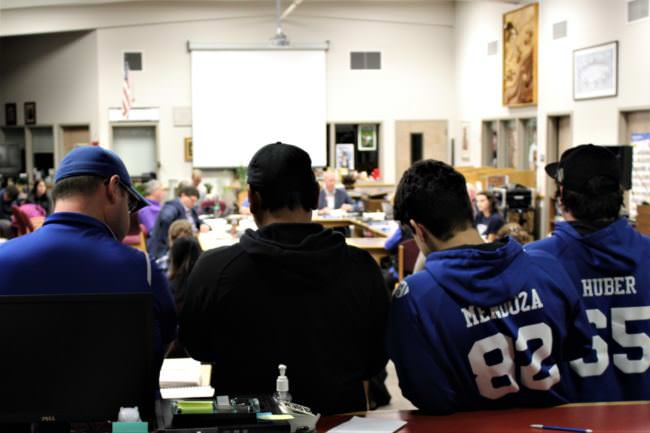 Thunder Mountain High School students, coaches and parents came together Tuesday night, but not for a game.
They showed up to the Board of Education meeting to voice concern over the recent decision to merge their football team with Juneau-Douglas High School's.
The district cited high travel costs and safety concerns in making its decision.
Declining participation meant younger students were playing varsity against larger and more-experienced players from other teams.
Some asked the board to reconsider its request, which already was approved by the Alaska Student Activities Association less than two weeks ago.
Many said they supported the decision, but encouraged the district to move forward in a way that benefited students from both schools equally.
Michelle Strickler's sons have played football for both Juneau teams. She's an accountant, and said her examination of the teams' budgets showed that Thunder Mountain takes on disproportionate travel costs because of the teams they're assigned to play.
"If we could just control the costs, it's very feasible that we could have two successful cross-town rivals and enjoy the beauty of that twice a season, free, no travel game," Strickler said.
About 20 Thunder Mountain football players and student government members showed up in their school colors.
They asked the district not to choose one school's uniforms, mascot or name to represent the new team, but suggested creating a unique identity both schools can come together to support.
Junior Alvin Hubert plays defensive line for Thunder Mountain. His brother played for Juneau-Douglas.
"I don't want to lose the traditions I've had over the past three years, because you are your identity, your name is who you are and a Thunder Mountain Falcon is who I am," Huber said. "So that's not gonna change my senior year, I will play as a Falcon. But I will also play under whatever team name it is. And hopefully I can be a senior that sets us up for success as a new team of Juneau football."
Superintendent Mark Miller said at the meeting he thinks it's unlikely the district will buy all new uniforms for 80 potential players.
"All those discussions, I think, are up in the air," Miller said. "We've had to get permission first and now we have to look at the details to put them together."
Miller said the district will begin the process of determining team details once ASAA decides which conference the team will play in later this month.