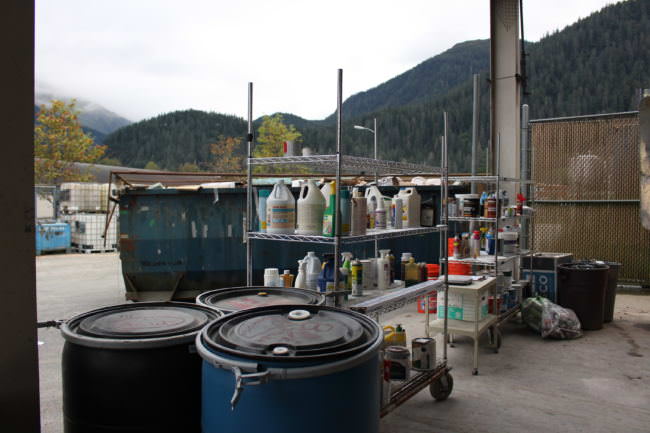 When a household cleaner or a box of batteries is barged to one of Alaska's remote communities and sold in a store, it's commerce.
But many of those items aren't destined for a one-way transaction.
A lot of hazardous waste shouldn't be tossed in a landfill: radioactive smoke detectors, flares that can explode, chemicals that can poison you. 
At great expense, small municipalities are stuck trying to fix the problem: How do you get the potentially dangerous trash back out of town?
"This is where we put all the waste in containers when we're offloading cars," Aaron Widmyer said.
He's leading me around a bulky Sony TV, a spray can of Raid and grease from a high-end restaurant.
We're at Juneau's hazardous waste facility, where people drop off their stuff that shouldn't go in the dump.
Widmyer works for a company that contracts with the City and Borough of Juneau. He makes sure the trash is safely packaged, so it can be shipped out.
And he says the job comes with a few perks.
"The amount of free of stuff that I get," he said with a laugh. "I haven't had to pay for anything for the past two years. Household cleaning supplies, laundry, soap, car oil for my oil changes."
It's not just Widmyer who picks up the schwag.
Anyone in Juneau can stop by and look for a half-used bottle of their favorite cleaner or bug spray.
But what isn't scavenged has to go somewhere else.
Alaska doesn't have any permitted hazardous waste treatment or disposal plants. So regulated hazardous waste has to be shipped back down to the Lower 48.
Around the corner, in a city office occupied by one man, is where the negotiations for that happen.
Jim Penor is Juneau's solid waste coordinator, and he knows this business inside and out. He got his start in Washington state.
"I grew up as a landfill kid rat," Penor said. "I'd go around and have fun in the landfill and it wasn't a landfill. It was a burn pit operation."
Penor has been in Juneau for close to a decade, trying to make the math of shipping the city's hazardous waste pencil out.
If you ask him, it doesn't.
But during his time, he's been able to make it more affordable. He saved the city about  $120,000 a year — just by figuring out a way to treat latex paint so it can safely go in the landfill.
And the capital city is one of only two communities in Southeast with a weekly drop-off site, which Penor says makes the whole operation run a lot more smooth.
"We have time to work the waste stream," Penor said. "Before, at a one time even per month, you don't have time to work the waste stream."
Literally, a stream. It's a term that's used to describe the lifeflow of garbage from beginning to end.
Still, there's some trash that's so risky to transport, the cost makes it nearly impossible to barge.
Old smoke detectors and exit signs are radioactive, so Juneau has to shell out extra to ship those. Then, there are out-of-date boat flares, which are considered highly flammable. Right now, there's no way to get those out of town.
This creates a giant paradox, Penor said.
Commercial products wind up on store shelves with relative ease. But once it becomes hazardous waste, it's a lot harder to transport out.
"I mean, even Juneau here. We're the capital city. We're the biggest city in Southeast and we're 32,000 people," Penor said. "We struggle with it."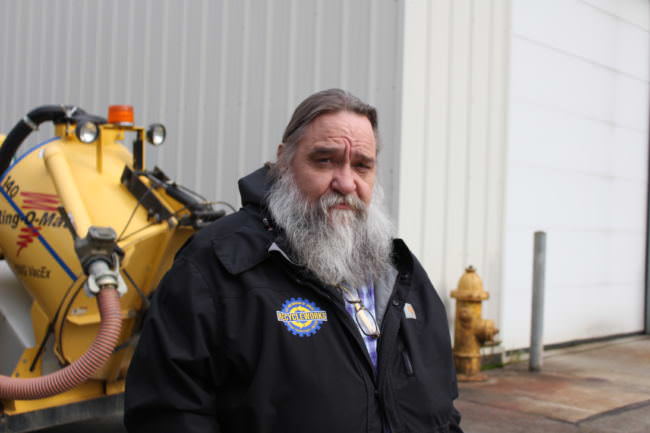 In rural parts of the state, the struggle is even worse and the stakes can be much higher.
The state's Department of Environmental Conservation used to have a program that helped barge out hazardous waste, but it was cut in 2004. And since then, it's been up to the communities to figure out their own method.
Sandra Woods, who inspects landfills for the state, says a lot of small municipalities are just trying to do their best. But the funds are limited and money is usually needed for other things, like clean drinking water.
"By the time you get to solid waste, the money is usually gone," Woods said.
A federal program helps Alaska Native villages barge out hazardous waste. But it's being discontinued in 2020.
Lynn Zender, an Anchorage doctor who specializes in solid waste management and health risks, calls it an impending catastrophe.
"It's very worrisome from a public health perspective," Zender said.
She helps run an environmental nonprofit and is a member of the Solid Waste Alaska Taskforce, a group that's trying to help villages prepare for the change.
Zender worries, as more hazardous waste goes into the ground, it could leach into the environment and contaminate subsistence foods.
"Those landfills will expand out to rivers. They can expand out to town," Zender said. "The access can be so horrendous that people start just keeping their garbage in town."
Penor thinks the state needs to step up and help more communities get rid of their hazardous waste.
He acknowledges it's an unlikely scenario, given the state's current budget deficit. But he envisions a fund that could earn interest — designed specifically for trash.
In the meantime, he said consumers should view that half-empty bottle of nail polish or antifreeze differently. There's a branding issue.
"I don't like the term hazardous waste," Penor said. "Because you went to the store and purchased it."
Penor said he's never used a jug of Drano to unclog his sink. Even after it's tossed, someone's going to pay for it.