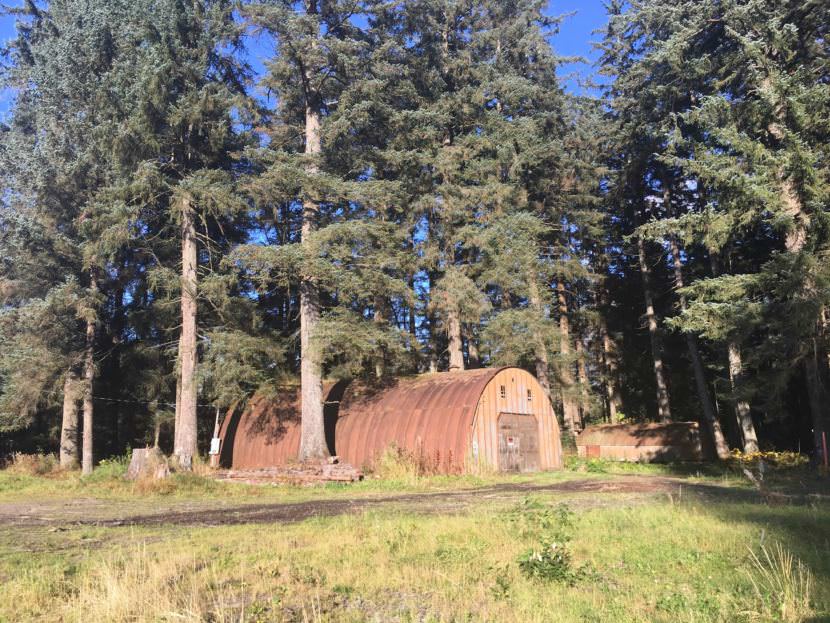 Two Quonset huts at the corner of Mendenhall Loop Road and Atlin Drive are among the last remnants of Juneau's history during World War II.
Skip Gray, a crew chief for Gavel Alaska, asked about the huts' history for this edition of Curious Juneau.


Curious Juneau stars you and your questions. Every episode we help you find an answer. Catch up on past episodes, or ask your own question on the Curious Juneau page.
Listen to the extended podcast version here:
If you've driven on Mendenhall Loop Road, you may have seen the huts. The rusted steel half-circles look a bit like mini-airplane hangars.
I didn't know much about Quonset huts, so I called Julie Decker. She's the CEO of the Anchorage Museum – and co-edited the book "Quonset Hut: Metal Living for a Modern Age."
Decker described a Quonset hut as "a temporary structure, born of war and expediency, and ended up becoming a permanent fixture on our landscape."
The huts were named after Quonset Point, Rhode Island, near where they were first built at a naval air station. The military developed them at the start of World War II as solid, inexpensive structures that were easy to ship and build. They were used around the world as places for soldiers to eat, sleep, work and heal.
Decker said that after the war, the military and local governments, including Anchorage, had to decide what to do with them. Many were sold off.
"They tried everything from banning Quonset huts from our downtown to using them for railroad housing," she said. "And, instead, they became permanent fixtures and got used as artists' studios and garden spaces and sheds and restaurants. And I just kind of loved the way these things got adopted and became part of the fabric of our lives."
They remained more common in Alaska than they were in other places after the war. In part, that's because it was more expensive to remove them here. So people had to find ways to use them.
Many of the modest structures became houses. I told Decker about one in Juneau's quirky Starr Hill neighborhood. It's currently listed at $179,500. Decker asked if I was kidding.
I wondered what it was like to live in one. It doesn't look like the Quonset huts on Atlin Drive have been lived in for a long time. But a coworker let me know that North Douglas resident Paul Disdier still lives in one, so I stopped by his house to find out what it was like.
"The roof that was on this house, the steel was so thick, you actually wouldn't even need to paint it," Disdier said. "It would still be here. You know, I think the ones that are out in the valley have the original roofs on them and they're unpainted still. It's so thick it would take forever to rust through them."
There are odd parts to living in the structure. The metal roof can make it damp. But one problem for today's residents wouldn't have affected the soldiers in the war.
"This house has a lot of steel in it," he said. "I have not very good cellphone reception when I'm in the house and that's just what you have to live with."
At this point, I knew about the Quonset huts in other parts of Juneau, but I was stuck on Atlin Drive huts. I went back to Skip Gray for help.
"I had heard stories of Quonset huts in the Mendenhall Valley much of my life it seems like, off and on, just various people talking about them," he said. "I think I'd noticed them in the woods before, but they had become much more visible, because some trees have been cut down around them. … I knew they were related to the military somehow, but I didn't know how."
Skip gave me a lead that led to Mary Lou Spartz. She's a spry 86-year-old who has vivid memories of life in Juneau during World War II.
"It was intended to be a big base," Spartz said. "And it was camouflaged from the road, so we never saw any of it."
Like other civilians, Mary Lou wasn't allowed on the base. But she remembered there was a full hospital on it.
"The thinking was, (if) there was a major invasion of Alaska, and there were wounded, and people had to be brought somewhere, they would come here for medical attention," she said.
Spartz said Juneau residents were worried that the Japanese military would invade the city.
"We just didn't have any idea," she said. "As you understand, we're close enough that it wouldn't have been that hard."
Her father made concrete using a gravel pit he owned that was behind where the Quonset huts stand today.
"He was pretty much put out of business by the Army," Spartz said. "They were going to expand the airport. And they just gave him a price that was way under what it was valued, and said take or leave it, but we're going to take it."
She recalled that the base had many Quonset huts, which were sold and spread around town after the war.
"They were substantial," Spartz said. "If you look at the Quonset hut that is out there at Atlin, you can tell that it's meant to last."
I stopped by the Juneau-Douglas City Museum to see if they had information on the huts. The staff found a description of the Army post written during the war by its commanding officer, Lt. Col. Roy Riegle. You get a sense of his proper personality from his report. He proudly writes that the post didn't have a single case of venereal disease. When the soldiers left their Quonset huts, Riegle ordered them not to visit the legal brothels on South Franklin Street.
The Army post covered 500 acres along what is now Mendenhall Loop Road. It housed 2,000 soldiers – more than a third of the city's entire population in the census taken the year before the war. The post was self-sustaining, with its own laundry, shoe shop and bakery. A farm along Eagle River plowed by the soldiers provided potatoes, radishes, lettuce and cabbages.
Many of the soldiers' jobs were to guard the airport, which was under construction immediately before the war. It served as a link between the Lower 48 and air bases in western Alaska. The post also provided basic training to soldiers drafted from Southeast Alaska.
Riegle mentions the post's Quonset huts, saying that their dark interiors were painted white to make them appear brighter.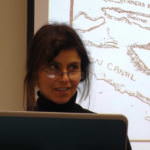 I didn't have to go far to find more. Next door from KTOO, Anastasia Tarmann, a librarian at the Alaska State Library, remembered an oral history interview she did with Gus Mohr, who died in 2016.
Mohr was a sergeant who arrived in Juneau about a week after the attack on Pearl Harbor. He and the other soldiers slept in tents the first winter.
Then the pieces of the Quonset huts arrived.
"We actually built the Quonset huts," Mohr said. "They had wood floors that were shipped up from the United States."
Mohr said the post wasn't a bad place to live.
"We had a beautiful camp there, well maintained," Mohr said. "And we built a big kitchen, hot showers and everything. We used diesel oil, fuel for the hot showers and everything like that."
Mohr said the soldiers ate well, including food they got from fishing and hunting.
"We weren't hurting," he said. "We shot bear. Bear meat's pretty stinky, but deer is pretty good, so we had all fresh food and everything like that."
I never found information about the use of these exact huts in the war. One source says he heard the larger one served as a laundry. A Juneau Empire story passed along a legend that Bob Hope – the country's most popular comedian — performed in it. We do know from Riegle's account that Hope visited the post.
That Empire story said the Forest Service used the huts after the war to store firewood and as a space to paint signs and benches.
Fast forward to 2010. Developer Richard Harris bought the huts.
To find out what's happening in them these days, I called Harris's office. The person who answered the phone said one's being used as a paint shop.
While the huts may not have much of a future, they've had an interesting past. I reported back to Skip Gray.
"I think it's cool that you found out so much about the military complex," he said. "I'd never heard how big it was, or why they were there, what they were doing there."
I asked if he'd think of this information when he drives past them in the future.
"Yeah, every time I drive past them, it just kind of plants that little question in my mind of what they were all about," he said. "And I'm thankful you were able to dig up some great information on it."
Gray added he used to live in a Quonset hut at the top of 6th Street. He described it as a cozy, pleasant place to live.