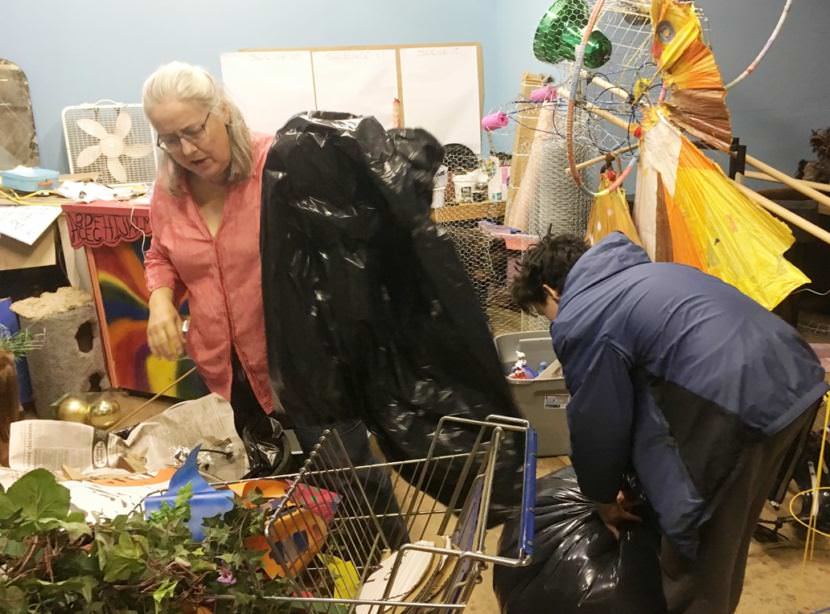 Southeast communities are always looking at ways to reduce the amount of trash that ends up in their landfills or that they have to ship south. In Ketchikan, people can come up to the landfill and take what they want. In this report, part of CoastAlaska's series, Talking Trash, we learn how that program saves the city time, space and money.
"I love the dump! I go to the dump for all of my wearable art needs. That's where I go first," said Ketchikan artist Halli Kenoyer.
She said the local landfill is a great place to gather material for the large, complicated pieces she makes for Ketchikan's popular Wearable Art Show.
Kenoyer also goes there when helping to build sets for First City Players, the city's community theater.
"We're making trees right now for "Shrek Jr.," the children's musical and we need tall things that will not break. The dump is a great place to go find things for free," she said in an interview this summer.
Nissa Dash is another Ketchikan artist who loves the landfill. She's helping Kenoyer with sets for "Shrek Jr.," but she also gathers material for her own art. Dash has a penchant for the patina of rusty metal.
"I have to be careful, because I will go to the dump and — I have to sneak it," Dash said, laughing. "I have stuff in the garage and in little places tucked away. And God forbid we have to move."
"'Honey, I need to bring my rust collection!'" Kenoyer joked.
"Exactly!" said Dash.
Those two aren't alone in their scavenging.
Up at the landfill, surrounded by opportunistic ravens, Solid Waste Supervisor Lenny Neely said about 40 people are signed up for the city's salvage permit program. He said they take more than 100 tons of stuff out of the landfill every year.
That's 200,000 pounds.
"And in some way, shape or form, all that material is getting reused," he said. "That's the nice part."
That saves the city money in a variety of ways. It reduces the work load, cuts back on space taken up by trash, and reduces the volume of items the city has to barge south.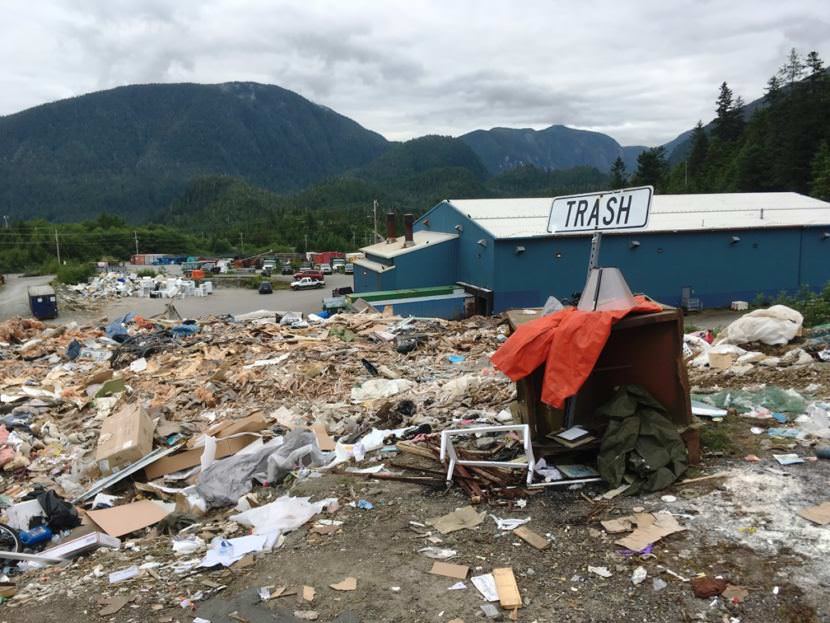 Neely said it's tough to know exactly how much money the city saves a year. For some context, the city pays almost $60 per ton to ship household garbage south.
Beyond art material, Neely said salvagers collect for commercial use. Popular material includes metal pipes and wooden boards, often discarded after a home remodel project.
Neely points to a tangle of copper pipe sitting on the ground next to the fill.
"This piece laying here. Whoever came up and dumped laid that there because they know a salvager will grab that," he said.
And the person who picks it up likely is after metal they can sell for scrap. But, there's other salvageable stuff in the fill.
"The possibility, I guess, is the foosball table," Neely said, pointing. "I see some metal over there that somebody will grab. Bicycles are a big item. We get a lot of bicycles for whatever reason. A little bit of everything."
Some people come for spare parts, others for specific collectable items. Landfill employee Tim Morgan said bowling balls are one example.
"There's two bowling ball ladies," he said. "They just collect them for decoration in their gardens and yards."
Staffers don't see as many bowling balls now as they did back when Ketchikan had a bowling alley.
Neely said he was surprised by Ketchikan's salvage permit program when he first came to work at the landfill years ago, mostly because of the liability.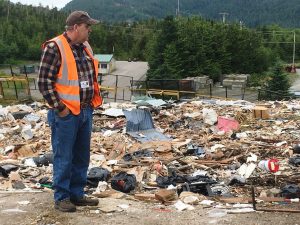 "But, the reality is here, it's worked really well," he said. "That's recycling at its finest. When I first got here, I couldn't believe. I was like, 'We do what?' We may be one of the very few places in the state that does that."
Liability is one concern cited by other regional facilities, although Wrangell used to have a salvage program before it capped its landfill years ago.
Petersburg has something similar to Ketchikan's salvage program. The fill there is open for salvagers just twice a week, though, and the permit fee is quite a bit higher: $10 per day versus $5 a month in Ketchikan.
Ketchikan's landfill requires permit holders to sign a waiver, wear a safety vest and stay out of the fill when equipment is running.
Back at the First City Players building, Kenoyer leads a set-building workshop for kids participating in the "Shrek Jr." production. She said when she's on the hunt for supplies, she goes to the landfill daily.
She showed off some of her recently salvaged items: discarded Christmas decorations, metal tomato-plant cages and a big bag of fabric leaves.
"We have two long bamboo sticks that are 12-footers from the dump," she said. "You don't find that very often anymore, so it's a real treasure to find that. Tied that sucker on top of my truck and I hit the road."
That's salvage success.