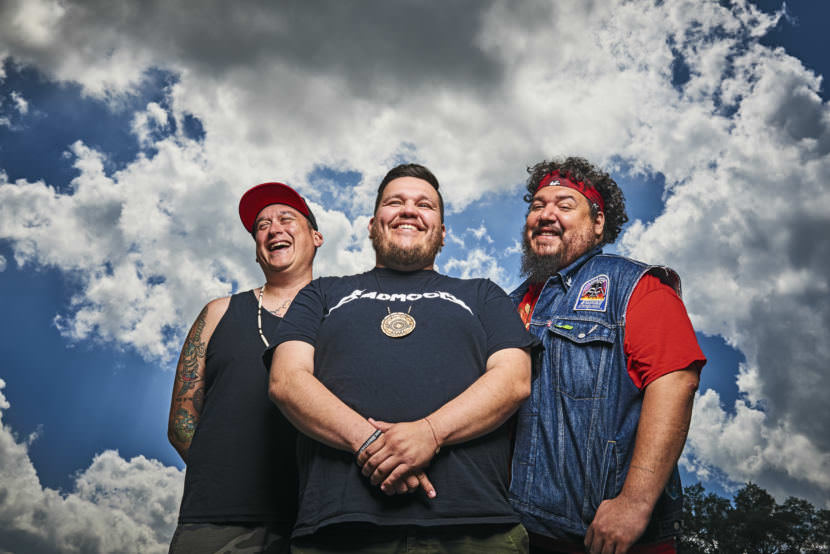 The Canadian electronic dance music group A Tribe Called Red, performs Thursday at Centennial Hall with Woosh.ji.een Dance Group. The indigenous DJ collective combines traditional Pow Wow songs with elements of hip-hop to promote inclusivity and representation of First Nations peoples.
A Tribe Called Red's DJ Bear Witness, says the electronic dance music group is more than just two guys switching off on turntables.
"There's a live element to it as well as live visuals going on that speak to the same idea of representation and misrepresentation of indigenous people through the media and kind of showing these images in a different light, a light that you can have fun with or that you can laugh at but that's also very confronting at the same time," said Bear Witness.
The group travels with their own dancers, but also involves both street and traditional style dancers from the indigenous communities they visit.
"Again, this idea of representation, how we want to show ourselves, how we want to be seen and seeing that kind of participation at a show for me is always really exciting, you know, to really watch indigenous people own the space," said Bear Witness.
Thursday they will be joined by Juneau's own Woosh.ji.een Dance Group.
"The most exciting thing is watching people have that type of shared experience of listening to music, dancing together, you know when you're talking about issues between indigenous people and settler people within North America, finding that common ground of civil conversation together is really difficult. So in this really kind of unexpected way of people from all backgrounds can come and enjoy our music, enjoy what is essentially an indigenous experience together and start to create a new experience, and you're a step closer to finding that common ground," said Bear Witness. 
See a Tribe Called Red presented by Sealaska Heritage, Juneau Arts and Humanities Council with KXLL Juneau Thursday  at 7 at Centennial Hall. Get tickets at the door or online at JAHC.org.