For the second time in less than two years, a Skagway Assembly candidate is under scrutiny by Alaska's campaign finance watchdog.
Former Assembly member Dan Henry recently returned home after serving a prison sentence on federal tax charges.
He is running for an open Assembly seat. But his bid may be complicated by a citizen complaint now in the hands of the Alaska Public Offices Commission.
The complaint comes from Skagway resident Lynne Cameron, who said Henry appears to have violated the law on his campaign disclosure form for this election.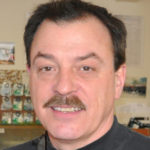 There's a section on the disclosure paperwork that asks candidates to list any loans, loan guarantees or debts over $1,000. Henry checked the "none" box on his form.
Cameron said when she saw that, it didn't make sense.
Last year, Henry was fined hundreds of thousands of dollars in a federal tax case. If he received enough income or gifts to pay that off, that money was not included on the disclosure.
How did the fine come about?
In 2016, Henry pleaded guilty to willful failure to timely file federal income taxes. He was sentenced to a year and a day in prison and ordered to pay more than $600,000 in restitution to the IRS.
The evidence in the federal case included some of Henry's candidate disclosure forms, in which he listed no income over $1,000.
After those disclosures came to light, Skagway resident Roger Griffin filed a complaint with APOC.
APOC investigated and ordered Henry to pay $22,000 for his inadequate disclosures.
So, Henry was fined a lot of money in 2016. But on his 2017 candidate disclosure, he listed no debt over $1,000.
"He had betrayed the trust of the public, in my opinion," Cameron said. "He lied before on those financial disclosure forms. And now, according to my homework, he was lying again."
Cameron filed a complaint against Henry with APOC. She requested APOC hold an expedited hearing on the matter, since Henry is up for election Oct. 3.
On Thursday, APOC held a hearing on whether to accept Cameron's request for an accelerated process.
"I made the decision to request that consideration be expedited for the reason of the upcoming election, and an outcome which could materially affect the future of Skagway and its residents for a long time to come," Cameron told the commission. "I have grave doubts regarding his veracity, ethical conduct in the past and due to his lack of any expressed realization of wrongdoing in his personal finances."
Henry also was on the line. He said not listing his debt to the IRS was an oversight. When it came to his attention, he amended his disclosure form to include it.
However, he did not include his debt to APOC because he said he is currently appealing that decision.
Henry responded to the argument that his incomplete disclosures cause public harm. He noted that his case was covered by local and statewide media.
"I believe we have on the line Emily Files, and of course on KHNS News, in KTUU and in the Skagway News it was well-publicized what my personal challenges were involving the IRS," Henry said during the APOC hearing. "So it's not as though anyone in Skagway, that may include everyone in the state of Alaska, was (not) aware of that information."
Henry also defended his record on the Assembly.
At the time of his plea deal and conviction, Henry was serving on the assembly and was chair of the finance committee.
"You can directly link to Dan Henry while in office an increase somewhere between 8 (million) and 10 million dollars in reserves," he said.
Henry asked the commission to let Skagway citizens decide the merit of Cameron's complaint when they vote Oct. 3.
Henry is the only Assembly candidate whose name will actually appear on the ballot. He was the only one to file by deadline.
Since then, two write-in candidates have declared their interest in the Assembly.
The commission decided to grant Cameron's request for an expedited hearing. It will take place Sept. 13.
APOC Director Heather Hebdon said the staff won't necessarily have time for a full investigation, but they'll analyze the information included in the complaint.
After the Sept. 13 hearing, the commission has 10 days to issue a final order. That means it might not be until the week before the election that APOC decides whether the charges against Henry warrant action.