Artifacts sometimes end up in attics or storage boxes miles away from their places of origin.
That was the case for one object that started on Kodiak Island and found itself in Soldotna many years later.
Clark Fair said he was sorting through his late father's den and found a stone lamp among his things.
Fair said he didn't think much about it at the time. He stored it away, and there it stayed for a few years. Until his mother moved and he rediscovered it.
"I turned it over, and it said 'Calvin,' which was my father's name, 'stone lamp from Chief Cove area, Kodiak, Alaska, 1987.'"
Fair, a former journalist, loves a mystery. And that's where this one started.
He says he spoke with a regional expert and eventually connected with the Alutiiq Museum on Kodiak Island. Archaeology curator Patrick Saltonstall wanted more information, and Fair was happy to oblige.
He scoured his father's records and consulted maps.
It turns out his father picked the lamp up while on a hunting expedition.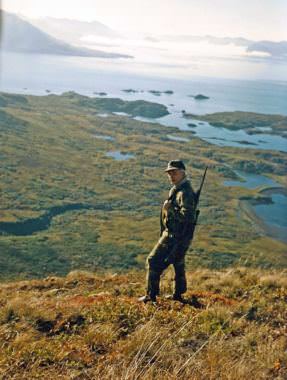 "I found a picture of my father on top of what they call Buck Mountain and it had Chief Cove in the background, so I used Google Earth, changed the angle, rotated the whole thing around until the angle on the screen matched the angle in the photograph, and then I knew I was exactly in the right place because everything matched up perfectly."
Saltonstall said that was in the Uyak Bay area on Kodiak's west side, and the lamp probably dates back roughly 1,000 years. And it would have been used as a lamp traditionally is used.
"You would have filled it with oil, and then you would have a little cottongrass or sphagnum moss wick, and it would have sat in the oil and sucked up the oil, and then it would have burned like a candle."
The museum gets a few "returns" like this one every year, Saltonstall said. It's a change in attitude from 20-plus years ago, when people might have taken tokens from archaeological sites and never thought twice about where the artifacts really belong.
"I think people now, they respect that these things have value and that they should be at the museum and that it's not good to dig into sites. There has been a shift," he said. "In the '60s it was a little different too because that was right after the '64 earthquake and there was stuff everywhere. All the sites were eroding."
"Everybody collected artifacts, and nobody really thought about it much," Saltonstall said.
The Alutiiq Museum's collections committee, which reviews objects before the museum accepts them, will take a look at the lamp next week. Saltonstall said.