"Lineage: Tlingit Art Across Generations" premieres Tuesday night on 360 North. The 1-hour documentary film is a collaboration between KTOO Public Media, 360 North public television and Tlingit poet and storyteller Ishmael Hope.
The documentary explores the artistic lineage of many Tlingit culture bearers, including weavers, carvers, bead artists, musicians and more.
"What was important to me was a multi-generational revelation of how the spirit of Tlingit art gets fostered, how it continues, how it gets reincarnated," said Hope, who I co-directed with.
One of our first shoots was with culture bearer and carver Paul Marks.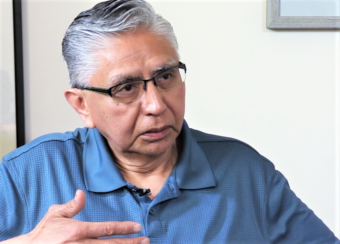 "When we dance it does something to our spirit. It makes us feel good. And to wear our ancestral at.óow brings us strength and pride in our people, of our ancestors," said Marks.
To see the art in action, Hope organized a Khu.eex', or potlatch, in Sitka.
"What I love the most is when we are seeing the people in the regalia, in their at.óow, their Chilkat blankets, and the clan hats, those heavy important clan hats, their dancing in that. The culture is fully alive and everyone in that room feels it," said Hope.
In Sitka, we filmed master weaver Teri Rofkar in her studio. Rofkar passed shortly after our visit and the scenes in the documentary are her last footage.
At one point in the documentary Rofkar points to a robe and a basket in her studio.
"The mountain goat and this spruce roots. You know, this was cutting edge science 6,000 years ago. And so for today, what are we doing? If I want Tlingit methodology, if I want our weaving to be relevant 6,000 years from now, how am I going to make that possible? It's very obvious now that I'm the one passing through the weaving, not the weaving in me," Rofkar said.
Fellow master weaver, Clarissa Rizal, also passed after our time with her. Beyond footage of her working with her daughter, Lily Hope, she left us with knowledge like this.
"This is a spiritual practice for women. When you raise up the spiritual practice of a woman, you raise up the level of harmonious existence," Rizal said.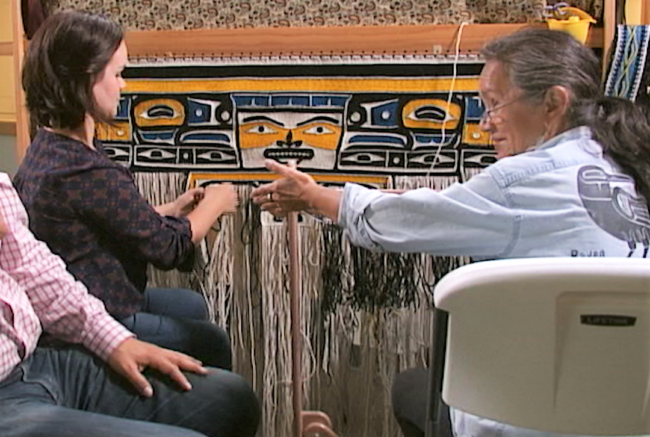 We also spoke with multi-disciplinary artists, brothers Nick and Jerrod Galanin as they carved a canoe in Sitka. They're the grandchildren of master carver George Benson.
"Working on this canoe, by making artwork, and studying that, and diving into that, actively engaging it, has become the best way to feel some ownership towards it. And I guess, belonging to it," Jerrod said.
Jerrod's brother Nick, and his music project Silver Jackson, provided the documentary's music. Songs like this one called "Perfect Mistake."
[bandcamp width=300 height=42 album=2138434582 size=small bgcol=333333 linkcol=0f91ff track=3582331906]
If Hope regrets anything with the film, it's that we didn't cover more artists.
"This is a sampling and hopefully it has enough range to reveal some of this vision and these questions we were going for regarding the generations, regarding the spirit and character of the art," Hope said.
"Lineage: Tlingit Art Across Generations" premieres at 8 p.m. Tuesday on 360 North. Visit 360North.org/Lineage for more information and to watch the documentary on demand. Funding for the documentary was provided by the Alaska Humanities Forum.
Correction: In an earlier version of this story, the photo caption for Paul Marks misidentified his clan. He is a member of the Lukaaxh.ádi, clan, not the L'uknaxh.ádi.