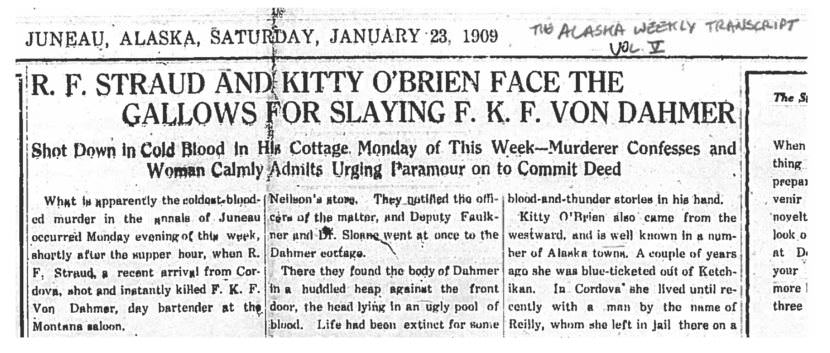 Many people are familiar with the story of Robert Stroud, one of the country's most famous inmates of the last century, and how he spent over half his life in solitary confinement and gained fame for his careful study of birds and bird diseases.
But many people probably don't know that Stroud was initially sent to prison for a murder he committed just a few short blocks away from the present-day Alaska State Capitol in downtown Juneau.
Author Thomas Gaddis wrote about Stroud in the 1955 book "Birdman of Alcatraz," which was adapted into the 1962 movie of the same name starring Burt Lancaster.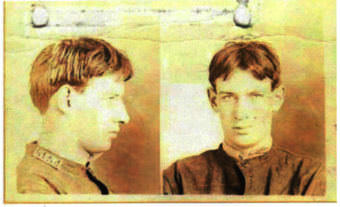 Originally incarcerated at McNeil Island in Washington in 1909 for the first of two murders, Stroud spent his adult life in the federal prison system, including well over four decades in solitary confinement.
While incarcerated at Leavenworth prison in Kansas, Stroud took in a few birds and nursed them back to health. That led to a small cottage industry of bird care remedies, and one of the first and most widely regarded books on bird diseases and bird care.
Stroud was forced to end his study of birds when he was transferred to Alcatraz in San Francisco. But that didn't deter Gaddis from using it as a cool title for his book.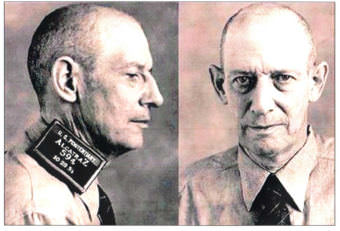 The movie takes a few liberties with some facts and glosses over some of Stroud's character flaws.
In this edition of Curious Juneau, an anonymous listener writes "I want to know the address where the Birdman of Alcatraz, Robert Stroud, committed the murder that got him sent to Leavenworth."
Well, I think I know.

Curious Juneau stars you and your questions. Every episode we help you find an answer. Catch up on past episodes, or ask your own question on the Curious Juneau page.
Robert Stroud met his girlfriend Kate Dulaney in Cordova in 1908. Dulaney, also known as Kitty O'Brien, was a dance hall girl among her occupations.
A few sensational accounts paint Stroud as Dulaney's pimp. But Stroud was only 18 years old and, according to Gaddis, completely inexperienced with women until he met Dulaney. She was twice his age and probably bonded with Stroud when she nursed him back to health after a bout of pneumonia.
Stroud and Dulaney left Cordova and followed one of Dulaney's acquaintances to Juneau. Charles Damer had become a bartender at the Montana Saloon.
He would also become Stroud's first victim.
Stroud eventually pleaded guilty to the crime. Since Stroud never stood trial, there was never a trial record.
So, I needed to come up with other ways to pinpoint the scene of the crime.
Over the course of two months, I carefully examined boxes of 109-year-old court records, old newspaper microfilm reels, and city and state archives.
Where did the murder happen in Juneau?
Several important items turned up.
Two different sets of newspaper articles were published by the Daily Alaska Dispatch and Alaska Weekly Transcript days after the murder in late January 1909. There also were 1904 and 1914 fire maps of the downtown area, a 1910 census record, and a 1988 Juneau Townsite Historic Building Survey. Digital Bob, the online archives of historian and writer Robert DeArmond, also had important clues.
I asked Leo Helmar to serve as another set of eyes, look over my research, and help me walk through the story. Helmar is a paralegal at the City and Borough of Juneau's Department of Law. He also just started a podcast called "Murder Alaska."
"A lot of the things about Robert Stroud have sort of passed into the realm of myth," Helmar said. "Like the fact that he's called the Birdman of Alcatraz is not accurate at all, for example. He didn't have birds at Alcatraz."
During our walk through downtown Juneau, Leo and I compared old photographs of Front Street (click on the locations in the map below) and determined the Montana Saloon, where Damer worked, may have been located between the Percy Building and First National Bank Building.
"Six windows across the top. Six windows across the bottom," I said as I compared the front of the bank with the photographs. "So, that would place the Montana Saloon right here where the Gross 20th Century Theater is."
"Yeah, and of course, the theater has been here for a long time, too," Helmar confirmed.
Montana Saloon, Kate Dulaney's crib, and Charles Damer's cottage in Juneau

Leo and I then walked down Franklin Street into the old red light district.
Dulaney was working in a cabaret while the unemployed Stroud stayed with her in her room in the Clark Building. A 1987 column by DeArmond suggests the Clark Building was one of the women's boarding houses on the water side of Franklin, also called Lower Front.
"Apparently, there's some previous relationship there between Dulaney and Damer," Helmar said. "Obviously, that was a flashpoint with Stroud, for whatever reason."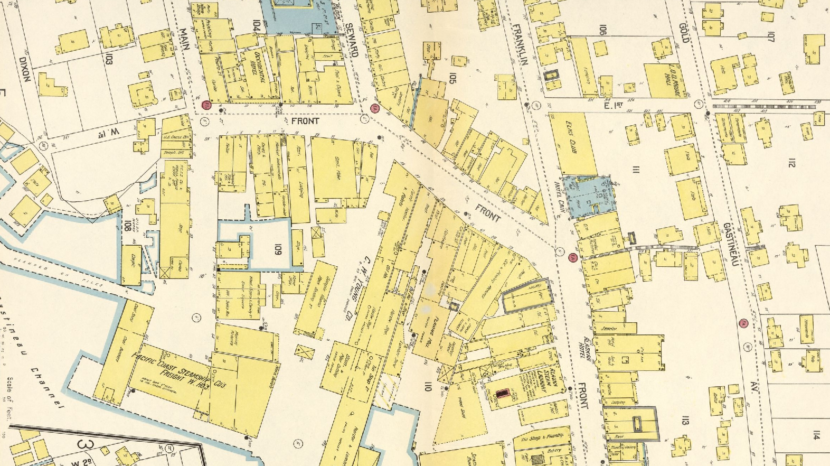 Some accounts say Damer stiffed Dulaney on money he owed her. But according to Gaddis' account, Damer wanted Dulaney to stay with him. He assaulted her, gave her black eyes and took a gold locket with her daughter's picture after ripping it from around her neck.
Stroud came back to her room, became enraged, and took Dulaney's revolver when she passed out drunk. Stroud bought some ammunition and headed to Damer's cottage. Newspaper articles place that on Fourth Street between Franklin and Gold.
"I grew up right down at the top of Gold Street," Helmar said. "My parent's house has been there since the same time period. One thing that you come to find out living in a really old house is that they get changed quite a bit. My parent's house started out as a simple mining shack, basically. Over the years, they added on a second floor and another wing. A lot of these houses have been through an incredible amount of changes over the years."
Scene of the crime?
Stroud and Damer fought at Damer's cottage.
Stroud fired a shot and missed. He fired again into Damer's temple and down into his pelvis.
According to newspaper accounts, William Dickinson, who likely lived in the adjoining house at the western, downhill corner of Fourth and Gold, said he heard two shots. Dickinson watched Stroud leave Damer's house and walk down Franklin. Stroud returned the locket and gun to Dulaney's room, and then turned himself into the local marshal.
"This makes sense to me in terms of the architecture of it," Helmar said.
I asked Leo to poke holes in my research or come up with alternative locations.
"This would be the best bet by far unless I'm missing something, of course," Helmar said. "It's so interesting to try to do historical reconstruction because a lot of the time you don't have all the info you'd like to do, you don't have all the photos and stuff like that."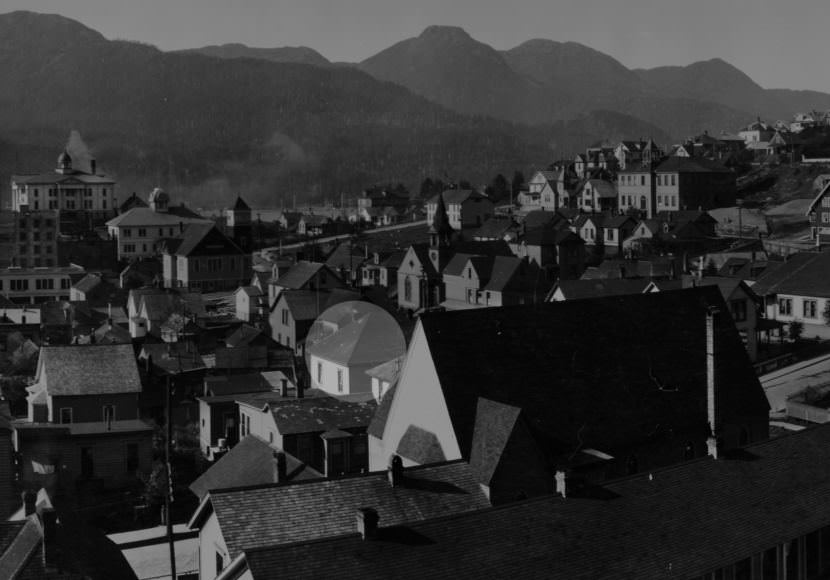 Based on old newspaper articles and census data, I believe Damer was possibly killed at what is now 325 Fourth Street or at the adjacent parking lot at 319 Fourth Street.
"I suppose it's possible it could've been a structure on this lot or the neighboring lot on the corner," said Eric Jorgenson, one of the attorneys who works inside the home at 325 Fourth Street that has been converted into an office. His firm EarthJustice bought the hip-roofed house with the small eyebrow dormer back in the late 1980s.
He had heard the murder was committed somewhere on the block.
Jorgensen also recalled early tourist walking tours stopping in the adjacent lot. He wasn't entirely sure, but he presumed it was about the murder and Birdman of Alcatraz.
"Well, it's a little oddity about living and working here, I guess," Jorgenson said. "We've all seen the 'Birdman of Alcatraz' movie or many of us have, and know something about it. I did before coming here. And, so, it was unusual. An interesting thing to find out that the place that I'm working is near where something like this happened. Not a particularly positive thing to have this place be associated with, but an interesting little nugget of history for this little place."
Jorgensen said their house was probably constructed after the 1920s and likely not the first on the lot.
Well, I think I came pretty close to the scene of the crime. I'm probably within a few lots, anyway. If anyone has any additional information about the case, please let me know.
---
Acknowledgments:
First, this story would not have been possible without the enthusiastic help of the staff at the Father Andrew P. Kashevaroff State Library, Archives and Museum. Chris Hieb went into the vault to retrieve several boxes containing 109-year-old federal court documents about Robert Stroud and Kate Dulaney's cases following the murder. Hieb even went the extra mile to spend his own time searching for an elusive document that was part of the case. Sara Bornstein, Connie Hamann and Zach Jones made copies of digital records and showed me how to navigate their digital archives. Anastasia Tarmann and Jim Simard retrieved old photographs of downtown Juneau, dug up a 1914 fire map of Fourth Street, and found one of the first newspaper accounts of the murder. They also provided advice on research presentation.
Also providing valuable help was Jodi DuBruyne of the Juneau-Douglas City Museum, who handled my research requests about the structures on Fourth Street and the Robert Stroud story.
Eric Jorgensen, Barbara Frank and Tom Waldo of EarthJustice told me as much as they could about the house at 325 Fourth Street and copied some old documents for me that were believed related to the structure.
Nathaniel Dye and Bruce Denton of the Senate Building told me a short history of early Lower Front/Franklin Street construction and provided a key clue about the location of the Montana Saloon.
City and Borough of Juneau cartographer Quinn Tracy tracked down 1904 and 1914 fire maps that showed the location of women's boarding houses in Juneau's red light district and possible location of the Montana Saloon. He also provided an updated version of the Juneau Townsite Historic Building Survey which appeared to confirm the location of the William Dickinson house.
Tony Sholty with the law firm Faulkner Banfield dug up some archived materials, including what appeared to be a transcribed oral history account from Herbert Faulkner, a U.S. Marshal who responded to the murder scene and helped investigate the case.
Marjorie Hamburger of CBJ's Community Development Department tried to fill my repeated and sometime ambiguous public records requests for plat maps, as-built surveys, and ownership listings of structures in the downtown Juneau area circa 1909.
---
Other key sources:
Birdman of Alcatraz by Thomas Gaddis and published by Signet Books
Good Time Girls of the Alaska-Yukon Gold Rush by Lael Morgan and published by Epicenter Press
Captain Lloyd H. "Kinky" Bayers Collection, 1898-1967, MS 10, Alaska State Library Historical Collections