The Center for Alaskan Coastal Studies will wrap up a one-year grant aimed at teaching Kenai Peninsula classrooms about marine debris.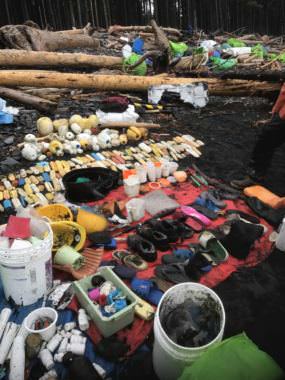 funding from the National Oceanic and Atmospheric Administration is coming to an end this fall, said Marine Debris Coordinator Henry Reiske, but the project is doing more than working in the classroom.
Coastal Studies worked with 15 classes from 11 schools last year.
The Zero Waste Schools program aims to give elementary students a first-hand look at how much single-use plastics they consume.
Reiske is at Gore Point on the western side of Kachemak Bay State Park, but, the program began closer to home.
"They got a first-hand look through cleanups in Kachemak Bay, just around where most of them live," Reiske said. "We got some schools up from Soldotna, we got one from out in Anchor Point and one out in Anchorage, but for the most part, they're from Kachemak Bay. So they clean up their area."
Classrooms created their own projects to reduce single-use plastics in their schools after kids participated in a cleanup.
Solutions ranged from using ketchup pumps in the lunchroom rather than packets to ditching disposable lunch trays.
Coastal Studies will stay involved with those classrooms through the fall and will return next spring to see how much each class reduced waste.
"One of the things we're hoping to be able to do is look at the schools' total waste" Reiske said. "Say a school use to get two dumpster pickups a week – if you're reducing styrofoam trays and plastic sporks, can that be cut to one?"
The initiative has extended beyond the classroom.
Coastal Studies used its funding from NOAA for two-multi-day trips to remote beaches, where plastics pound the shoreline every year.
It brought several volunteers in June to Augustine Island, about 80 miles southwest of Homer. In July, Reiske teamed up with Gulf of Alaska Keeper to clean beaches on Gore Point.
Two Homer High School students, Tanner and Rio, are working to clean the first of three beaches.
They said they came on the trip to see a remote location on the peninsula, but both were surprised to see just how much trash piles up here.
"There's been some bigger stuff, like buoys, there's gas tanks, there's a bunch of rope. It's all around here somewhere. Right there, there's a bunch of cool stuff," Tanner said, as he climbed toward a few old fuel jugs caught in the log jam, stretching about a half-mile.
The boys scour the beach, balancing on dead trees. They shout as they find souvenirs. Rio picks up a toy helmet and laughs.
"It's a fake viking helmet thing that has no horns in it," he said, putting it on.
Reiske hopes trips like these, which cost thousands of dollars, help change perspectives.
"Because you can tell people don't use single-use plastics all you want, but as long as there's still that culture of disposable plastics, the problem is going to still persist," he said. "We're just helping the next generation, and it can get ingrained in them, 'Oh, this plastic has a cost to it.'"
Even Reiske himself is surprised to see how prolific the problem is.
On day one, the team picked up 1,500 pounds of trash.
Gulf of Alaska Keeper President Chris Pallister guided everyone through the cleanup. Pallister has been cleaning three of Gore Point's beaches for over 10 years.
On day two, he estimated the second beach would produce substantially more.
"This is really bad. I think by the time we get done with this little section of beach, we'll probably pick up 3 tons of debris on a third of a mile," Pallister said.
Reiske and the boys were only able to join Pallister and his crew for a few days.
He said Coastal Studies will search for funding to provide more remote trips, but for now, Reiske considers this trip a success.