It's been about a year since the City & Borough of Juneau made reams of land, property and mapping data readily available to the public through a web-based application.
Conservationists, landscape architects and second-grade teachers are using the city's Parcel Viewer system.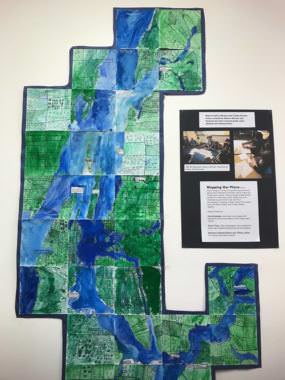 At the bottom of stairwell at Juneau City Hall, a group of second-graders are looking at a tall patchwork of paper grids posted to a wall.
Each kid worked on a grid, coloring in blue for water and green for land, and they patterned in symbols for traditional Tlingit uses of the land – hunting, berry picking, fishing. 
With geographic information systems technology, or GIS, the city's cartographer, Quinn Tracy, produced the map grids that made the second-grade class project possible.
Nancy Lehnhart with the school district created the lesson for all of Juneau's second-grade classes.  
"We created a map together and he could very easily, when I said, 'I'd like to see some creeks and rivers but not all of them,' he could kind of back off, you know, it so easy with the GIS program he uses and his skills to make quick changes and get me right what I needed," Lehnhart said.  
Parcel Viewer is a free online application that shows an aerial view of Juneau with each piece of property — the parcels — outlined in yellow.  These boxes are interactive, show property lines, the landowner, zoning, assessed value, topography and more.
"For the average Juneauite a question the lands and resources division often gets asked is, who owns this property? Who manages this property?" Juneau lands specialist Rachel Friedlander said.  
Before Parcel Viewer, getting this information was arduous and time consuming.
Juneau land information has become very accessible since the city took the system public a year ago.
"GIS and remote sensing in general would make Ponce de Leon or any 15th, 16th century, 17th century explorer super jealous, because basically it's a whole another way of understanding the landscape," Friedlander said. 
Running Parcel Viewer costs the city $9,800 annually, regardless of it being a public or private program.
Parcel Viewer has been a time-saver for Allison Gillum, the executive director of the Southeast Alaska Land Trust.
"To look at different parcels and just as basic as locating them, finding out where they are and seeing the surrounding areas," Gillum said. "Is it surrounded by wetlands? Is in next to the refuge? It helps visualize where things are, and gets us started when we're looking and evaluating properties for protection." 
Parcel Viewer has been useful for Chris Mertl, both as a landscape architect and as the chair of the city's Parks and Recreation Advisory Committee.  
"Previously, I remember working with the GIS department, and you had to work with them bringing all these layers together," Mertl said. "Now that it is a public domain, or within the public domain, and you have access and can control the layers, I find that it's a great tool. For us, we use it all the time for our master planning, and I think it's a great resource."
As the technology advances, it's almost possible to update maps in real time. Drones may be used in the future to take aerial photos of rapidly changing landscapes.
"That will be more nimble, more efficient, less expensive and more available," said Greg Chaney, CBJ Lands and Resources manager. "That's where I see us coming on and that's not going to be that far in the future, maybe even five years."
Everything from the assessed value of a house, the owner of a property and the year a building was constructed are online.  
The information is available to the public  by going online epv.juneau.org.