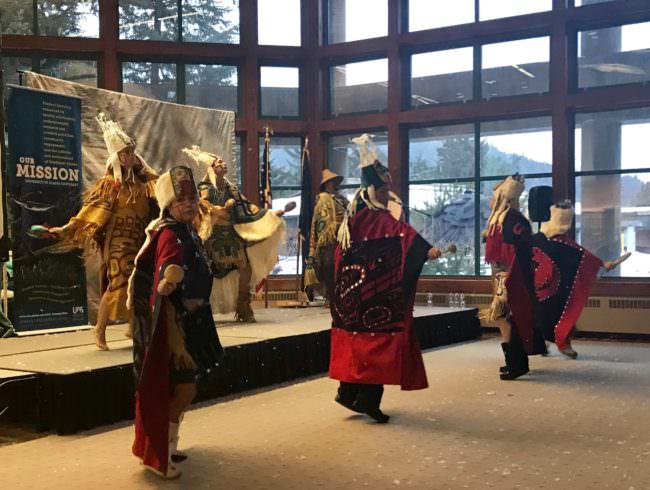 If you're a longtime resident of Southeast Alaska, you may have heard the story of the founding of Metlakatla, a community in the Annette Islands Reserve, Alaska's only reservation.
It's usually told like this: in the wake of a growing rift with the Anglican Church, missionary William Duncan led more than 800 Tsimshian people on a canoe voyage from British Columbia to establish their own devout community in Alaska.
University of Alaska assistant professor Mique'l Dangeli tells a very different version of that history.
The dancers of Git Hayetsk share a common ancestry to the Sm'algyak speaking peoples of the Nisga'a, Tsimshian, and Gitxsan nations.
The dancers recently traveled from British Columbia to perform at University of Alaska's Juneau campus. It's a journey similar to one their ancestors made in the late 1800s.
Dangeli leads the group with her husband, Mike, and uses the performance to tell the version of Metlakatla's founding told to her by prominent oral historians in the Tsimshian community.
Dangeli put it bluntly: "We didn't follow William Duncan, William Duncan followed us."
"It was our people's decision to come back to Alaska and to argue for land rights with the U.S. government," she continued. "We'd been denied by the Canadian government (and) it led to our decision to move."
The song that tells the story is called "Paddle to Metlakatla." It describes a particular moment on the canoe journey when one woman stood to rally the group who was grieving the choice to leave home.
"The words in that song are 'Wha! T'iina tleexgn!" which is one way of saying 'stop crying,'" Dangeli said.
From there, the dynamic of the dance changes.
The drum starts beating faster.
The dancers look up, and they start paddling harder.
"They let go of their fear of starting all over again," Dangeli said.
As for William Duncan, well, Dangeli said he wasn't even present on that journey.
"We celebrate our founder's day in Metlakatla on August 7th. Our people started coming over in March, so the day that we celebrate as our founders day is the day that William Duncan finally arrived," Dangeli said. "He came on a steamer."
That's one piece of what Dangeli calls a counter narrative, in contrast to the story that has come to represent the Tsimshian, even within parts of their own community.
"William Duncan, he's always portrayed as this pied piper and we were just these rats scurrying along behind him," she said. "Unfortunately, some of our people have internalized this colonial narrative."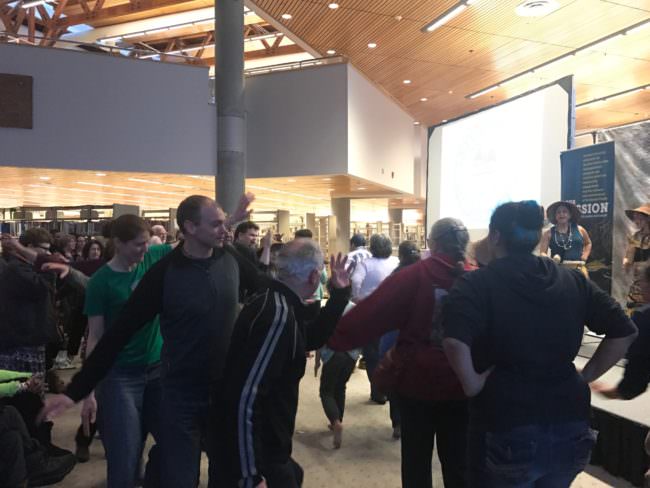 According to Dangeli, the idea that the Tsimshian people completely converted to Christianity, abandoning their own customs, also is false.
She explained that while most history books focus on the Tsimshian's conversion to Christianity, her people continued their cultural practices "under the guise of Christian practices like Christmas parties and Easter parties."
Some of those cultural practices have been absorbed into Tsimshian culture, but Dangeli said the cultural survival story was strategically hidden by Duncan.
He tightly controlled the flow of information in and out of Metlakatla to preserve his reputation as a missionary that had complete control over the community. He even went so far as to burn books that documented their ongoing cultural practices.
Toward the end of the Git Hayetsk performance, the group performs a victory song belonging to Dangeli's husband.
"After war, they would line the beach and they would laugh and taunt their enemies because they had survived," she said. "Now we use that song to talk about survival … in a much larger way."