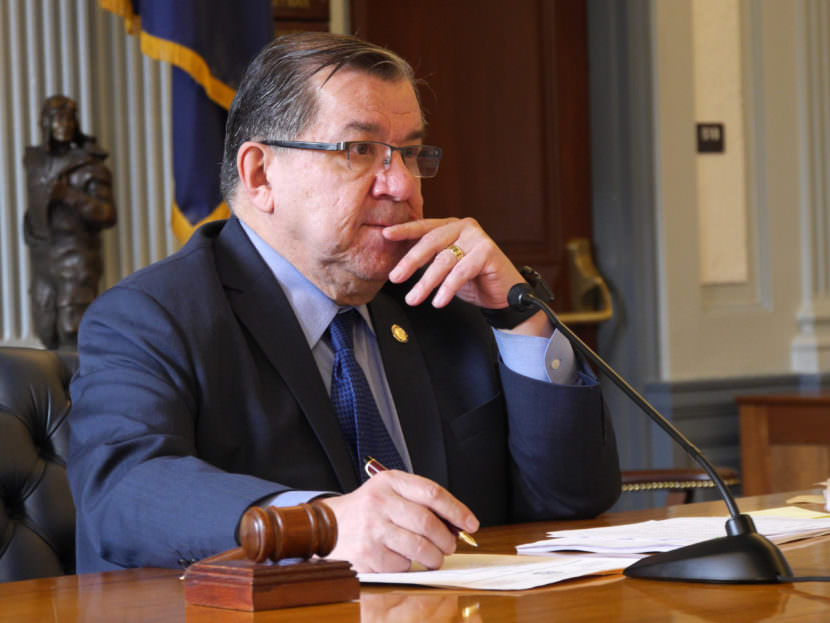 Alaska schools would see a $69 million cut in the amount of money the state provides based on the number of students each school district serves, called the base student allocation, under the budget proposed by the Senate Finance Committee on Monday. The Base Student Allocation would drop roughly $300 per student, from the current level of $5,930.
Bethel Democratic Sen. Lyman Hoffman said the cut to the Base Student Allocation was needed to help close the gap between the amount the state government spends and the amount it raises in oil royalties, taxes and fees.
"We as a state are continuing to struggle with the fact that we are living beyond our means today," said Hoffman, the Senate Finance Committee co-chairman.
This per-student allocation is the biggest piece of the $1.3 billion the state spends each year on schools.
Eagle River Republican Sen. Anna MacKinnon said it's impossible to control state spending without considering the amount spent on the BSA.
"It's huge, when we go to look at any cuts, when you hold that large of a department harmless," said MacKinnon, the committee co-chairwoman.
Senators also introduced three bills intended to reshape education, with an emphasis on providing lessons online. Senate Bill 103 would eliminate funding for the Alaska Performance Scholarships, which help Alaska students with high grades attend college in the state. The money would instead fund online, or virtual, education.
Online education could help address a teacher shortage, according to Palmer Republican Sen. Shelley Hughes. She said the state hasn't been able to retain teachers in many school districts.
"Virtual education will help beam great teachers across the state, where it's difficult to recruit and retain" them, she said.
Leaders of the House majority didn't like the Senate proposal to cut the Base Student Allocation.
House Speaker Bryce Edgmon noted the House didn't cut any of the BSA.
"I think what concerns me is not only the cost that reduction incurs upon schools and smaller communities, but it's the notion there could be an equal of reductions next year, and then maybe the year after, if you look at the Senate's overall plan of $750 million in cuts," he said.
Edgmon said he supports increasing faster internet connections in schools, but said nothing replaces having teachers in classrooms.
The other education bills senators introduced Monday are: Senate Bill 102, which would fund school broadband connections so that their speeds increase, and Senate Bill 104, which would suspend a state mandate that school districts periodically review their curriculums.
The Senate Education Committee is scheduled to discuss the bills Tuesday.