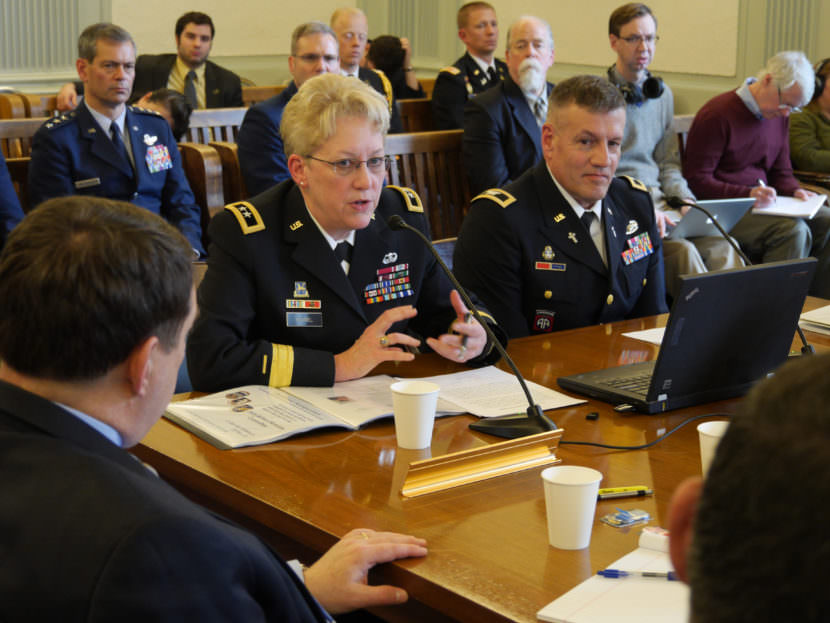 Time is running out for Alaskans who work on military bases to get IDs like passports that comply with federal law ahead of an early June deadline. Alaska National Guard leader Maj. Gen. Laurie Hummel spoke about the effect of federal REAL ID Act requirements during the state's military leaders' annual visit to the Legislature Thursday.
Hummel is the state's adjutant general and leads the Department of Military and Veterans Affairs.
"Yesterday, as the commissioner of DMVA, I sent a letter out to all of our state employees letting them know that on the 6th of June – the anniversary of D-Day by the way – they will no longer be able to enter a federal installation without REAL ID compliant identification," Hummel said.
The REAL ID Act also requires passengers on commercial flights to have IDs that comply with the law. Alaska's driver's licenses don't currently comply, but the Legislature is considering House Bill 74 and Senate Bill 34, which would change that. Visitors to military bases who don't have compliant IDs will have to be accompanied by military personnel, which the leaders say will be impractical.
The military leaders discussed a litany of issues important to Alaskans.
Air Force Lt. Gen. Kenneth Wilsbach said the military in Alaska is keeping a close eye on North Korea.
"The nuclear aspirations of North Korea, as well as their aspirations to develop intercontinental ballistic missiles that certainly, you know, if they're successful could reach the United States and also many of our partners around the world, especially those in the Pacific, that has us and our partners very concerned," Wilsbach said.
Wilsbach says commanders would like to see China and other countries pressure North Korea to be less provocative.
Army Maj. Gen. Bryan Owens added the military is well-trained and ready to deploy in response to North Korea, if needed.
Owens' comment prompted Hummel to add:
"And you just heard a very powerful argument for why our active component army should never be downsized in Alaska," she said.
Hummel also said she's encouraged by changes that have occurred in how the Alaska National Guard approaches ethical issues over the past two years. She's put new training in place to encourage what's known as "ethical fitness," which she compared to physical fitness.
"I would encourage every Alaskan out there not to take my word for it – to find an Alaska National Guard soldier or airman who is your neighbor or friend, and ask them how they think things are going," she said.
A series of scandals — including sexual assault allegations and efforts to silence those who came forward about them — rocked the state's National Guard leadership in 2014.
The military leaders also said they haven't heard any indications that the state will see reductions in military bases or personnel in the near future.