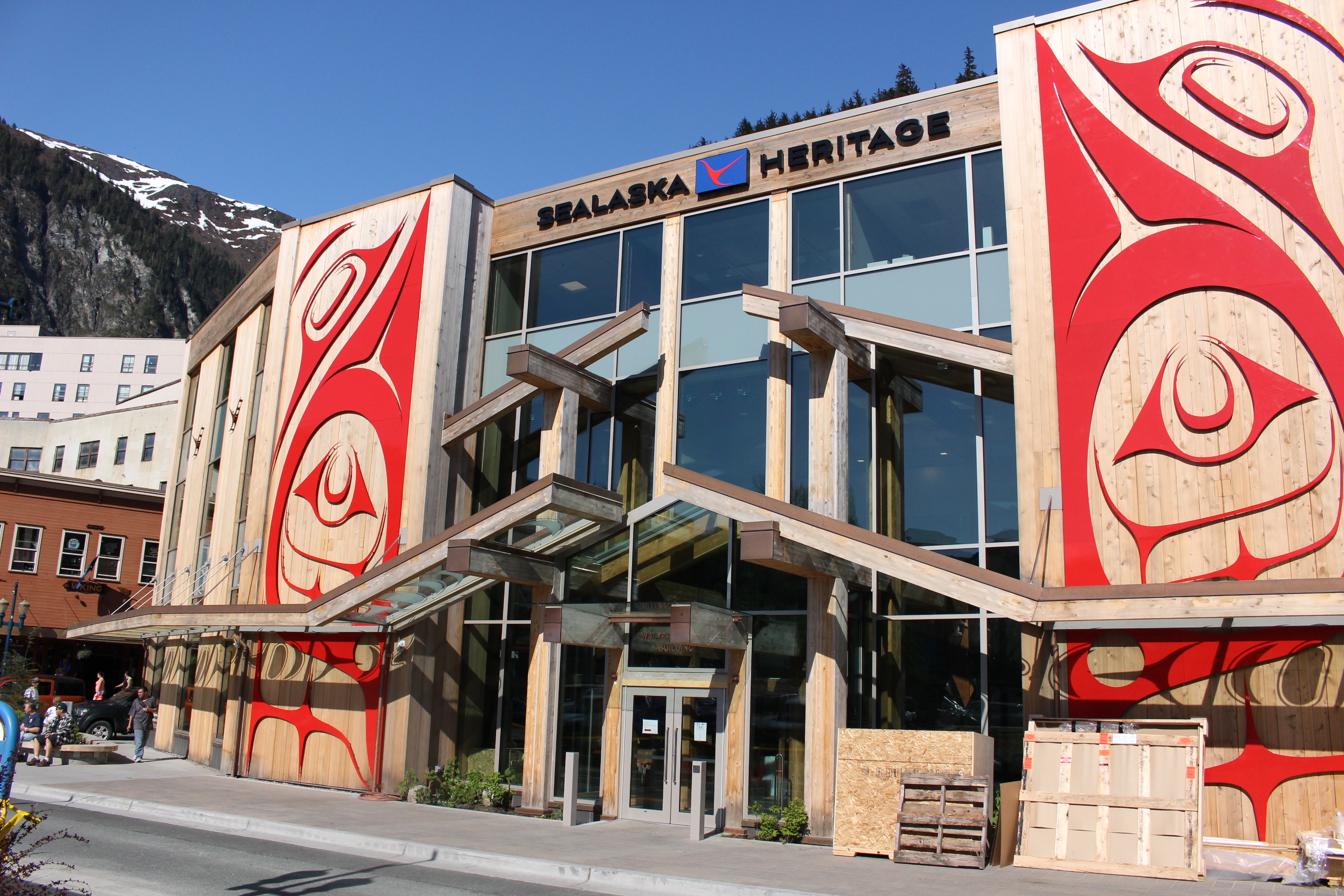 Three young Alaska Native artists, including one from Ketchikan and one from Hydaburg, have been chosen to carve cedar house posts that will be cast in bronze and displayed in front of the Walter Soboleff Building in Juneau.
Tlingit artist Stephen Jackson, Haida artist TJ Young and Tsimshian artist Mike Dangeli submitted the winning proposals for the Sealaska Heritage Institute's house post project.
The project will be the final installation planned for the Walter Soboleff Building, SHI Chief Operating Officer Lee Kadinger said. The house posts will go in an outdoor bench area.
"It was always our vision to have a Tlingit, Haida and Tsimshian house posts on that space," he said. "So, Sealaska Heritage toward the end of 2016, put out a RFP seeking proposals from a Tlingit, a Haida and a Tsimshian artist to carve three cedar house posts that would then be cast into bronze and then be placed on the corner of Front and Seward streets in Juneau."
The Walter Soboleff Building already includes work by well-known master artists, and the Institute wanted to involve younger artists, as well, Kadinger said.
"With Robert Davidson on the exterior, David (A.) Boxley on the house screen on the interior, and then Preston Singletary inside the clan house," he said. "So, really, we had a lot of world-renowned artists working on those pieces, so it turned our attention for this project to who are some of the emerging artists that we can have working on this exterior … house post project."
Each of the young carvers chosen for the project is an amazing artist, and the designs they submitted are exciting, Kadinger said.
He said each piece will tell a story specific to the culture. Dangeli's piece focuses on the origin of the potlatch; "and then we have one by Stephen Jackson that's focusing on the life of the Tlingit raven; then we have the Haida one focusing on was-go, which is a supernatural Haida figure."
Young is from Hydaburg on Prince of Wales Island.
According to Sealaska Heritage Institute, in recent years, he and his brother, Joe Young, carved several major projects including a 40-foot totem pole for the Sitka National Historical Park, and a 32-foot crest pole for the Hydaburg Totem Park.
Jackson started carving with his father, Tlingit artist Nathan Jackson, while still in high school in Ketchikan.
Stephen Jackson has had solo exhibitions at the Alaska State Museum, the Anchorage Museum, and in Europe before pursuing his undergraduate degree.
He obtained a bachelor of arts from Columbia University in 2013, and later a master of fine arts, also from Columbia.
Dangeli recently moved to Juneau from Vancouver, British Columbia. According to the Institute, he works primarily on commission for private clients and indigenous people who use his work in ceremony and for dance groups.
Sealaska Heritage Institute officials are excited about the house post project, Kadinger said, and it will be an interesting challenge for them because they've previously not done bronzing.
"We also are working with consultant Preston Singletary, who has done a lot of bronze work," he said. "He'll be consulting with SHI as well as the artists as we move forward, and working closely with us with the foundry as well."
The three bronze house posts are expected to be installed at the Walter Soboleff Building in 2018.