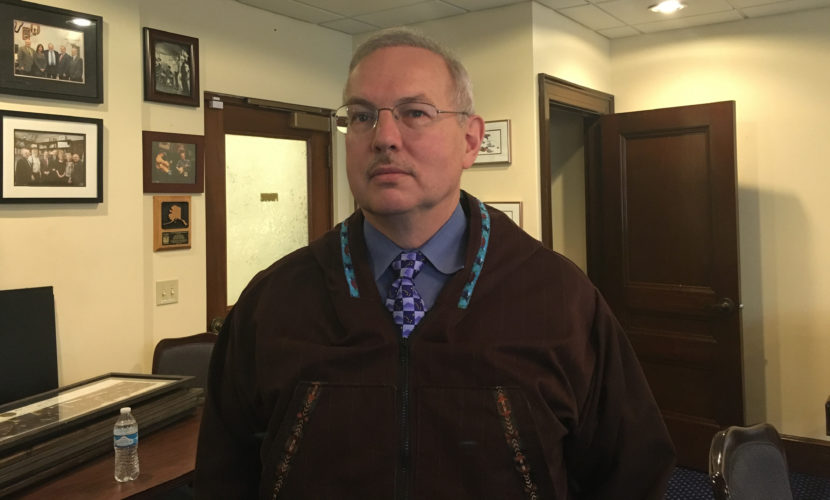 The 30th Alaska State Legislature was sworn into office today. It faces a fiscal crisis that's grown over the past four years, as oil revenue declined.
For the first time in 24 years, there will be a new House majority. A coalition of 17 Democrats, three Republicans and two independents took over from the longtime Republican-led majority.
Lt. Gov. Byron Mallott gaveled in the session.
Dillingham Democrat Bryce Edgmon was elected speaker. New Anchorage Republican Rep. David Eastman was the only vote against Edgmon.
"We stand here in a moment of time, knowing that Alaska's facing a fiscal crisis unlike any other times in its short history," Edgmon said.
Alaska's state government is still spending more than $3 billion more than it's raising in oil revenue, taxes and fees. And it's not clear yet if the state will have enough money to fund services like schools at current levels, or whether it will make changes to the Permanent Fund dividend.
The House majority came together with a goal of reaching a budget plan that will include both new taxes and spending cuts.
Edgmon said that while nothing is off of the table for budget cuts, the fiscal solution can't depend on deep cuts to schools and health and social services.
"Our caucus doesn't believe we have room to make those major reductions. We've already made a lot of reduction heretofore,  and that the next step is to tackle those very different choices when it comes towards generating new revenues," he said.
Edgmon said he'll face a challenge in steering legislation through.
"With the narrow margin that we have in the House of Representatives – it's a 22-18 majority-minority split – that the speaker's role might be more pronounced this session than perhaps at times in the past," he said.
House Minority Leader Charisse Millett faces her own challenge. Eight of the 18 members of the Republican caucus are new to the Legislature. But the Anchorage Republican said they're ready to work.
"Our new caucus is fantastic," she said. "The eight members just bring added experience – there's a lot of municipal government experience."
While Edgmon said the majority looks forward to working with Gov. Bill Walker's administration to close an $890 million hole in the budget, Millett was sharply critical of the gap that Walker left in his spending plan.
"For me, (it) was a little disingenuous," she said. "He is the leader. He's the governor. He's supposed to put forward a budget. We're supposed to review it."
Today also marked a historic moment that Edgmon noted in his remarks.
"It's certainly not lost on me, as profound as this moment is for personally, that this is also a moment in history for – I sit here as the first speaker of the House of Representatives of Alaska Native heritage," he said.
Edgmon has Aleut heritage. He said he hopes he's the first in a long line of Alaska Native House  speakers.