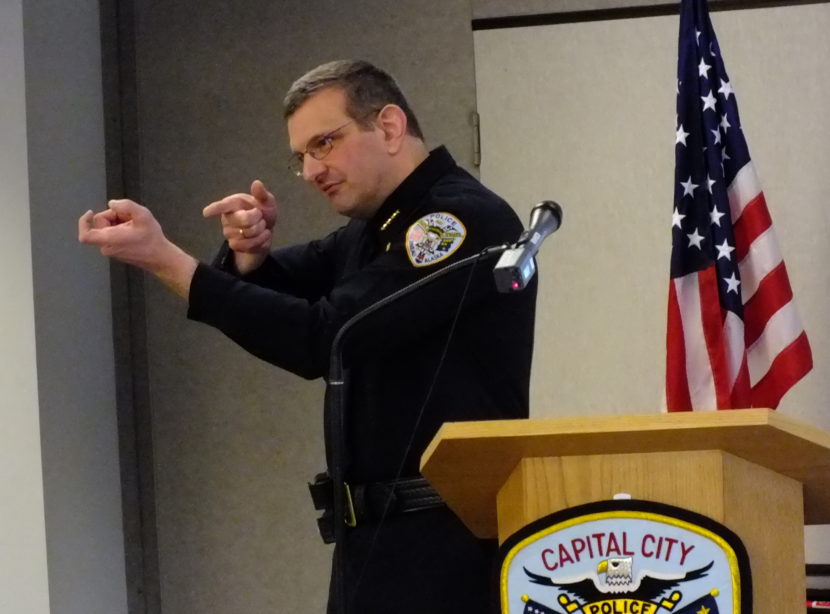 A Juneau police officer is returning to full duty after the Attorney General's office says they will not file criminal charges against him for using deadly force against an intoxicated suspect who previously threatened to commit "suicide by officer."
The nine-page report was issued Jan. 5 by the Alaska Department of Law's Office of Special Prosecutions and released to the public in partially-redacted form by the Juneau Police Department during a press conference on Friday. The report is largely based on work by the Alaska State Troopers' Alaska Bureau of Investigations. Its detectives handled the shooting investigation.
Juneau Police Sgt. Chris Gifford and Officer Darin Schultz were investigating an accident on Ocean View Drive early in the morning of Dec. 3, 2016, when Gifford fired one round at Jeremie Shaun Tinney in the vehicle. Tinney, 38, was medevaced to Seattle for medical treatment, but he was not seriously injured in the incident.
JPD said they investigated 26 incidents since 2009 involving Tinney's use of guns, reports of domestic violence, and threats of suicide or harming others. Tinney also threatened to shoot officers or commit "suicide by officer," or provoke an incident in which he would be shot and killed himself.
"You don't have to wait until you're being fired on," said Juneau Police Chief Bryce Johnson. "If you wait until you're being fired on, it's too late and you will be dead. And, that is a bad outcome. So, in order to use deadly force, you have to reasonably believe that your life is in imminent danger, or the life of someone else is in imminent danger or threat of death."
During the press conference, Johnson explained in detail what happened on Dec. 3.
After receiving a pair of 911 calls about a possible vehicle accident and intruders in the area, Johnson said Gifford first arrived on the scene on Ocean View Drive at about 4:12 a.m. Schultz arrived a few minutes later. Emergency medical technicians also went the scene to treat two victims from a silver Jeep Grand Cherokee that went off the road into the ditch.
In this dash cam video, Juneau Police Sgt. Chris Gifford arrives on scene to a vehicle in the ditch on Ocean View Drive on Dec. 3, 2016. The man standing on the side of the road when Gifford arrives was a witness and not a vehicle occupant.  The vehicle's passenger can be seen opening the driver's side door and Officer Darin Schultz arrives in his patrol vehicle. (Courtesy of Juneau Police Department)
Schultz reported that the vehicle appeared to be same one that eluded police during a pursuit earlier in the evening. The vehicle's passenger was standing outside in the ditch next to the vehicle and appeared uninjured.
In this dash cam video, Juneau Police Sgt. Chris Gifford investigates a vehicle in the ditch on Ocean View Drive on Dec. 3, 2016. Gifford can be seen scrambling up the embankment with his gun drawn and Jeremie Tinney can be seen making what appears to be a hand gesture resembling firing a gun. (Courtesy of Juneau Police Department)
Gifford approached the driver's side of the vehicle and tried to rouse the slumping driver, Jeremie Tinney. Tinney appeared to reach for something in the center console and Gifford retreated back up the embankment with his gun drawn. Tinney can be seen on dash cam video appearing to use a hand gesture at officers that resembled firing a gun. Tinney repeatedly ignored commands to get out of the SUV. He climbed over the front and middle rows of seats into the very rear. Officers believed he was barricading himself inside the vehicle.
In this dash cam video, Sgt. Chris Gifford fires a single shot from his department issued AR-15. It can be heard about 6 seconds into the video. (Courtesy Juneau Police Department)
Johnson said Tinney initially picked up what looked like a piece of wood, which was later determined to be a vacuum handle. According to the OSP report, Tinney then found a second object, about three-and-half-feet long and part of a vehicle axle shaft assembly. One end has a hole and rifle boring. It looks like the barrel of a firearm. Tinney held it at his shoulder and aimed it at officers much like a rifle.
"He would point it at Officer Schultz, and there was a paramedic right there as well," Johnson said. "He swung it back over and pointed it at Sgt. Gifford, and he was moving the rifle around, pointing it at officers, the sergeant , the firefighters (and) the paramedics. There were other citizens that were out there as well."
Officer Schultz's digital audio recorder captured the moments leading up to the shot being fired. Here's the audio.
Excerpt from the report that includes transcription of Officer Schultz's digital audio recorder:
Schultz asks, "What the hell's he have?" He orders it put down and says "It looks like a barrel."
It was about nine seconds later that Gifford fired a single round at Tinney from his AR-15 patrol rifle.
Johnson said the slug traveled through the middle side window on the left side of the vehicle and impacted in the middle seat headrest. Johnson said the slug broke up and fragments lodged in Tinney's shirt collar and sleeve of his sweatshirt, but it did not penetrate his skin. Johnson said Tinney suffered minor face and neck injuries when the window glass broke. Tinney then voluntarily exited the vehicle at the rear passenger door and said he had been shot in the neck. When officers asked where the gun was, Tinney responded, "There's no gun."
There is some coarse language in this eyewitness cell phone video.
(Courtesy Juneau Police Department)
According to the report, Tinney was combative and had to be restrained by three people when he was taken to Bartlett Regional Hospital. His blood alcohol content was determined to be .319 percent, nearly four times the legal limit for intoxication. Tinney was medevaced to a Seattle hospital and remained in general care. He suffered a possible concussion from an undetermined cause.
June Stein, assistant attorney general with the Office of Special Prosecutions, writes that Sgt. Gifford was justified in using deadly force to protect himself, Officer Schultz, firefighters and witnesses at the scene. Stein said Gifford acted within the law when he shot at Tinney. Under Alaska statutes, any officer has the right to use deadly force to defend themselves and others against the threat of imminent serious physical injury or death.
Both officers were placed on administrative leave after the incident. Johnson said Schultz — who did not fire his weapon — returned to full duty shortly afterward. Gifford has been serving the last few weeks on a desk assignment.
"He has my complete faith and complete support," Johnson said. "He, again, did exactly what he was trained to do. He did what any reasonable police officer would do, make a really hard decision in a difficult set of circumstances that he was put in. So, he will be back to full duty."
After his release from the hospital, Tinney was taken into custody on unrelated charges. He remains at Whatcom County jail in Bellingham, Washington.