The overhaul of the state's criminal justice system, known as Senate Bill 91, has been in effect since the summer.
State Sen. John Coghill, R-Fairbanks, backed the reform bill, which incorporated recommendations from the Alaska Criminal Justice Commission.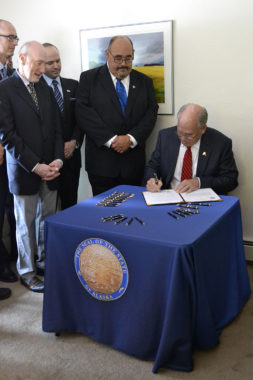 The underlying goal of the reforms is to reduce recidivism and the cost of incarcerating criminals, seeking treatment and supervised release solutions instead.
Superior Court Judge Pat Douglass retired in November.
Before she left, she spoke about SB 91, which she had had a front row seat to watch roll out over the past few months.
"The theory behind this bill is wonderful," Douglass said. "The theory is, and I'm wholeheartedly … you won't find anybody against the idea of it … is we don't need to warehouse people. That doesn't do anything except make people worse in their behaviors. So we need to offer people rehabilitation resources."
One of the main problems so far is that many of those rehabilitation resources aren't available to everyone in the state, she said.
"In Anchorage we have drug courts and therapeutic courts and mental health courts, none of which exist in the Bush because we don't have the personnel and the resources to support those kind of courts."
The gap between the services offered in the bigger cities versus the Bush has made for a rocky start for this major set of reforms, Douglass said. But that may be obvious mainly to those involved in the process, certainly those interacting from the wrong end of the law.
For the general public, Judge Douglass has seen three main areas where SB 91's changes have made for some confusion: bail, probation and sentencings.
As for bail, the standard amounts have gone down, and also don't necessarily keep people in jail for a night.
"A lot of crimes before, including violent crimes, that would have held somebody in jail, made them go before a magistrate before they were released on a bail, are now being released on their own recognizance," she said. "People need to understand because if you see your neighbor in a big fight with his brother and the cops come and get him, and two hours later he's back home, you're going to wonder why. Well, that's SB 91."
The idea of supervised release is to play a larger role in sentencings, sometimes replacing actual jail time entirely.
Douglass is concerned that it may overload the adult probation office, and that the way the conditions are now structured will take some time for the public to understand.
"People are used to, you know, they come back and they're not supposed to drink and so they drink and get a violation and go to court, and maybe they have to do 10 days or maybe they're just put back on probation with a warning," she said. "But I think we're going to see less of that happening, again, as a direct result of the probation conditions that are being changed in the bill."
With sentencing, the goal of the reforms is to focus less on jail time and more on treatment or supervised release.
"The ranges have decreased, and a lot of crimes that used to be felonies are now misdemeanors. Crimes that were misdemeanors are now just offenses or violations. Felonies that used to be immediately you'd have at least some jail time, are now mandated for no jail time. Drug possession, a class C felony, that's going to be one of them. I think people, unless they've read this bill and understand what the changes are, I think they're going to have a hard time understanding some of the sentences and some of the results they see coming out of the courthouse."
Douglass said the state-mandated changes to bail, probation and sentencings have left the public uncomfortable with the way some cases are handled now.
That, she says, should improve when more people become accustomed to SB 91.
What she's concerned about is that the philosophical move towards rehabilitation and treatment rather than warehousing people in jail hasn't been followed through all the way.
"SB 91 was the first part of that. You know we're not going to just put people in jail and leave them there. We want them out," she said. "The reason they want them to be out is to give them opportunities for therapy, treatment, job training, education, whatever they need to succeed and not be a recidivist. That's the part that we haven't put in place yet."