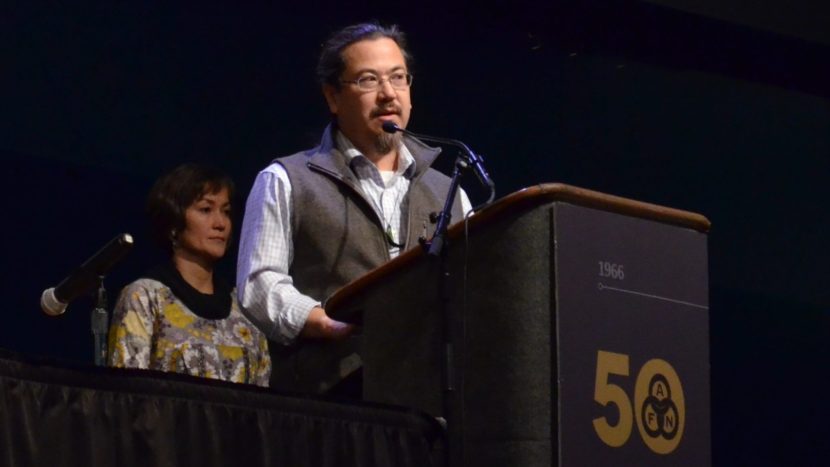 Southeast's Joe Nelson withdrew his bid for a leadership position on the Alaska Federation of Natives board citing concerns from some in the delegation that the spot should go to a tribal representative. 
Nelson took the stage Saturday to explain to the convention his withdrawal, calling it a "very tough decision."
"There's a view that this seat is a tribal seat, a very strongly held view by a good contingent of our AFN population. So, in that sense, you could say maybe this election is rigged, since I'm not being viewed as a tribal person for this purpose right now," Nelson said to laughter from the crowd. "I have such respect for the tribes and faith in the tribes that I am going to respect that and not push this to a vote this afternoon."
Outgoing co-chair Jerry Isaac announced on the first day of the convention that he would not seek another term. Isaac, according to his bio on the AFN website, is president of the Copper River Native Association, a tribal nonprofit. The other co-chair, Ana Hoffman, is president and CEO of the Bethel Native Corp.
Nelson said he wanted to unify the delegation by supporting Will Mayo, a former president of the Tanana Chiefs Conference in Fairbanks. Mayo thanked Nelson for the withdrawal.
"Those are the comments of a leader and the heart that he brings to this is a very humble heart. I have found that that kind of a heart is the one that people can follow," Mayo said.
Nelson, who serves on the AFN board, is a Sealaska Corp. board member and vice chancellor of University of Alaska Southeast. He lives in Juneau and is a member of the Yakutat Tlingit Tribe.