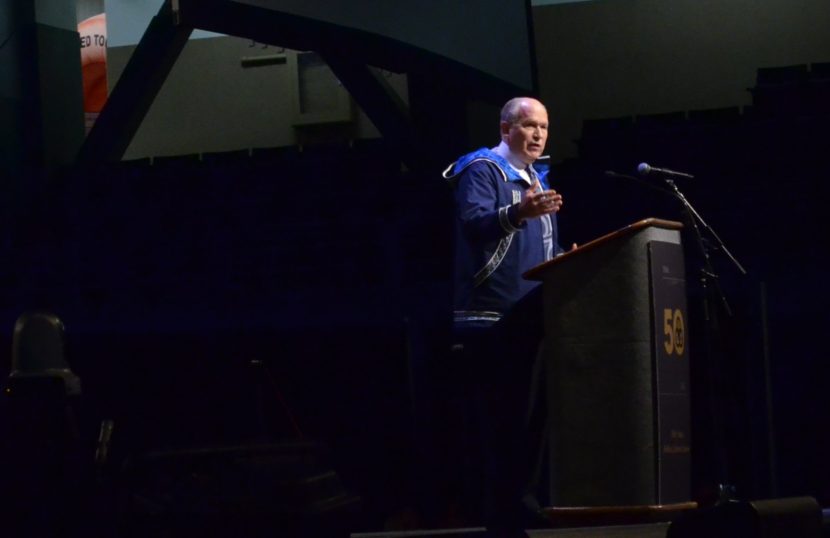 The Alaska Federation of Natives convention is scheduled to take place each year shortly after Permanent Fund Dividends are distributed. And plenty of that money gets spent in Anchorage or Fairbanks, depending on where the convention is held.  
Gov. Bill Walker addressed the convention Thursday morning in Fairbanks. He focused his comments mostly on the State of Alaska's budget deficit and his decision to cut this year's dividend by about half. He told the crowd that the state is drawing on its reserves at a rate of $12 million per day.
"I cannot tell you, I cannot describe to you adequately how difficult of time this has been to be serving as governor," Walker said. "The decisions I have had to make have been so painful, have been so painful, that I cannot adequately describe."
Walker also made a brief reference to the state's 10-student threshold for full school funding and pointed to new education commissioner Michael Johnson who was in the audience.
"Most important number in education is one, one student. Every one student deserves the best education in Alaska. Not based upon a number. We've got the commissioner of education (who) is going to do that. You're going to love what he's going to do in that position," Walker said.
Walker did not elaborate on what changes may be on the horizon for the Department of Education. More information from the department was not immediately available.