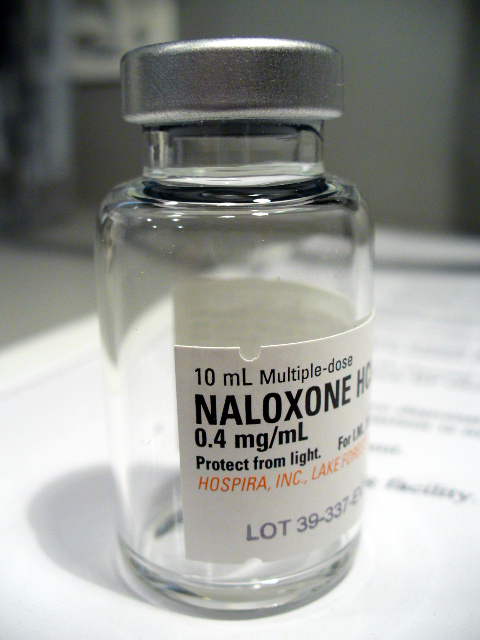 Advocates of a bill that would allow pharmacists to dispense an opioid-effects blocking drug with restrictions are frustrated that regulatory barriers the law was supposed to knock down are still up.
Gov. Bill Walker signed the  law six months ago to ease access to the life-saving drug, but new rules are more than a month away.
Scores of people have died in Alaska from heroin and other opioid overdose deaths this year, according to some estimates.
The drug naloxone, also known by the brand name Narcan, can block the effects of opioids and has been known to reduce the rates of opioid-related overdose deaths.
Senate Bill 23 sponsor Sen. Johnny Ellis, an Anchorage Democrat, said he's frustrated with the time it's taking to write the rules.
"The board of pharmacy in my opinion has been very bureaucratic in dragging their feet when lives are at stake," Ellis said.
Ellis wrote in a letter to Walker dated Sept. 2 that the Alaska Board of Pharmacy should move faster.
The law gives pharmacists the ability to independently dispense naloxone if they complete a training program. The rules that are being written would implement these parts of the law.
Department of Commerce, Community and Economic Development officials working with the board of pharmacy said the board is following the law.
They laid out a timeline that could lead to the final rules in November.
Department Division Operations Manager Sara Chambers said the board is gathering public comment on the rules.
"This isn't a rubber stamp process that the law requires the board to follow," Chambers said. "It requires them to give thoughtful consideration to both the dispensation standards and the training program standards."
Michele Morgan of the Juneau-based organization Stop Heroin, Start Talking said she'd like to see the board of pharmacy adopt emergency regulations, which would allow the board to issue rules before the public process is over, and to later make changes based on public comments.
"It's important for people who not only are using drugs like heroin off the street but even people who are using prescription opiates to have that (naloxone) and to empower that family or the mother or the friend to be able to save that person's life," she said.
Nalaxone reverses the effects of opioid overdoses.
But Chambers said the idea of emergency regulations wasn't raised until rule-writing was well underway.
She said the Department of Law advised against it.
The board did issue guidance to pharmacies that said they could comply with Senate Bill 23 and dispense naloxone before the rules are finalized.
But Ketchikan pharmacist Barry Christensen said pharmacies aren't likely to dispense naloxone without a prescription from a doctor or other prescriber until the rules are done and the training is available.
"The number of pharmacies that are going to have that available, I think are going to be very limited until everything gets completed," on the regulations, Christensen said.
A separate track for advancing the use of naloxone is moving forward much faster.
The Department of Health and Social Services was awarded a five-year, $4.5 million federal grant to buy and distribute — and train people to use — naloxone.
Andy Jones oversees the naloxone program for the department. He's chief of rural and community health systems.
The program would allow drug users and their family members, as well as law enforcement, healthcare providers, and others in contact with drug users to have access to naloxone with training.
Jones said the state received the grant two and half weeks ago, has already ordered its first batch of naloxone doses, and wants to have the drugs available by mid-November.
"You know, we have an aggressive schedule," Jones said. "The reason we have an aggressive schedule is because once naloxone is in our hands, it doesn't do us any good at the state to be holding onto it and waiting and waiting to build a program. It's intended to go to the local jurisdictions, so that they can hand it and they can provide it, actually, to the general public."
The state had 83 prescription opioid overdose deaths and 36 heroin overdose deaths last year. Jones says overdose deaths are likely higher this year, although an official count isn't available.