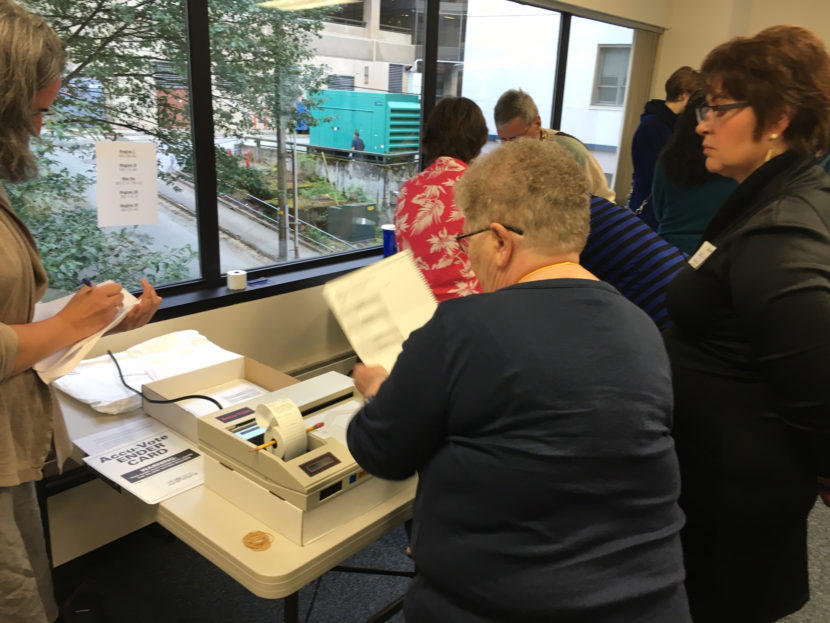 Barrow Rep. Benjamin Nageak says he isn't conceding the Democratic primary to Dean Westlake of Kotzebue.
"I haven't conceded anything," he said.
That's despite the fact that Westlake's lead doubled Monday from four to eight votes over Nageak in final results in the closely watched recount. District 40 covers the North Slope and Northwest Arctic boroughs, as well as three neighboring precincts in the Unorganized Borough.
What remains to be seen is whether Nageak will challenge the results in court, and — if so — whether that will change the outcome.
But Nageak declined to say whether he'd challenge the results legally, and referred further questions to his attorney, Seattle-based election-law specialist Tim McKeever.
In the recount, Westlake added six votes to his total, reaching 825, while Nageak gained two votes, to reach 817.
Westlake gained two votes from ballots that the computer scanner initially failed to count, while Nageak gained one.
In addition, Westlake gained three votes from questioned ballots from Ambler that were received after the Division of Elections certified the results.
And both candidates gained one vote each from Kivalina, where some voters mistakenly cast ballots in both the Republican primary and in the primary for all other parties.
Nageak caucuses with the Republican House majority.
Republican officials are concerned about the handling of ballots in the village of Shungnak. Voters were wrongly given ballots for both the Republican primary and the primary for all other parties.
Westlake received 47 votes in Shungnak and Nageak received three.
In addition, some Republicans in the North Slope Borough and elsewhere have said election officials didn't allow them to vote in the Democratic primary, or required them to file questioned ballots.
Nageak said he's concerned about it.
"I have a lot of Republican friends in the district also, especially here in the North Slope, and I've heard they were turned down … with their ballots," he said.
The Democratic primary is open to all voters.
Katherine Pfeiffer was observing the recount in the elections office in Juneau for the Democratic Party. Amid Division of Elections staff hovering over ballots, optical scanners and printouts, she said she was impressed.
"I think it was very well-organized," she said. "The election staff was very congenial, very helpful, answered people's questions: a very transparent process."
Nageak's observers deferred comment to Nageak.
Friday is the deadline for an election challenge to be filed in Superior Court.